1

Portable Toilet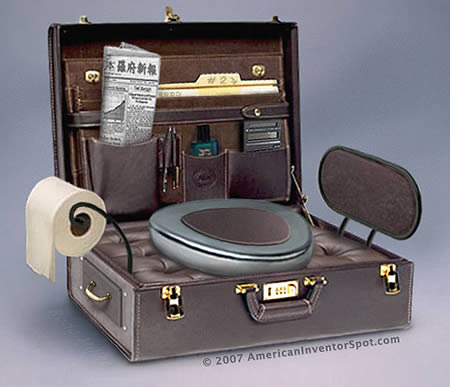 Japan-based Niban Too Corporation invented a briefcase that doesn't only holds those all-too-important reports, but your day's waste as well. The Gotta Go Briefcase is an invention designed to maximize efficiency in the fast-paced world of Japanese business. Constructed with Mahogany leather and a stainless steel toilet bowl, this time-saving invention includes a toilet paper dispenser that can be hidden underneath the padding, which complements the privacy panel on the opposite side for maximum bowel evacuation efficiency and privacy.
Accessories include a cup holder, hand sanitizer with refillable dispenser, and a vanity mirror, because vanity is important when you're doing your business in a public area. The maximum supported weight of the briefcase is 175 pounds, so portlier Japanese businessmen may still want to utilize public facilities to prevent it from breaking and contaminating everything. This invention begs the question, however: Where does the waste go when you're done?
2

Portable Karaoke Machine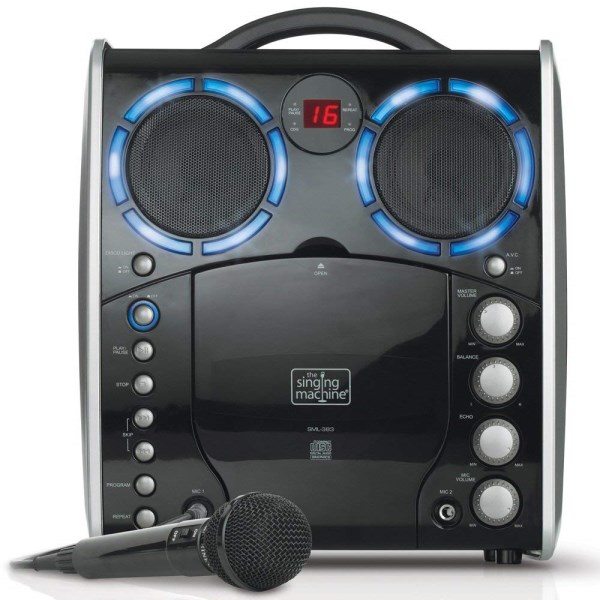 Can't stop singing? Then this is the perfect gadget for you. The "Hi-kara" karaoke machine, by Takara Tomy, is a 7-cm (nearly 3-inch) cube which weighs less than a pound and works like a real machine. Once the singer selects a song, which can be downloaded off the Internet or from special music cartridges, the lyrics come up on a 2.4-inch display. The machine also has headphones and speakers attached.
3

Portable Toaster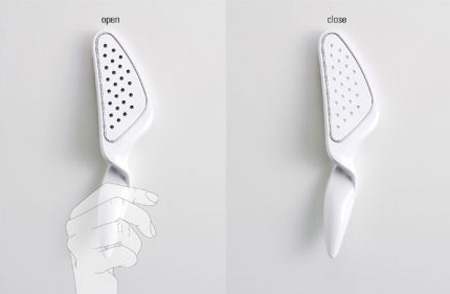 Don't get it wrong, this cake slice looking device is actually a portable toaster. The idea is to run the portable toaster over the bread until it's done to your liking, and if you're wondering how long you've been hand-toasting that bread, an animated graphic indicates how well the bread has been toasted. But couldn't you just see that for yourself?
4

Portable Fireplace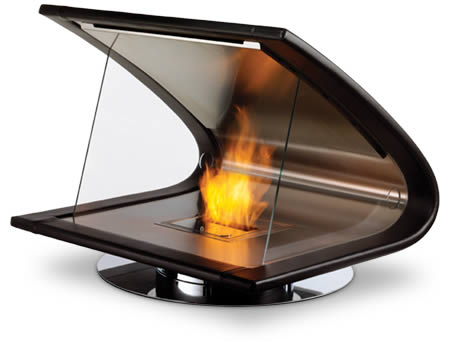 Stylish and striking, the Zeta fireplace is nothing but original. Designed by John Dimopoulos, director of Geoform, Design & Architects Firm in Sydney. The EcoSmart Zeta fireplace is so-named because of its elliptical shape and its Greek 'origins'. A clever fusion of timber, leather and stainless steel, the portable Zeta fireplace sits on a brushed or polished stainless steel swivel base. The plywood body of the fire is shaped from a high frequency heated aluminium mold into the perfect elliptical shape. A ventless stainless steel firebox insert is moulded to the internal face of the plywood, as the outer surface is upholstered in leather. The toughened glass screens that sit either side of the fire enhance the stunning visual effect created by the flame.
5

Portable Microwave Oven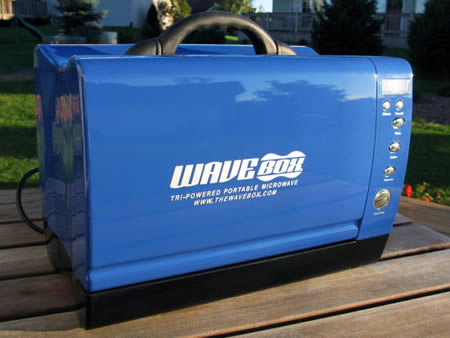 You've got an active life and it seems you're always on the go. So why should your kitchen be any different? The WaveBox® Original portable microwave puts the power and convenience of the kitchen in a sleek case that's made to be mobile. The reinforced ABS casing, heavy-duty luggage handle and no-slip rubberized legs give the WaveBox® Original true one-handed portability. The removable AC cord and extra-long DC cables give you the option to power the WaveBox with a 12-volt battery or in-vehicle power outlet.
6

Portable Washing Machine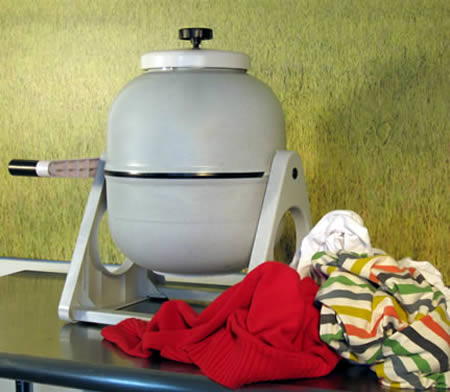 If you're looking for a greener alternative to washing your clothes, it doesn't get much greener than our hand powered laundry machine. Technically, it isn't a machine since you have to use your hands, but this portable device requires no electricity, which saves money in energy bills. It is also portable, which enables you to use it in places that don't have any electricity. When you're in a hurry to wash a few items, this washing machine easily solves the problem of having to wait around for your electric or gas washing machine to complete a full load of laundry or feel bad about only washing a few items at a time.
7

Portable Bedroom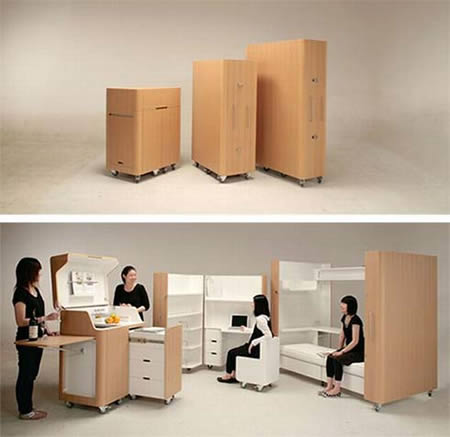 Designed by Japanese company Atelier OPA, the Kenchikukagu is a series of mobile and folding furniture, designed for working, sleeping and eating. With highly effective designs like a mobile work station, a mobile bed and a mobile kitchen thrown in, the series allows apartment dwellers to cramp in all the essential furniture necessary for urban living, without compromising on form or functionality.
8

Portable Pizza Oven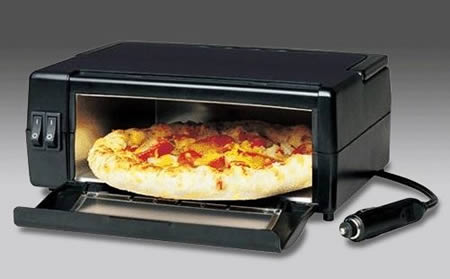 We all know somebody who can't live without pizza, although this gadget takes the addiction to the next level: meet the portable pizza oven. This 12V portable oven and pizzeria plugs right into your dashboard. High and low settings for cooking and warming. Unique heating elements cook from top to bottom. Built-in fold out carry handle. Easy to clean and maintain.
9

Portable Briefcase Seat
Apparently, office workers just like to sit! That's why artists Joan Korbes and Denis Oudendijk designed the Briefcase Seat so cubicle workers will have a place to sit after their long day of, um… sitting? Made using a standard briefcase, with a set of nylon straps crafted onto its body, the Briefcase Seat can be slung over any sturdy railing to provide a semi-comfortable seating arrangement for the time being.
10

Portable Espresso Maker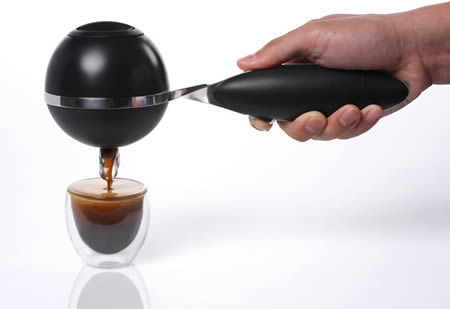 Need quick espressos in the morning? Than meet this awesome portable espresso maker called Twist. According to its website, the mypressi TWIST is the world's first truly portable espresso machine. It produces quality espresso rivaling traditional machines while giving espresso lovers unparalleled convenience and portability. The TWIST's unique pneumatic engine also ensures you can enjoy incredible coffee even where there is no external power. Just add hot water and get ready to forever change how—and where—you enjoy quality coffee.