1

The Sumo Table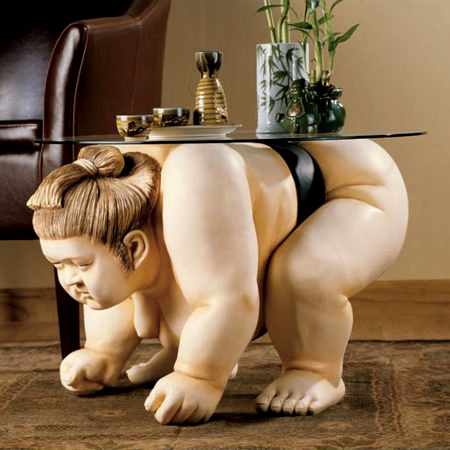 Yes, your living room is not complete without an end-table supported by a mighty Sumo wrestler. This Sumo wrestler is named Basho, that is a Japanese word for tournament, and he is in his crouching pounce position ready to take on all comers. The price is $225.
2

Pac Man Table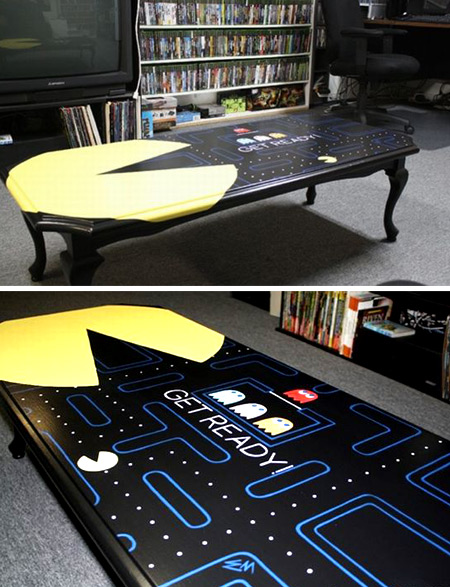 Remember the old-school Pac-Man game you usually played on your old computer? Designer Erin McFadden created this sophisticated modern table furniture exclusively for a game collector, Syd Bolton from Ontario
3

Post-It Table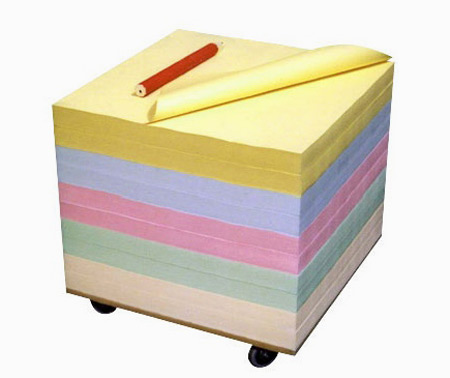 Designed by Tom Seymour, this Post-it table is actually usable for taking notes. The table is made up from 5000 sheets of paper which are bound through the application of PVA glue. Kids would love this funny table. But it is available in the UK only.
4

Silverware Made Table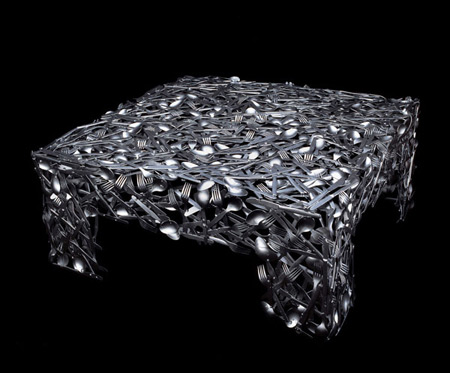 This limited edition table/sculpture by Objection Design, entitled Precious Famine, is a found object piece made entirely of Cristofle silverware.
5

Interactive Table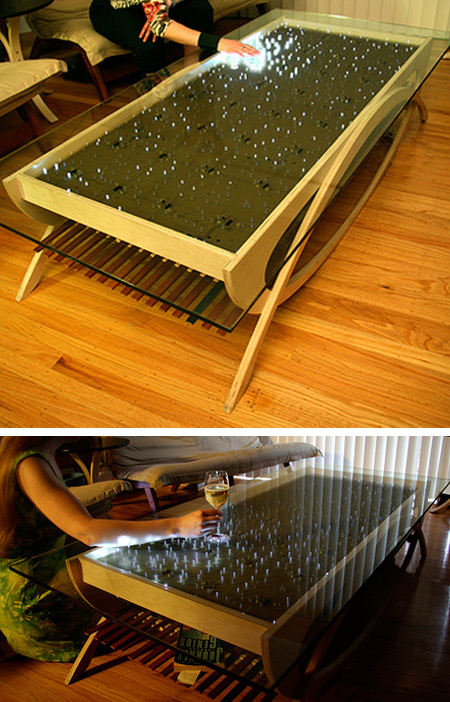 Here's an interactive LEDcoffee table that refuses to simply table your coffee—it twinkles and sparkles, reacting to movement.The Wave uses 32 near-infrared sensors which observe the space above the table, and any motion detected is mimicked with trails of light and color from 480 LEDs. The price starts at $1,895.
6

Human Table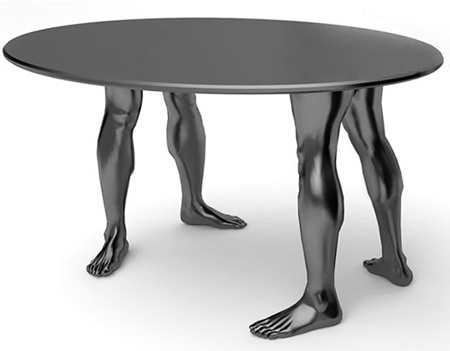 Human Table by Dzmitry Samal. Four male legs support the table top. Inspired by the human beauty and sensuality, impressive! It will be in production by September 2009.
7

Golf Table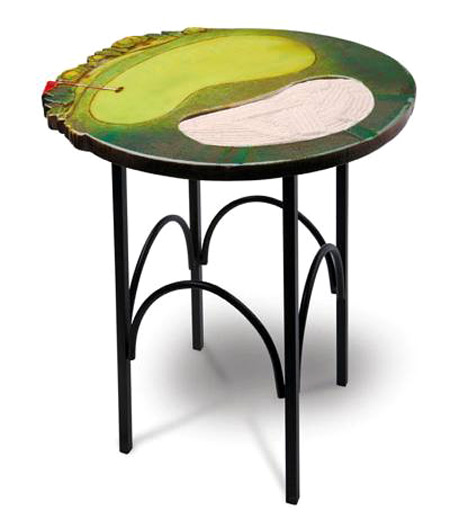 This table is meant for every golfer who spends so much time at the sand traps, that having a sand trap built into a table at their home only makes sense. The tabletop has a nice carving of a green on one side and a real sand filled bunker on the other. It can double as an ashtray if you find stubbing out lit cigarettes in it. Price: $129.95
8

The Pong Table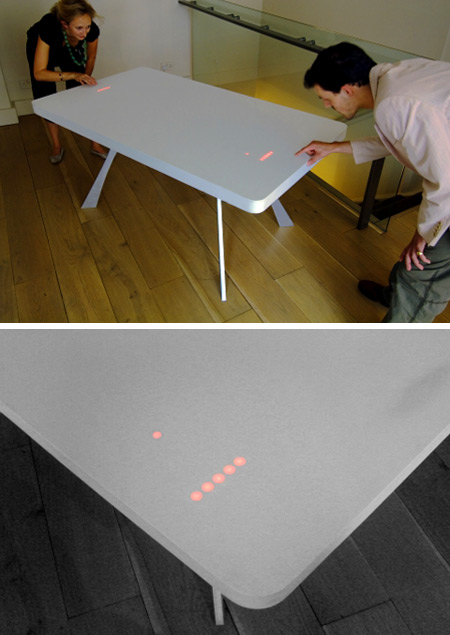 The Pong table is a dining table made from DuPont Corian with an aluminum base. There are 2500 LEDs integrated into the table top, together with two track pads they recreate the classic Pong game. When turned off, the integrated technology disappears completely, leaving a simple, beautiful and practical dining table.
9

Skull Table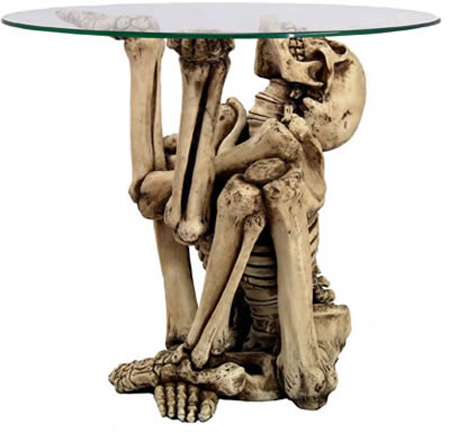 The skeletal remains of an ancestor holds up the round glass table. 47.5 cm. in height. Price: $288
10

Bike Table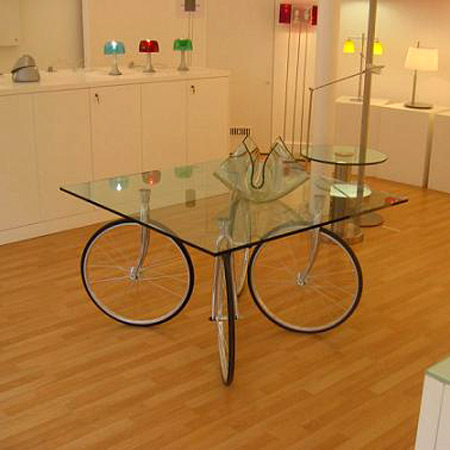 Cool table for the average Tour de France rider, so long as those wheels are locked in those positions. Otherwise it would make for a very interesting place to eat that bowl of cereal. Price: $52,00.
11

Modern Coffee Table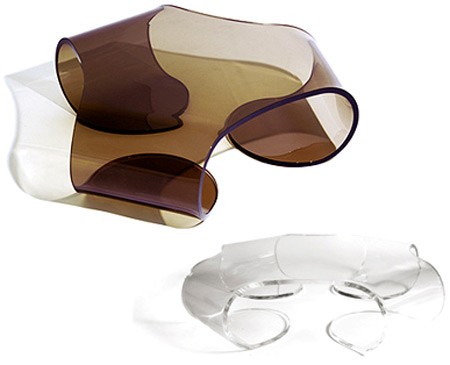 This t2A table, designed by Afiddesigns, has an intriguing design and contemporary flair. The bent structure is heat formed acrylic, available in a variety of colors and opacities from clear to solid. This elegant yet simple coffee table is produced in a 3 or 4 leg design to fit in your space requirements.
12

Artistic table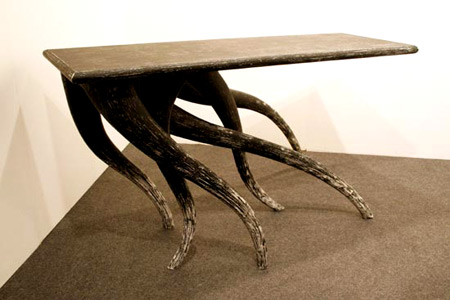 Chul an Kwak is a young Korean designer who aims to inject furniture with dynamic emotion, breaking from the static norms.