1

Dananananaykroyd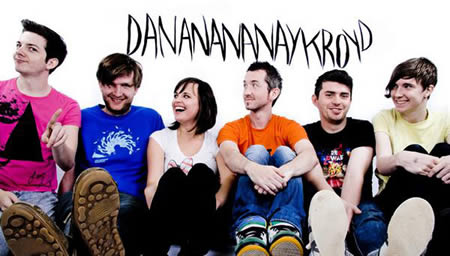 Dananananaykroyd (say it with me, Dana-nana-naykroyd) are a six-piece indie-rock band from Glasgow, Scotland formed in 2006. They describe their sound as "fight pop". Their name is a play on the name of Canadian actor Dan Aykroyd's name. The band's lineup consists of Duncan Robertson and David Roy on guitar, Laura Hyde on Bass, Calum Gunn doing vocals, John Baillie Jr working the drums and backup vocals and Paul Carlin also on drums.
2

!!! (chk chk chk)
!!! is an American dance-punk band from Sacramento, California that formed in Autumn 1996 from the former band members of The Yah Mos, Black Liquorice and popesmashers. After a tour together, members of local Sacramento, CA bands Black Liquorice and popesmashers formed !!!. The band's name was inspired by the subtitles of the movie The Gods Must Be Crazy, in which the mouth-clicking sounds of the Bushmen were represented as "!". Chk Chk Chk is the most common pronunciation, but they could just as easily be called Bam Bam Bam, Uh Uh Uh, Pew Pew Pew, etc.
In 2005 the original drummer of the band, Mikel Gius, was struck and killed by a car while riding his bike.
3

Butthole Surfers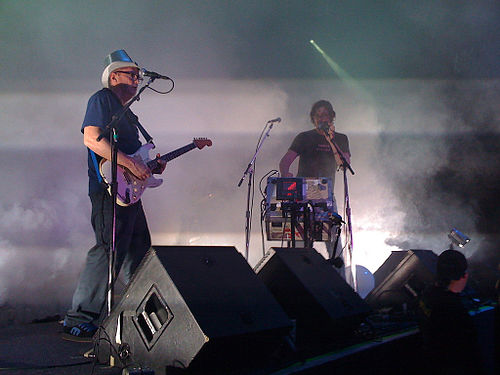 The Butthole Surfers are an American alternative rock band formed by Gibby Haynes and Paul Leary in San Antonio, Texas in 1981. The Buttholes are best known for their chaotic and disturbing live shows, black humor, a sound that incorporates elements of punk rock, psychedelia, heavy metal, noise rock, and electronica, as well as their use of sound manipulation and tape editing. The Buttholes have a well-reported appetite for recreational drugs, particularly psychodelics, and an evident influence on their sound.
The band did not begin as the Butthole Surfers, although they did have a song of that title, possibly an early version of 1984's "Butthole Surfer". This changed at their first paid concert, when an announcer forgot what the band was called and used the song title for the group's name. They decided to keep the moniker, and have largely been billed as such ever since. The name has long been a source of trouble for the band. Many clubs, newspapers, radio, and TV stations refuse to print or mention their full name, and instead opted to use "B.H. Surfers", or other abbreviations.
4

The Tony Danza Tap Dance Extravaganza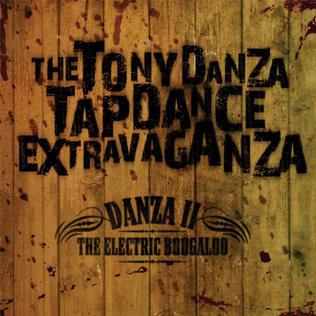 The Tony Danza Tap Dance Extravaganza fit right in with today's emerging hardcore/tech metal heroes.The schizophrenic high-end guitars provide a blanket of psychotic aural assault amidst massive, dense tech breakdowns that will have you slipping, sliding, and dancing every which way.
So where did the band's name come from? "When we started out, all of our previous bands were really serious," he said. "We decided to play whatever we wanted to play, and we all have a sense of humor; we're not really serious guys. A lot of bands have these names that are all brutal, and really, these guys just grew up in the suburbs, and they still live at their mom and dad's house while they're on tour — bands with, like, the words 'death' and 'blood' in their names. We're not like that. We called the band the Tony Danza Tapdance Extravaganza because Tony Danza is pretty cheesy, and tap-dancing is pretty awesome."
5

Test Icicles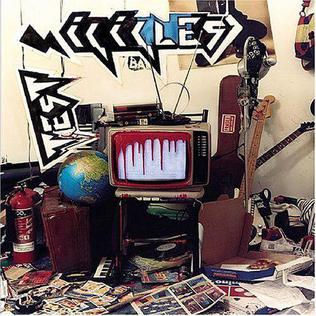 Test Icicles were a band from London, England primarily influenced by indie, hardcore and dance-punk, but containing musical elements from a variety of genres. The band was formed in 2004 by Rory Attwell (RAARY DECI-HELLS) and Sam Mehran (SAM E DANGER), and later joined by Devonte Hynes (DEVMETAL), who was originally invited to fill in at a performance in Brighton and afterward became a permanent member of the band. According to the label, the name "Test Icicles" is derived not from the word testicles but rather from an alleged practice of early man of "testing" icicles for strength and fitness for use as weapons. This, however, is extremely debatable — especially considering the fact that an earlier band featuring members of Test Icicles was named Balls.
In 2006, it was announced that once the band had finished their April tour of the UK, they were to go their separate ways. Some claim it transpired that the Test Icicles were in fact founded for a joke, dared into seeing how far they could get.
6

WHAM!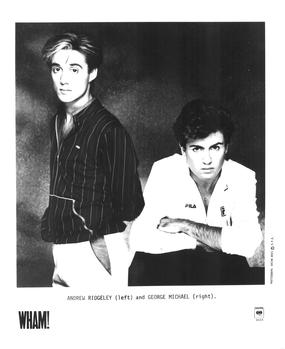 Wham! (often written WHAM!) was a pop band formed in 1981. They were briefly known in the United States as Wham! UK due to a naming conflict with another band. George Michael and Andrew Ridgeley met at Bushey Meads School in Watford, England. At first, they performed in a short-lived rock and roll band called The Executive. They then changed their name and signed with Innervision Records. Soon after a legal victory over Innervision, the duo was signed to CBS, Columbia Records in the United States and Canada and Epic Records for the rest of the world.
Ridgeley convinced a reluctant George that Wham! needed to change their image and sound frequently, from the leather-clad moody singers of "Bad Boys" and "Young Guns (Go For It!)" to the more fashionable pop superstars of "Wake Me Up Before You Go-Go." Still teenagers, they promoted themselves as hedonistic youngsters, proud to live a carefree life without work or commitment. This was reflected in their earliest singles. Such works as "Wham Rap! (Enjoy What You Do?)" have been seen as sarcasm advocating the other point of view. The first record to be released by the band was "Wham Rap!". It was a double-A side with a social mix.
7

Gay for Johnny Depp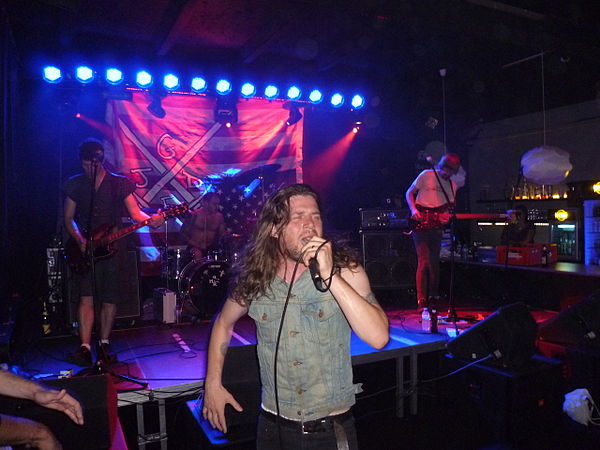 Gay for Johnny Depp is a hardcore band formed in New York, USA. Members are: Sid Jagger (Joe Grillo), Marty Leopard (Arty Shepherd), Chelsea Piers, JJ Samanen. They are known for the lyrical content of their songs, which is often concerned with the band's homoerotic obsession over the actor Johnny Depp.
Instead of featuring the usual biographical material, advance copies of the album sent to the media contained a highly explicit pornographic fan letter to actor Johnny Depp, purported to be written by someone simply known as 'Brad'. This approach was in keeping with the band's previous promotional material, which have included bottles of amyl nitrite, surgical rubber gloves, condoms, explicit homosexual photographs and further explicit letters from 'Brad'.
8

Chumbawambas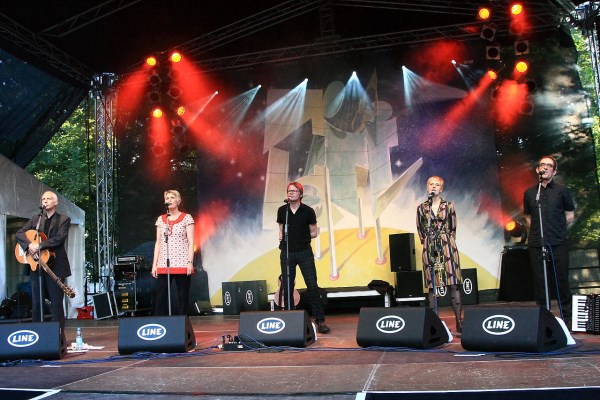 Chumbawamba is a Leeds based English anarchist music group. It evolved from its punk roots, through pop, techno, and various other styles, to the folk group which it is now. The band is known for its polyphony and its non-conformant lyrics. The band was formed in 1982 from two other bands based in Yorkshire, The Passion Killers and Chimp Eats Banana. Over the years, the band has been asked many times what "Chumbawamba" really means. While there are many speculations, the band generally answers that it's a gibberish word, meaning nothing.
According to Chumbawamba's official FAQ, Chumbawamba doesn't mean anything. At the time we formed (early '80s) there was a rush of bands with obvious names. It was the time of 'peace punk' and you couldn't get across a youth club dance floor without bumping into a Disorder, a Subhumans, a Decadent Youth or an Anthrax t-shirt. We liked the sound of Chumbawamba because it wasn't nailing ourselves down. Thatcher On Acid was a good band, but it was good luck for them that Thatcher stayed in power for 11 years. If her influence had only lasted 18 months, Thatcher On Acid's sell-by date would have come and gone a lot sooner. We wanted a name which wouldn't date.
9

(hed) PE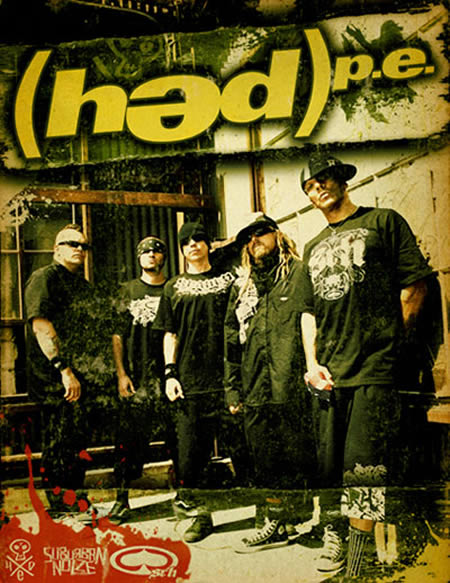 Hed PE, also known as (hed) planet earth and stylized as (h?d) p.e., is an American rock band from Huntington Beach, California. Formed in 1994, the band performs a style of music which they refer to as "G-punk". Everything about HED p.e. seems puzzling. Take the band's name. The "HED" stands for "higher thought," while the "p.e." is short for "Planet Earth." Might as well be hieroglyphics to anyone who hasn't listened to the rap-rock band's aggressive tunes. Actually, legal issues forced Hed to change their name, adding "PE" (Planet Earth)". Their music is primarily based on a fusion of punk rock and hip hop, but they have also been known to incorporate elements of heavy metal, reggae and other genres.
10

...And You Will Know Us By The Trail Of Dead

…And You Will Know Us by the Trail of Dead is an indie rockband best known for their heavy yet anthemic music and their tendency to destroy their equipment at the end of their performances (a rock and roll tradition usually associated with The Who). According to the band's website, the name "…And You Will Know Us by the Trail of Dead" is taken from both an ancient Mayan ritual chant and an Egyptian burial text. Band members have also claimed that they made it up because it sounded cool and discovered the association after the fact.
The chief creative element of the band consists of Jason Reece and Conrad Keely. They each formed their first band in 1993, soon after moving to Olympia, Washington. Dissatisfied with the northwest, the two ventured south to Austin, Texas and started playing as a duo under the moniker, "You Will Know Us by the Trail of Dead". The band expanded to include guitarist Kevin Allen and bassist Neil Busch. They then officially changed their name to "…And You Will Know Us by the Trail of Dead" (adding the conjunction and then the ellipsis for effect). The band is also known by the shorter name "Trail of Dead."
11

Oh No Oh My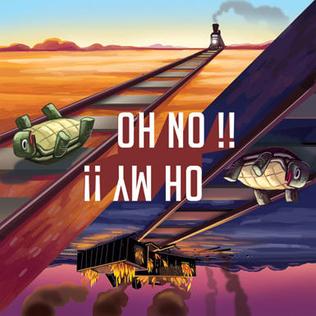 Austin, TX, twee pop trio Oh No! Oh My! are not quite as precious as their faux naïf name suggests, but they do come close, favoring a blend of acoustic guitars and vintage keyboards that recalls Belle & Sebastian, of Montreal, and all those '80s U.K. bands inspired by Young Marble Giants. Singers and songwriters Greg Barkley, Daniel Hoxheimer, and drummer Joel Calvin first formed in their hometown of Austin, TX, in 2005 under the band name "the Jolly Rogers," which they quickly abandoned when it became clear that several other bands had already laid claim to the name. Quickly renaming themselves Oh No! Oh My! (thereby sensibly securing a name that no other band could ever possibly want for themselves), the trio recorded and self-released their debut album, Oh No! Oh My!, in 2006. The band recently removed the exclamation marks from their band name, to simplify identification, and avoid confusion in general.
12

Paracoccidioidomicosisproctitissarcomucosis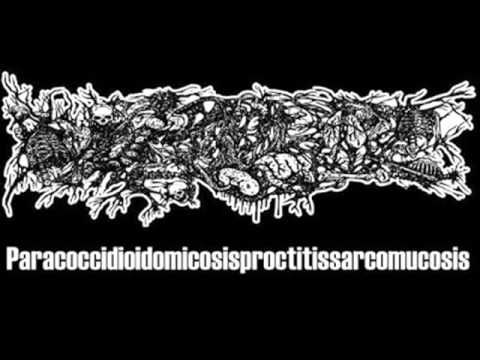 The band was founded in 1999 by Infection Cutane And Sensation Genital (vocals/guitars/bass) and Ginecologic Cryptococcidioidomicosis (vocals/drums) in a Mexican city called Queretaro. After releasing a couple demos entitled Cunnilingus in 1999, and Lymphatic Descomposition Esquistosomiasis in 2001, it took them a bit of time to sign to the well-known American Line Productions and make up their debut full-length Satyriasis And Nymphomania, which was released a year after. In 2004, they released a split cd with Japan's Butcher ABC, which contained the tracks from Lymphatic Descomposition Esquistosomiasis, but remastered. The band itself is a raw kind of goregrind with lyrical themes varying from death, to torture, to porn, back to death and tempo changing from slow to fast speed, and vocals pitch-shifted.
13

Anal Cunt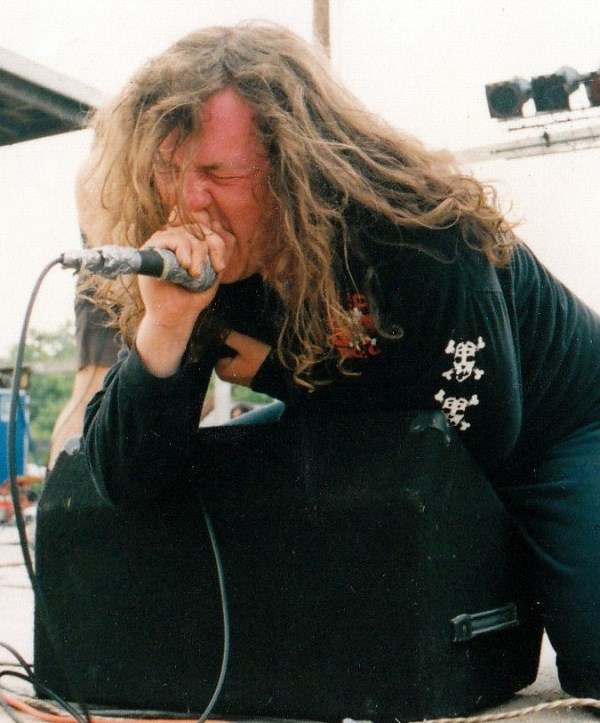 Anal Cunt is a noisegrind band from Boston. They are often referred to by their initials A.C. due to the perceived—indeed intended—offensive nature of their name, many of their album covers simply displaying the initials A.C. However, the band has managed to subvert even this abbreviation, by drawing these letters in a manner resembling an anus and a vulva. Their musical catalog consists almost entirely (barring the overwrought satirical Picnic of Love album and a number of cover songs) of ridiculously offensive material. The band has often been criticized for its popularity being based solely on their controversial song titles and lyrics rather than any musical ability, and is often mentioned when a debate is being made against the grindcore genre of music. One ongoing dispute is how much Anal Cunt actually believes in what they say on their albums.
Common lyrical themes include misogyny, homophobia, anti-Semitism, racism, ridicule of the unfortunate, and insults directed towards other bands of a similar genre ("Anyone Who Likes The Dillinger Escape Plan Is A Faggot"). Some examples of their controversial song titles are "Hitler Was A Sensitive Man", "I Hope You Get Deported", and "Your Kid Committed Suicide Because You Suck".
14

Mr. Mister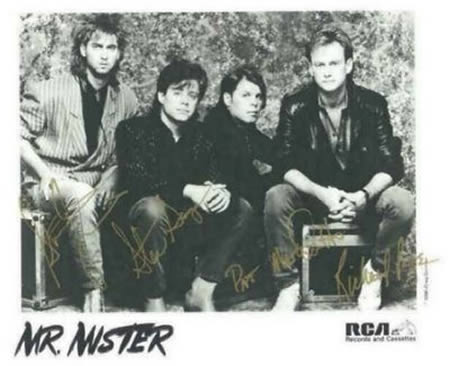 Mr. Mister was an American pop rock band of the 1980s. The band's name came from an inside joke about a weather report record called Mr. Gone, in which they referred to each other as "Mister This" or "Mister That", and eventually selected "Mr. Mister." Mr. Mister may be considered as representative of the melodic sound of 1980s pop rock.[2] The band consisted of Richard Page on vocals and bass guitar, Steve George on keyboards, Pat Mastelotto on acoustic and electronic drums and Steve Farris on guitars.
15

Sunn 0)))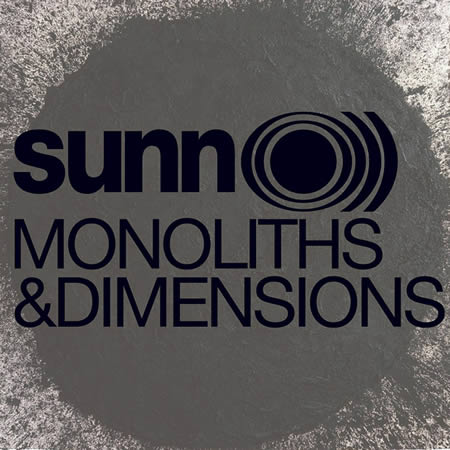 Sunn O))) (pronounced sun) is an American experimental metal band that incorporates some elements of the ambient, noise and black metal genres. The band consists of Stephen O'Malley (also of Khanate and Burning Witch) and Greg Anderson (of Goatsnake).
Sunn O))) is named after the Sunn amplifier brand, whose logo includes a circle next to the "SUNN" banner with waves heading off to the right (the band used this logo in the cover art of many releases); a literal interpretation of the logo produces "Sunn O)))". In interviews Stephen O'Malley has stated the name was also chosen as a play on the name of the band Earth, pioneers of drone music throughout the 1990s, reasoning that Sunn O))) "revolved around Earth.