1

Zombie Barbie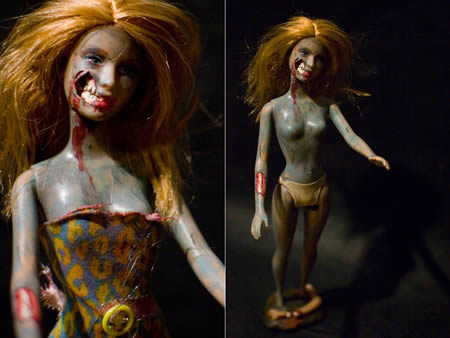 She could definitly be staring in MJ's Thriller movie, the Zombie Barbie is a sexy, creepy and totally modern woman.
2

Pregnant Barbie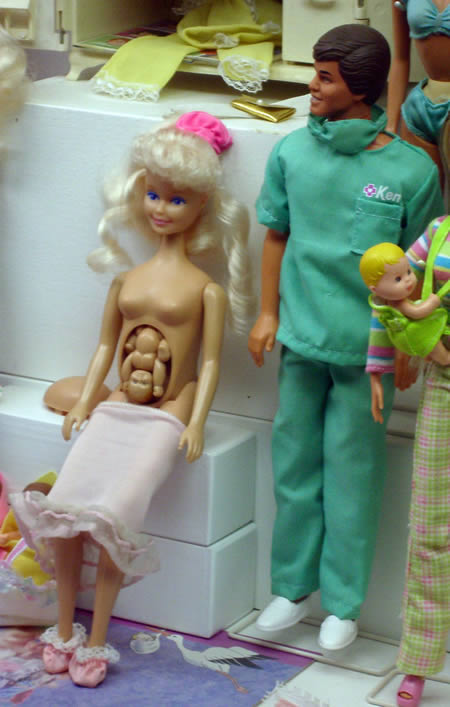 Possibly one of the most bizarre Barbies - ever - there's even a magnetic stomach that you put over the hole, until you are ready to act out scenes of labour or whatever children do with pregnant Barbies. On a similar note, the JumpOff have teamed up with the 'Want Respect' campaign, aimed at targeting sexually active teens in England and cutting pregnancy rates amongst the young.
3

Princess Unicorn Barbie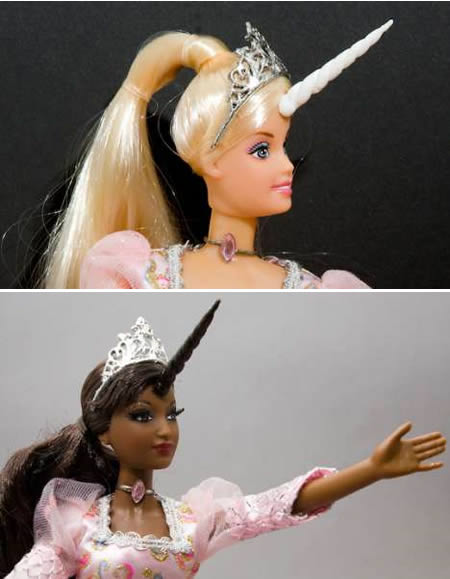 It's the doll you never knew you wanted, the "Princess Unicorn Barbie." Little girls everywhere are dreaming and drawing up lists for princesses they want wrapped.
4

Fat Barbie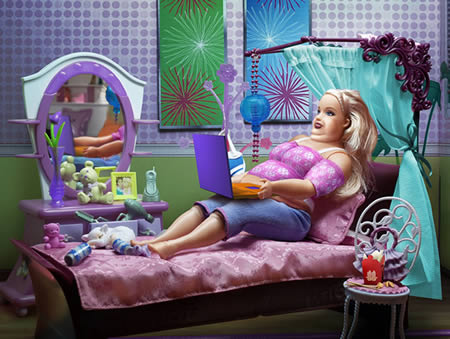 This fat Barbie was created as an ad for the Active Life Movement that used iconic children's toys to get their tagline out to parents to "Keep obesity away from your child."
5

Oreo Barbie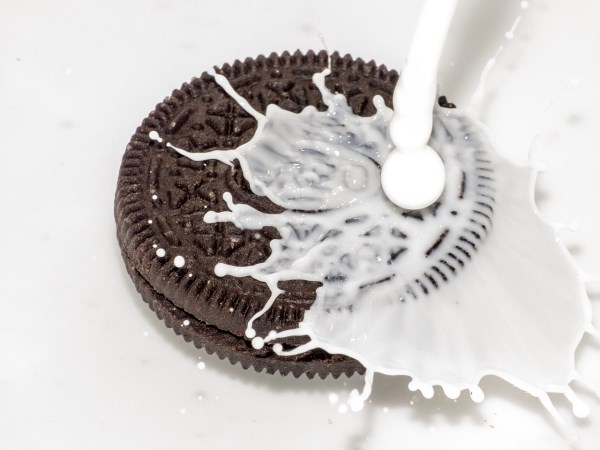 In 1997, the "Oreo Barbie" scandalized the African-American community which slammed the name for insinuating that the doll is like the eponymous cookie: "black on the outside, white on the inside".
6

Working Mother Barbie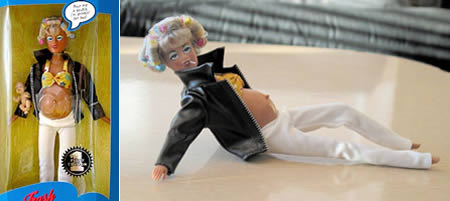 She didn't just fall off of the turnip truck! Turleen is a sophisticated and patriotic American and a model working mother. After hours of hard work gathering carts at the Honk & Holler and waitressing at the elegant Bowlarama, she still finds time to spend quality time with her kids. With seven children and one on the way, she recently won the Mother of the Year Award from the Pink Flamingo Trailer Park Homeowners Association! This special trophy sits proudly on the kitchen window sill in her luxurious double-wide next to her six first place Little Miss Guzzler Awards from the county fair! Yes, this honey has grown up! She's got a bun in the oven and she's ready to hit the town! Just push her belly button and Trash Talkin' Turleen will share some pearls of wisdom with the sophistication and style that makes her family and third grade teacher proud. Turleen stands approximately 12" tall.
7

Blood and Diamonds Barbie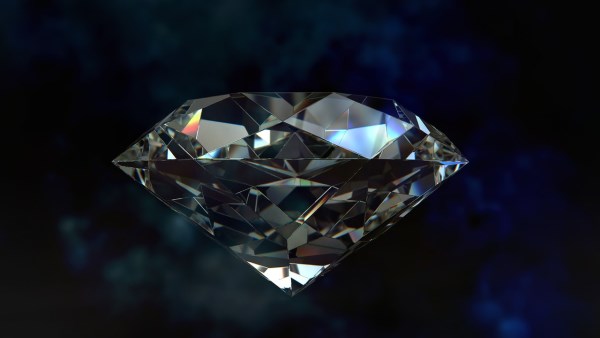 Blood and Diamonds Barbie designed and created by Carmen of The Perfect Dark One Of A Kind (OOAK) Dolls.
8

World's Most Expensive Barbie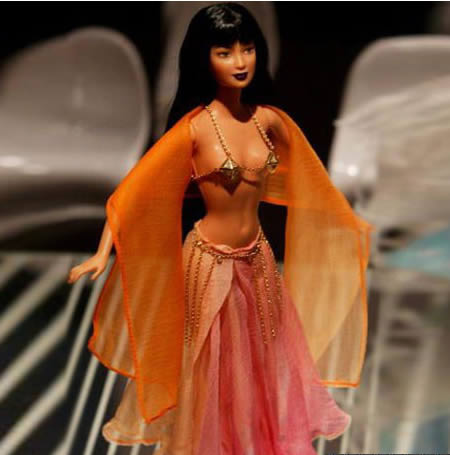 The world's most expensive Barbie doll, designed by De Beers, is dressed in an evening gown decorated with 160 diamonds and she has complimentary gold jewelry and accessories. "This Barbie was produced to mark the 40th anniversary in 1999 comes and was retailed at $85,000. Whilst if you think it is a too expensive deal to be done, then you can eye 1959 Barbie No. 1 carrying a price tag of $8000," according to Elite Choice.
9

Barbie's Muslim cousin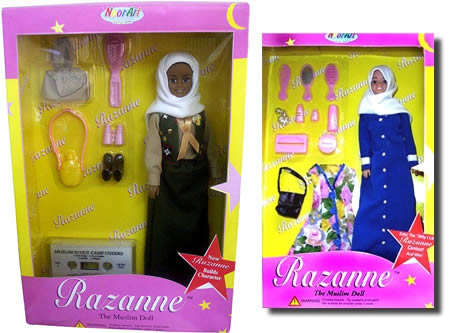 Barbie's Muslim cousin: Razanne.
10

Twilight Barbie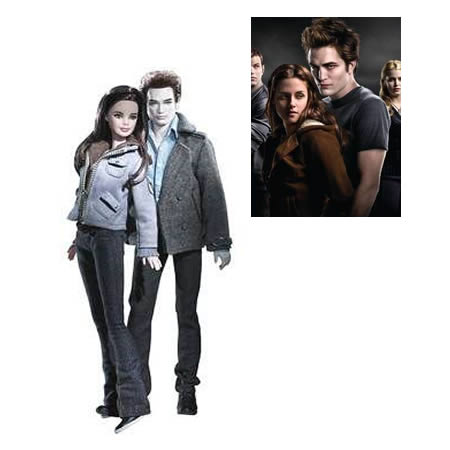 The Twilight frenzy continues with the new Edward and Bella Barbie dolls. The Twilight Barbies turn Stephanie Meyer's characters Bella Swan (played by Kristen Stewart) and Edward Cullen (Robert Pattinson) into an updated Barbie and Ken. The Edward doll is true to the Twilight saga with his vampire features, like shimmering skin and signature gold-colored eyes. The dolls are sold separately and are currently available at Toys 'R Us.
11

Amy Winehouse Barbie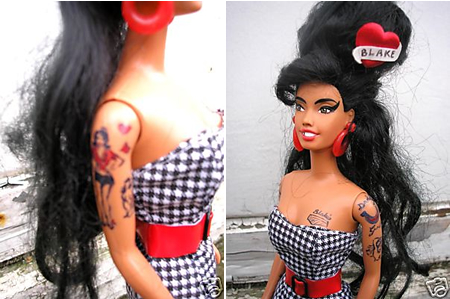 We've seen celebrity dolls used as narcissist promotional tools, but not often do we see memorabilia that accentuates a star's less appealing attributes. This Amy Winehouse Barbie has a lot of similarity with the real UK crooner, complete with black, messy beehive hair style, tattoos and dramatically winged eye liner which has been smudged by her tears.
12

Barbie's wheelchair-bound friend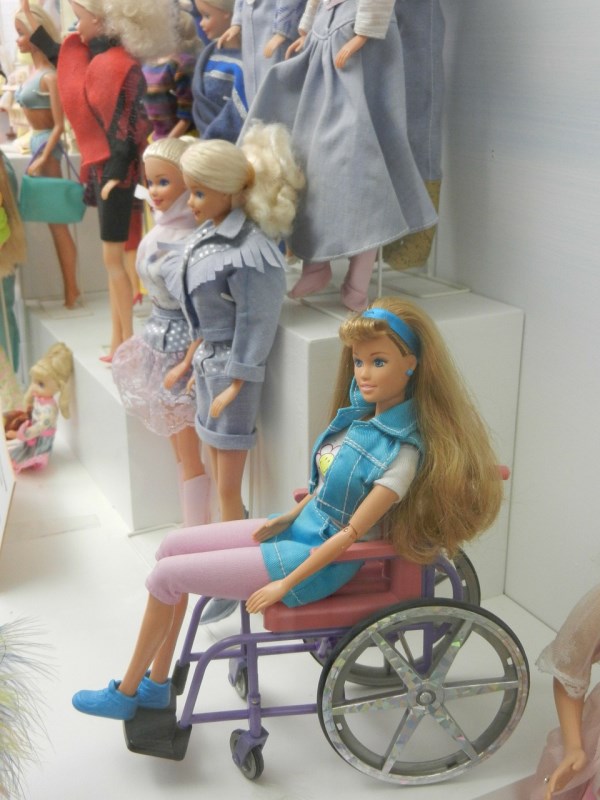 In May 1997, Mattel introduced Barbie's wheelchair-bound friend Becky. But the initiative came under fire when a teenager with cerebral palsy pointed out that the doll's wheelchair did not fit into the elevator in Barbie's house.