The green technology industry is booming: from recyclable earrings to a banana coffin, meet some of the weirdest eco friendly products.
1

Eco-friendly Burial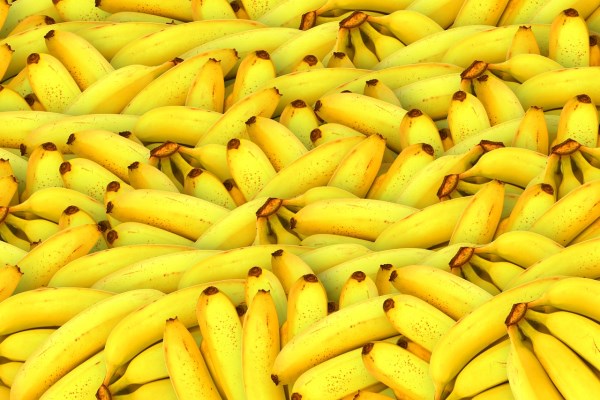 A Colorado company sells caskets made from banana sheaves, bamboo or pandanus that decomposes together with the body as a way of promoting ecologically-friendly burials. The so-called Ecoffin, short for eco-friendly coffins, of Ecoffins USA takes six months to two years to biodegrade. The company's marketing director, Joanna Passarelli, said the Ecoffins is better for the environment than cremating bodies. The lowest price for this eco friendly product is $800.
2

Eco-friendly Remote Control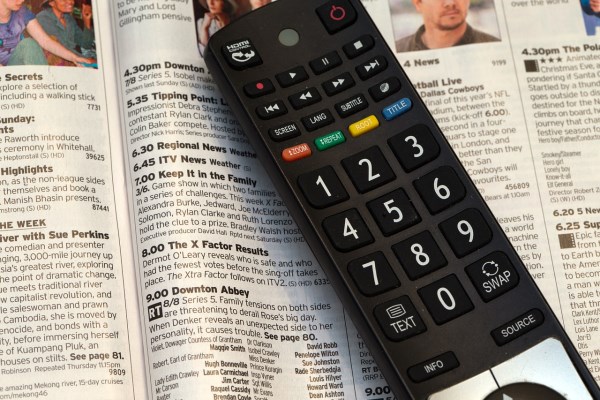 Sony challenged Industrial Design students from China to design and eco-friendly device. One of the participants from Dong Hwa University came up with this unique creation called the Sony Conductor TV Remote. It's a wand shape kind of remote that needed to be swayed side to side to power it on and the green LED light fire up to indicate its power level. To start navigating, one can wave the conductor left and right to change your TV set's volume, up and down to change channels and in a circular motion to switch your TV set on or off. Sounds really tiring to me.
3

Eco-friendly Pet Furs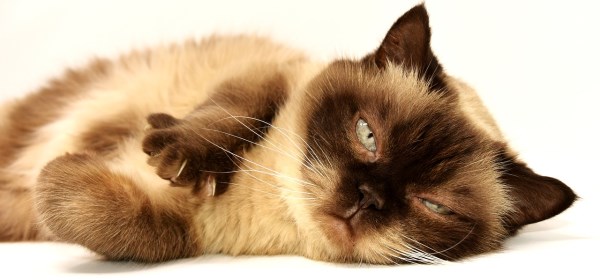 If you think making clothes out of human hair is weird how would you feel if I told you humans are making clothes from their pet's fur? It isn't much different from using sheep's wool or natural animal fibers from alpaca, angora, llama or camel, right? Danelle German doesn't think so. She is a professional cat groomer from South Carolina. She started a business called Catty Shack Creations as a means of reusing beautiful cat fur instead of throwing it away. Her inspiration came when a friend of Danelle's asked her to clip her pet's hair so that it could be spun into yarn.
First the pet is thoroughly washed to make sure the fur is clean and tangle free. Then the pet is shaved. Many pet owners have their pets shaved to help their pets survive the hot summer and to help make it easier for the owner to keep their pets well groomed. The fur is then collected and cured for a few days. The hair fibers are then carded, spun into yarn and finally knitted into handbags.
4

Eco-friendly Moss Carpet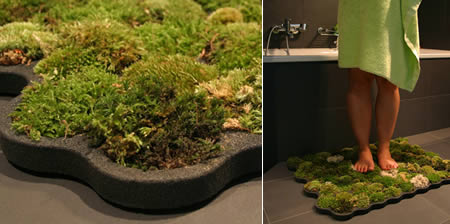 They say walking on fresh grass increases your blood circulation; I can't vouch for that! Anyways, it is a reason to get going to the nearest park, remove your expensive Jimmy Choo's and prance around. The Moss Carpet, created by Nguyen La Chanh, looks at getting the grass to your feet, and that too in your loo! Made from imputrescible foam called plastazote, the mat includes ball moss, island moss and forest moss. The humidity of the bathroom ensures that the mosses thrive. And that's why you need to place it there and not anywhere else. Little gnomes not included.
5

Eco-friendly Umbrella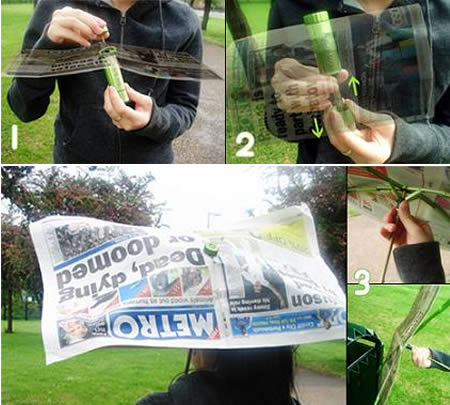 Conventional umbrellas come with a fixed surface. Although it is changeable, you cannot replace it easily. This eco-friendly design is more flexible. It is actually only a collapsible umbrella skeleton without any surface, so you can put anything such as newspapers, plastic bags or whatever you want to serve as the protecting surface.
6

Eco-friendly Edible Shoe Cream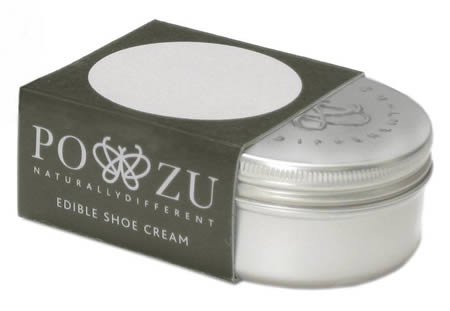 Probably the weirdest on the list, this product was designed by Greenfibes, eco goods and garments. It's organic edible (yes, edible!) shoe cream. Apparently, it can be used for other purposes such as spreading on toast or as a lip balm. I don't know about you, but eating something that is advertised to be spread on a shoe does not interest me in the least.
7

Eco-friendly Clothing for Babies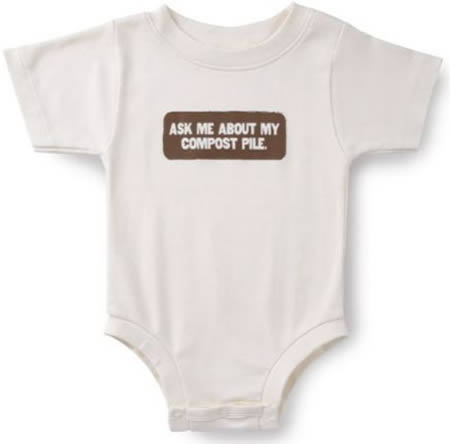 Maybe you weren't the best to the environment, but darnit, your baby hasn't destroyed anything yet. Whether your child wants to be condescending with a onesie reading "Thanks For All the Global Warming," cutsie with a "Give A Hoot, Don't Pollute" shirt, or even disgusting in a onesie reading "Ask Me About My Compost Pile," strangers everywhere are sure to take a second look at your sassy starlet. And lest you worry about making your baby a hypocrite, all three tees are organic. Oh, and if your child is actually the K-9 variety, there are plenty of cute eco-friendly shirts for pups as well.
8

Pollution-Sensitive Dress
Don't be caught outside unaware of pollution levels in the air. The pollution-sensitive 'EPA Dress' by Stephanie Sandstrom detects pollution in the air and wrinkles accordingly. That's right, this dress – which is actually quite pretty – looks like you pulled it from the bottom of the dirty laundry heap when the air is dirty. It might protect your health by advising you to stay indoors for the day, but it won't do you any favors if you're meeting with clients.
9

Eco-friendly Car Racer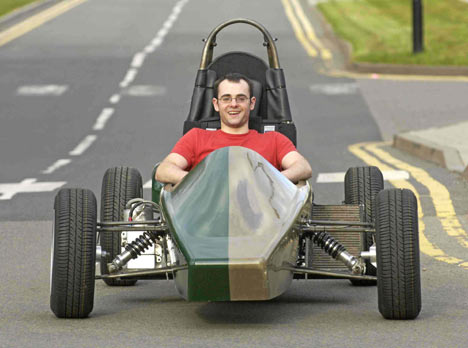 Can you image a car racer is so eco-friendly that it is all made from plants. Just take a look at the picture, you gonna know that it's soooo natural. Eco One was designed by Dr Kerry Kirwan, a researcher at Warwick Manufacturing Group (WMG), the university's academic department which provides solutions to industry, and built by student Ben Wood over two months at a cost of £20,000.
10

Eco-friendly Earrings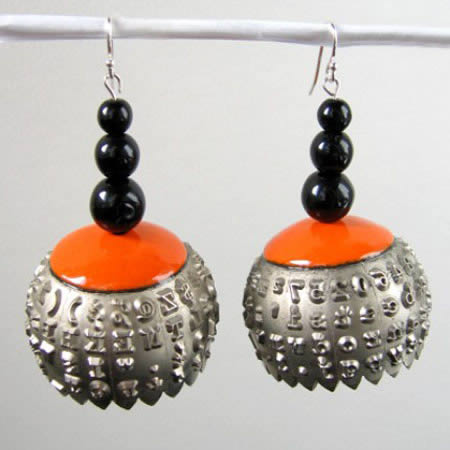 A wonderful and great green product from Kitten Lab is now available for purchase to those who wanted to accessorize themselves in a green way. The eco fashion accessories by Kitten Lab are made by the artistic hands and from a vintage IBM Selectric typewriter balls. The balls are made of plastic, that is why it is light enough to be on your ears. With this creation, there will be no need for us to spend too much to be fashionably trendy, and it will dramatically reduce landfills, which is great in reducing the harm that we have for the environment.
11

Eco-friendly swabs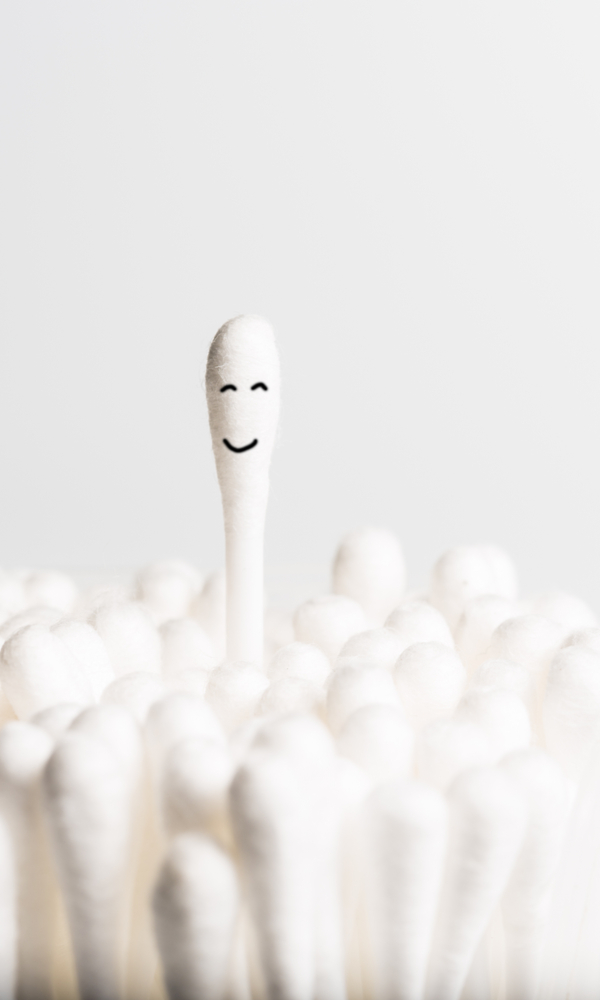 An awesome example of an eco-friendly product is LastSwab. It's a reusable alternative to single-use plastic buds and it has two different models for various applications. LastSwab q tips are made from durable, flexible, and biodegradable materials that are pretty easy to wash with water and soap.