Father's Day is coming and you still have no idea what to buy? We have compiled a list of 10 of the strangest, weirdest and most unusual gifts your dad could get.
1

Beer Belt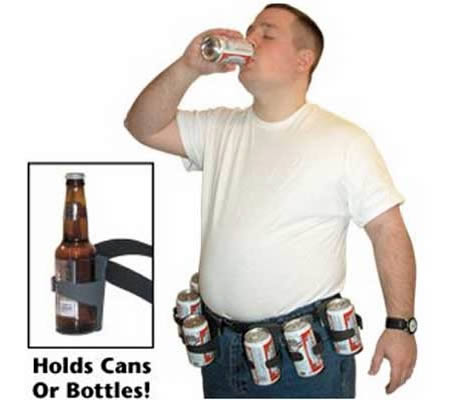 This fully adjustable Beer Belt ($13.99) will allow your dad to hold a six-pack without his hands! This hands-free convenience accommodates both, cans and bottles!
2

Condiment Gun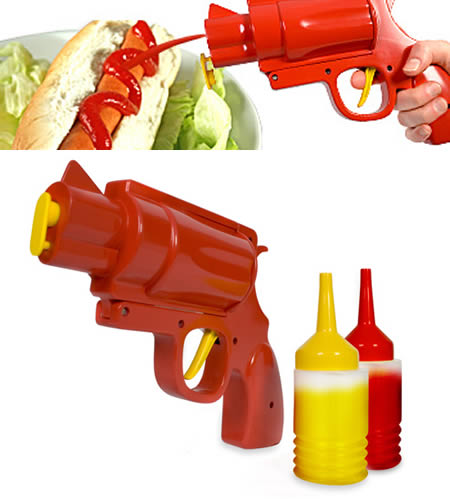 Why just squeeze ketchup or mustard on your food when you can shoot it? The Condiment Gun ($25) looks like a cartoon six-shooter, and will aim your ketchup right where it needs to go, on your fries or your opponent in a food fight.
3

Pole Dancer Stripper Alarm Clock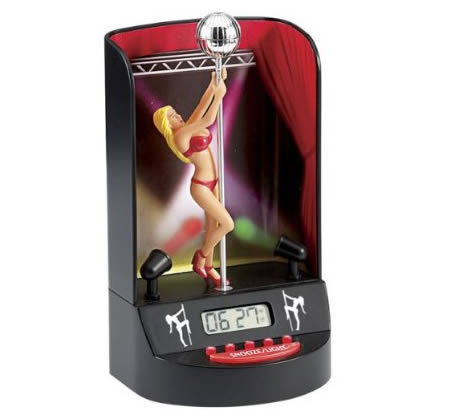 Get your dad to rise and shine with this Pole Dancer Alarm Clock ($26.99), an alarm that is sure to grab his attention even when he's in a deep sleep! When not going off this clock just looks like a novel sculpture of a pole dancer, but when it's time to wake up, the party has just begun. The Pole dancer spins around and around in front of a curtained stage, strobing disco lights activate making the stage area come to life and a loud strip tease style of alarm music will wake him up. Your mom will hate it!
4

Pro Thumb Wrestling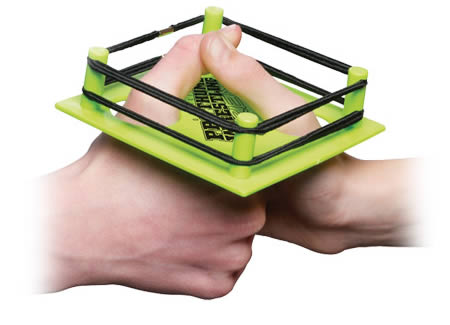 Pro Thumb Wrestling ($12.47) is a full-size, "officially sanctioned" professional thumb wrestling ring. All contenders must insert their thumbs through the opposite corner holes and come out wrestling. Wrestling rings come in four bright colors with color coordinated and flexible ropes. Get your dad in the ring and start thumb wrestling!
5

Beer Belly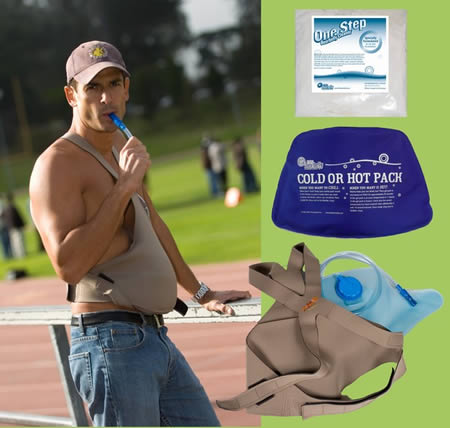 If you want your dad to sneak beer into an event (e.g. football games, theaters, church) but not pay over-inflated prices from vendors inside, then you might want to give him a Beer Belly ($30.93)!
The Beer Belly, a hands-free hydration system, looks like a beer belly when worn under clothing. It consists of two parts: the sling and the bladder. The sling is designed to fit users up to six feet, 8 inches tall and up to a 40-inch waist. The bladder, made of polyurethane, holds up to 80 ounces of any hot or cold beverage and fits in a custom-shaped pouch in the sling.
6

Battery-operated Back Scratcher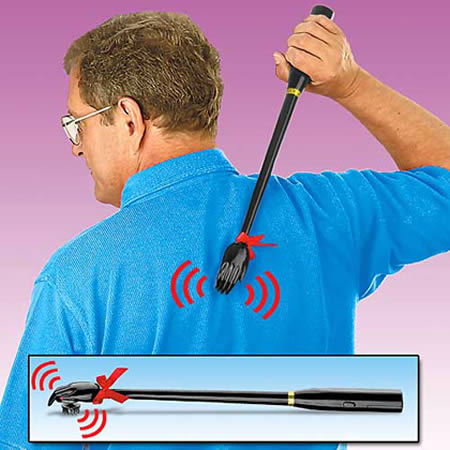 Honey, would you scracth my back? I don't think so daddy, with the Battery-operated Back Scratcher ($9.98) you can do it yourself. A new cordless electric adaptation of the" classic," its long reach and self-powered motion, this extra hand massages your skin and eliminates those unbearable, impossible-to-reach itches without stretching and squirming.
7

Pizza Boss 3000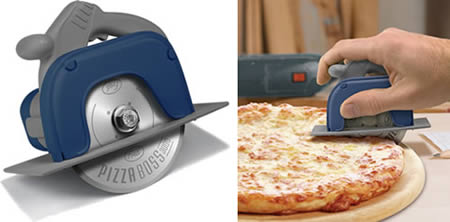 Real men don't use wimpy dime-store pizza wheels. Show that pizza you mean business with the Pizza Boss 3000 ($15.00). It'll blast through pepporoni, extra cheese, even those pesky anchovies. It's built from tough engineering-grade plastics and the laser etched stainless steel blade has a removable shield for easy clean up. Clear plastic gift box.
8

Frozen Smile Ice Tray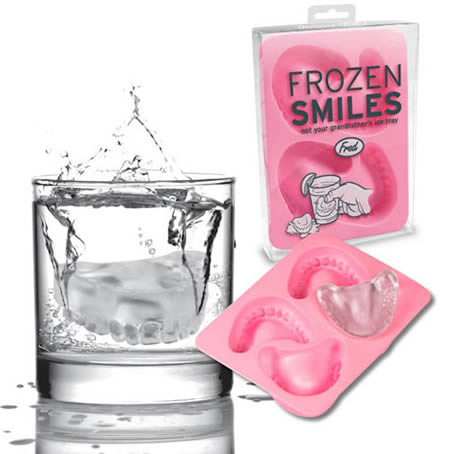 Is the old man loosing his teeth? Give him an ice replacement! This isn't your grandpa's ice tray - though the ice does look suspiciously like a set of his dentures! Well, freeze up a batch of cubes with the Frozen Smiles Ice Tray ($5.49), serve them to your party guests... and watch them smile!
9

Bacon Wallet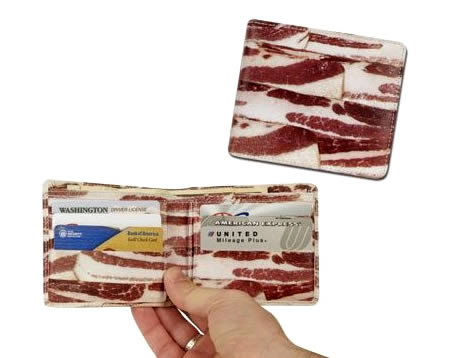 Put some meat into your dad's pockets with this intriguing Bacon Wallet ($8.22). Now you can truly be the man who "brings home the bacon."
10

Ring Thing Bottle Opener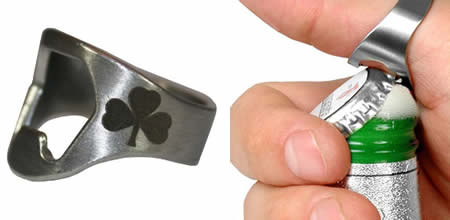 Everyone can be a little Irish with this Ring Thing Bottle Opener ($12.95), a shamrock-engraved finger-ring that doubles as a bottle opener. Wearers of this certain social lubricant always become the talk of the tavern. Wear it on your social finger (middle finger). Hook the bottle cap with the Ring Thing and lift your wrist. Pssshhhhhhht... enjoy your drink!