1

Daria Gubanova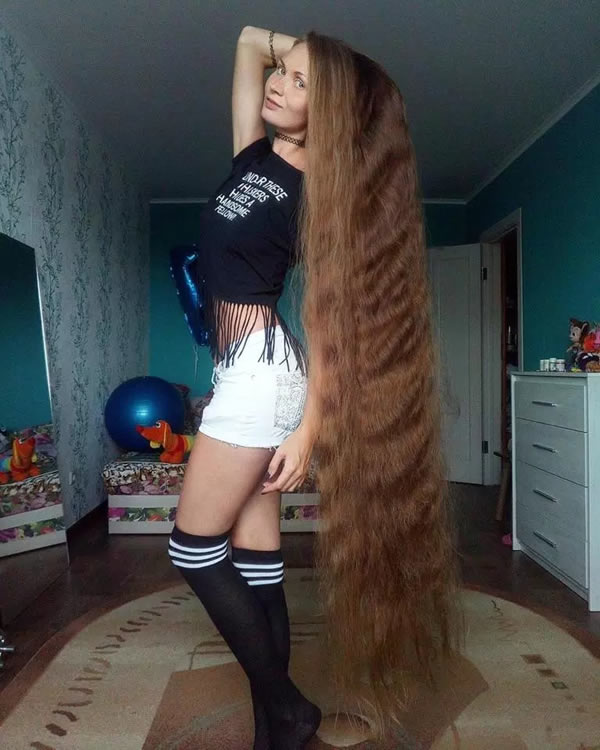 Daria Gubanova stopped cutting her hair on a bet 14 years ago and turned into a real-life Rapunzel.
This Russian beauty's amazing head of thick hair comes down almost to her ankles, similar to the fictional character. The 27-year-old, who lives in the city of Barnaul in south-central Russia's Altai Krai region, says she will not trim her impressive mane until it reaches her toes.
2

Lianne Robinson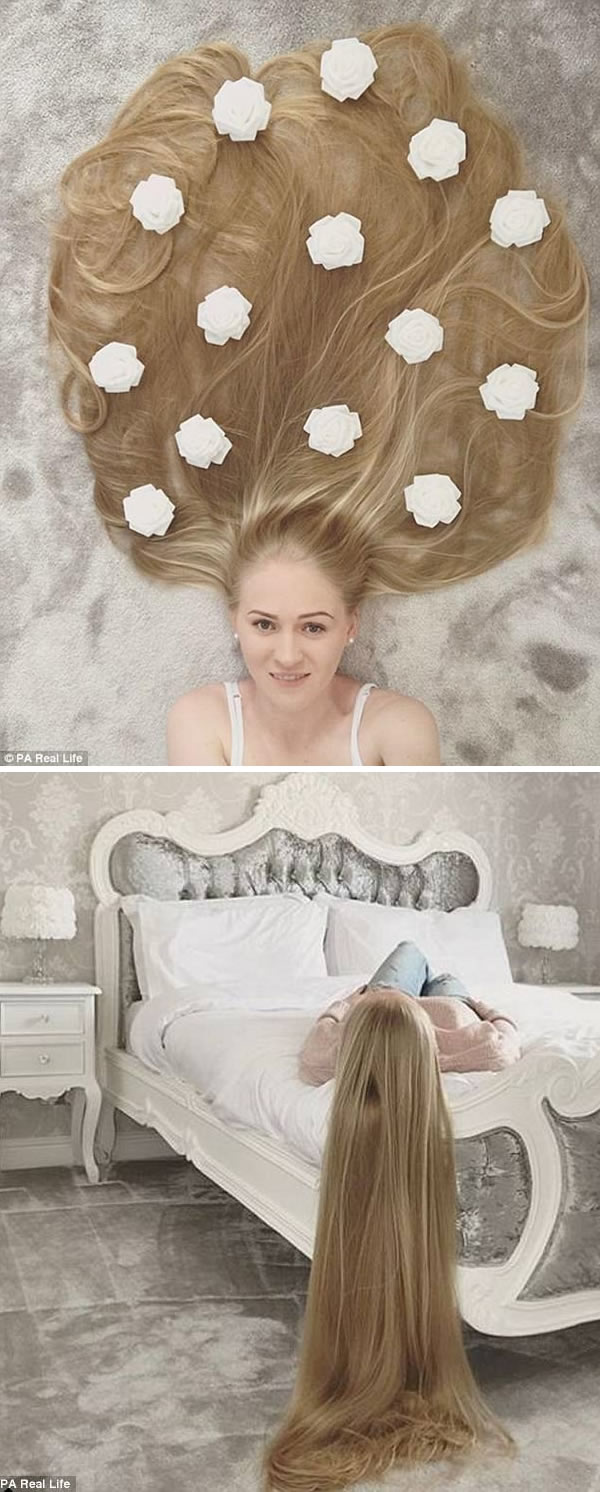 Lianne Robinson claims she bears such an uncanny likeness to Rapunzel that she can't even go out without being stopped in the street because little girls think she is a princess.
The 28-year-old mom from Retford, Nottinghamshire, takes hours to get ready because her almost 4ft long mane is such a talking point with fairy tale-obsessed youngsters. Lianne first started growing her hair 17 years ago, and now it measures nearly to her knees.
Remarkably, however, it takes her only 15-20 minutes to blow-dry her locks, which she keeps soft and shiny using ordinary shampoo and conditioner.
3

Aliia Nasyrova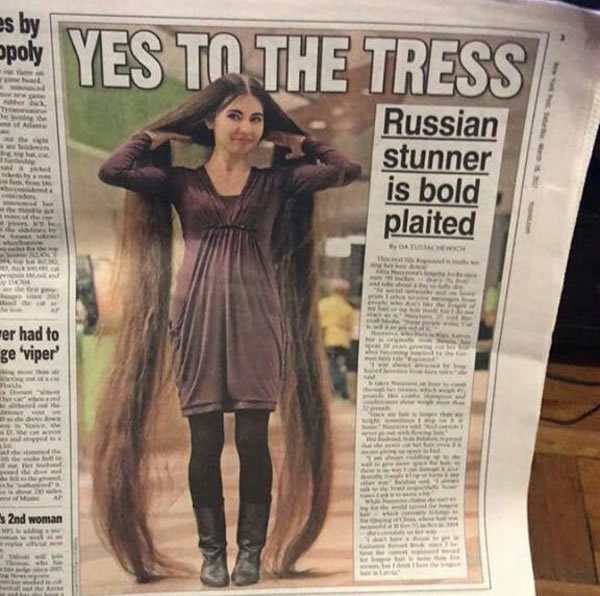 Imagine living your life with the weight of a cat hanging from your head. That's how Aliia Nasyrova described what it's like to have 4.5-pound, 90-inch long hair.
The 27-year-old, who grew up in Russia, has been growing her hair since she was seven. Her insanely long tresses have gained her more than 69,000 followers on Instagram, and 22 pounds of hair care products. She currently lives in Riga, Latvia with her husband, Ivan Balaban, who's proud of her for refusing to chop it off.
4

Aaron Fernando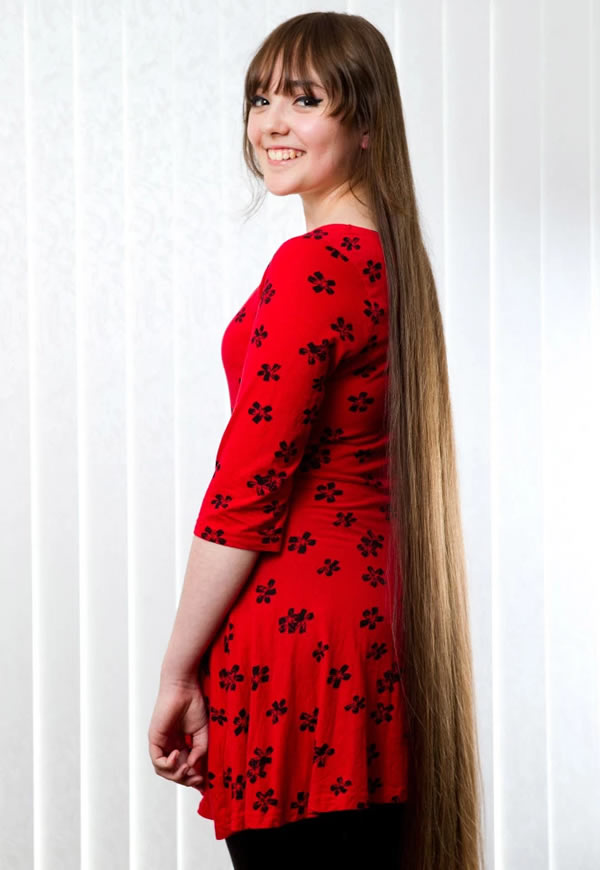 Long-locked Aaron Fernando has been bullied out of school after cruel tormentors mocked her long hair. The 15-year-old, who hair reaches a staggering length of 4ft 4in, had to put up with taunts from her classmates.
The brave teen, who is only 12 inches taller than her hair, is now being home schooled. Despite this, she has no regrets about her lengthy locks even though maintaining them is no easy feat, as she has to get rid of tangles twice a day with a brush. When she goes out, Aaron is forced to pull her hair back into a plait because otherwise it "whips around like crazy."
5

Nguyen Van Chien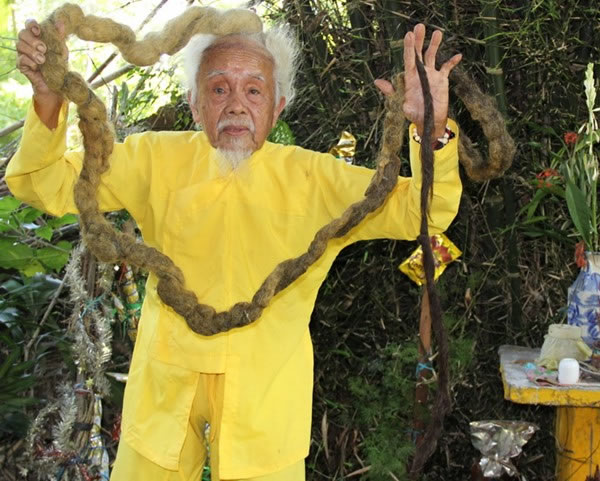 Mr. Nguyen Van Chien, 85, from the southern province of Tien Giang, hasn't cut his hair in more than 70 years. It is now 4m long and weighs 2 kilos (over 4 pounds). Anyone who sees this man is impressed by his hair and his good health. Chien can read and thread a needle without using glasses. He also works hard on his farm.
Chien is a Buddhist. He built a small temple at home over 40 years ago. Since then, he has maintained a vegetarian diet and only eats one meal a day.
6

Andrea Colson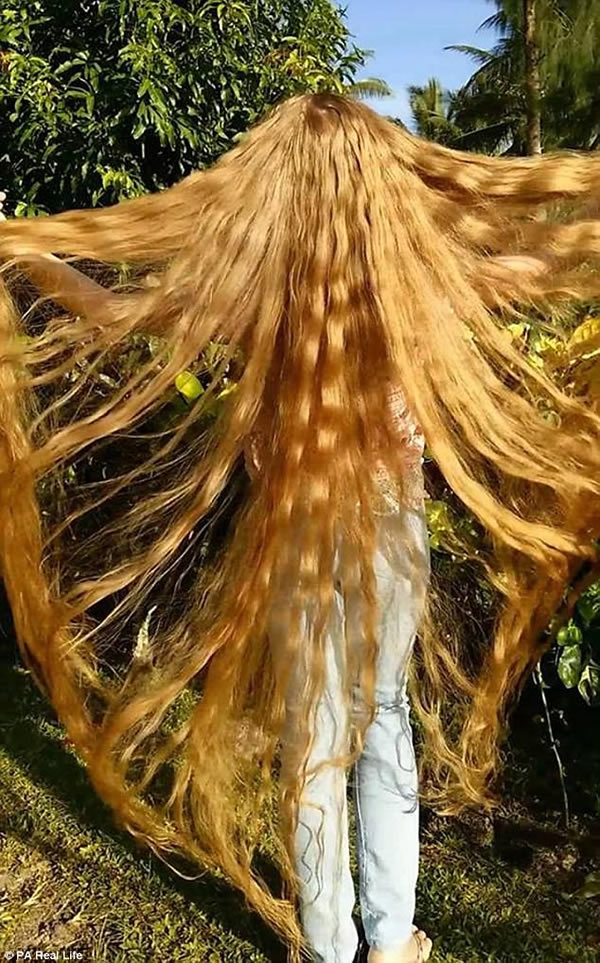 Andrea Colson, 33, who was born in the U.S. but now lives in Micronesia, credits a daily spoonful of peanut butter for her glossy, 64-inch tresses, which are longer than five rulers. The Christian missionary also massages coconut oil into her hair twice a week and says she trims the ends to keep them in good condition.
It takes 30 minutes for Andrea, who says Disney's Rapunzel is her inspiration, to plait her hair. She uses special hair ties to contain her thick locks and has been growing her now foot-skimming mane since she was little. She regularly gets stopped in the street by admiring strangers.
7

Gareth Robinson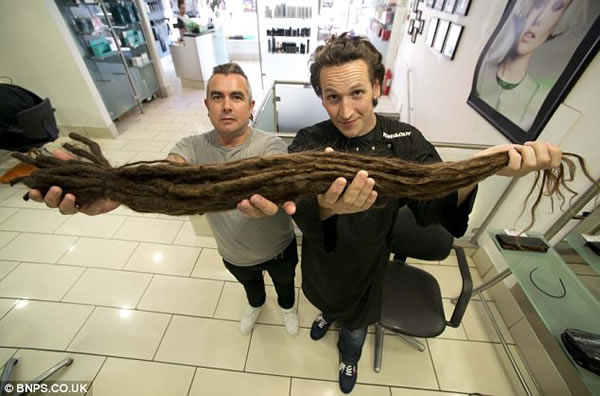 In 2013, Gareth Robinson, who had been growing his mammoth five-foot long dreadlocks for over nearly two decades, raised hundreds of pounds for charity by finally cutting them off.
The man from Bournemouth, Dorset, was 16 when he first had his hair twisted and backcombed into the matted coils after struggling to find a style that he liked. He stuck with the do for 19 years until the knee-length locks were so long he sat on them by accident. His girlfriend, 22-year-old Jana Brizdalova, even had to hold the dreadlocks out of the way while he washed his face.
8

Cen Yingyuan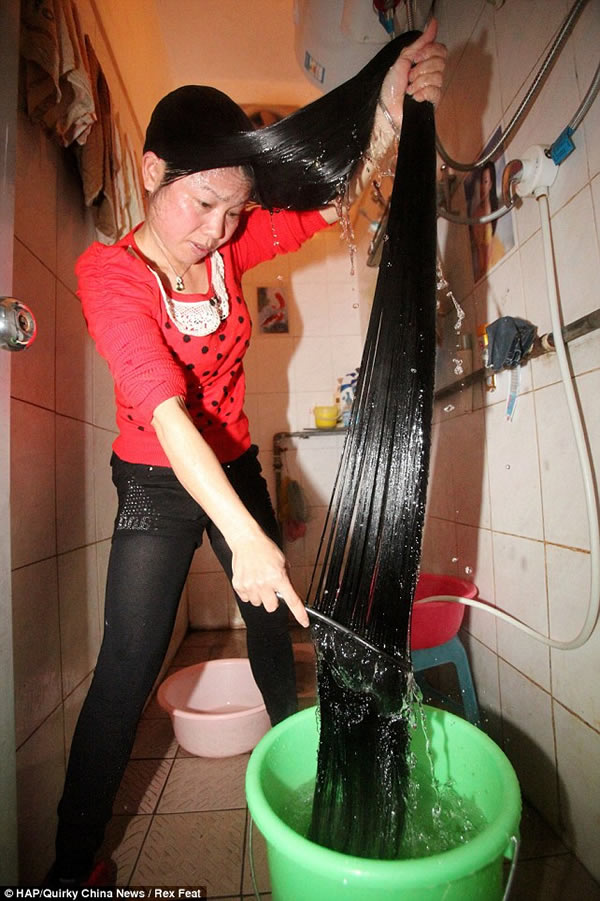 This Chinese woman hasn't cut her hair for the past 11 years, and her locks now hang at 6ft 7in long. In comparison to her long hair, 44-year-old Cen Yingyuan only stands 5ft feet in height, meaning that unless she ties up her tresses, it trails on the floor as she walks.
Cen, who lives in Guigang, in the Guangxi Province, treasures her hair so much she even collects any strands that drop out. She's said many people have offered to buy her hair—the highest amount she has ever been offered was 20,000 Yuan ($3,500).
9

Sara Beygi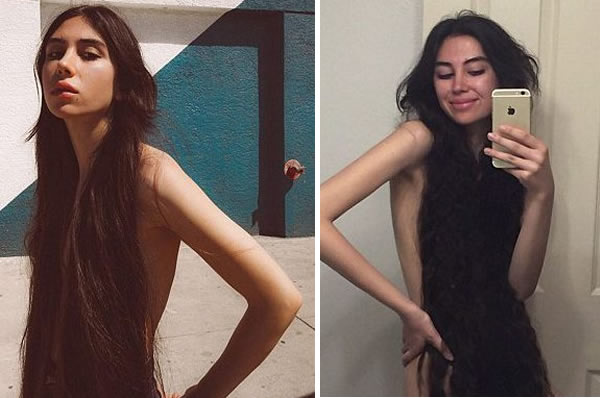 This teenager who hasn't cut her hair for five years has locks so long she can now "wear" it instead of clothes.
Sara Beygi, 19, is known as 'Madame Kush' to her Instagram fans and has been dubbed the "real-life Rapunzel" thanks to her flowing brunette locks.
The Californian's mane currently totals 3ft 7in in length—more than half of her 5ft 6in height—and she has plans to keep on growing it. Sara revealed she often ditches T-shirts in favor of styling clothes out of her hair.