1

A father saves a young boy before going back for his family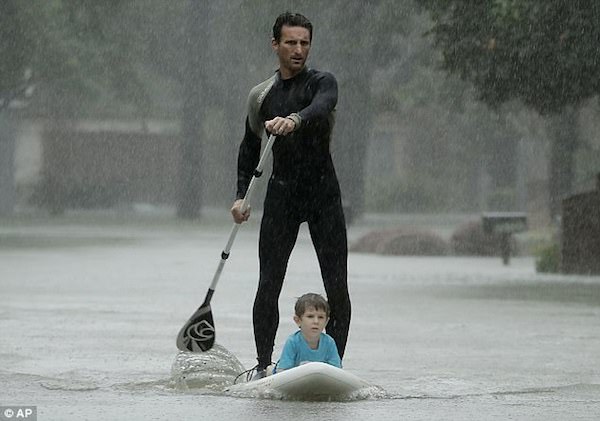 Alexandre Jourde, a 42-year-old oil and gas engineer from Paris, won hearts when a photograph emerged of him paddling four-year-old Ethan Colman to safety.
Both live near the Buffalo Bayou area of Houston where thousands have been displaced due to the rising floods. Jourde was preparing to leave his home with his wife and their two children when a stranger approached him and asked him to help Ethan get out.
With his own family safe in his house and no water yet creeping in, Jourde paddled Ethan to dry land then waited with him until his relatives arrived before heading back to his home. He then made two more trips—one to rescue his children, and another to get his wife.
2

A Houston SWAT team member carried a woman and her infant son to safety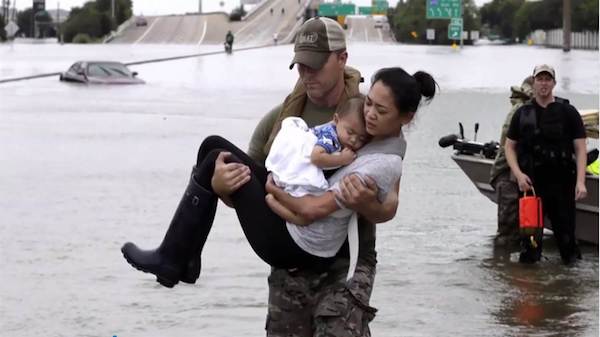 Cathy Pham was trapped on the second story of her southwest Houston home, watching the floodwaters rise. She, her husband, Troy, their 13-month-old son, Aidan, and a 73-year-old neighbor were stuck in a loft bedroom as Harvey drenched the city. Within a few hours, Houston SWAT member Daryl Hudeck brought the family to dry ground off of Interstate 610 where photographer Louis DeLuca snapped the above shot, which has since gone viral.
The family is safe now, but don't expect to be able to get into their home for several days. The Phams were also unable to get Hudeck's contact information. He asked Cathy her son's name and age as he carried them and then was off to help more people.
3

A Houston reporter helps deliver a baby during Hurricane Harvey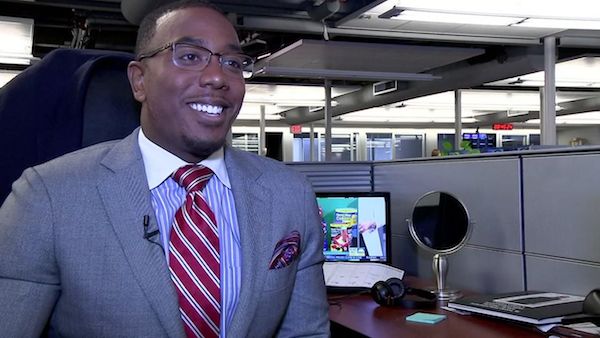 ABC13 Eyewitness News reporter Chauncy Glover helped a woman deliver her baby in northeast Houston.
He was on a boat rescuing people from the high water when a woman came up to them and said that her sister, identified as Brie, was in labor. The pregnant woman received helped and was transported to Texas Women's Hospital.

4

A CNN news crew saves a man from drowning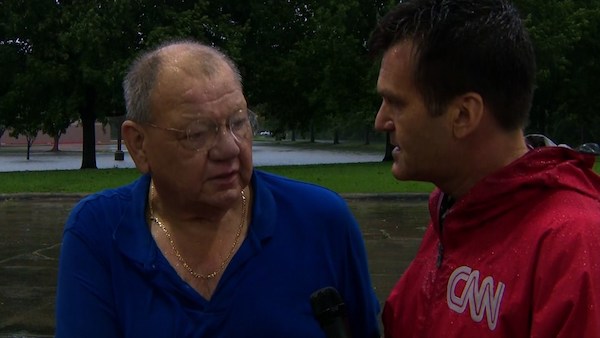 CNN reporter Drew Griffin and his crew rescued a man who accidentally drove a truck into a flooded ravine in Beaumont, Texas.
"We just literally rescued this guy out," said Griffin, who missed his live shot to help out. Griffin alternated between telling newsroom anchor John Berman what the situation looked like and making sure the driver, Jerry Sumrall of Winnie, Texas, wasn't hurt.
Following the rescue, Sumrall took a moment to collect himself before saying, "I want to thank these guys for saving my life."

5

Katrina survivors, the Cajun Navy, join rescue efforts in Houston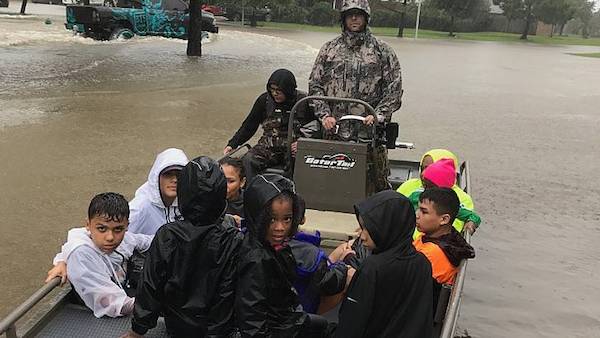 The Cajun Navy, the famous volunteer rescue group that formed in Louisiana after Hurricane Katrina, are delivering desperate residents from Harvey's downpour.
As Katrina survivors and witnesses, they now join locals and other out-of-towners who are patrolling waterlogged streets, opening their doors to strangers in need, offering their time and talents and choosing to help others instead of seeking higher ground.

6

A father and son free animals from their flooded pens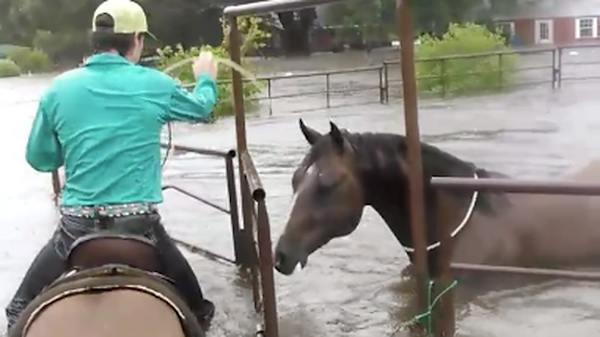 Chance Ward and his 17-year-old son, Rowdy, have been saving animals since Harvey unleashed its fury upon Texas. Here, they free a horse locked inside a pen as water rises above the fidgety animal's legs. The video of the duo has since gone viral, reaching 8.9 million views since it was posted Monday.

7

A woman and her 21 dogs are saved by a group of rescuers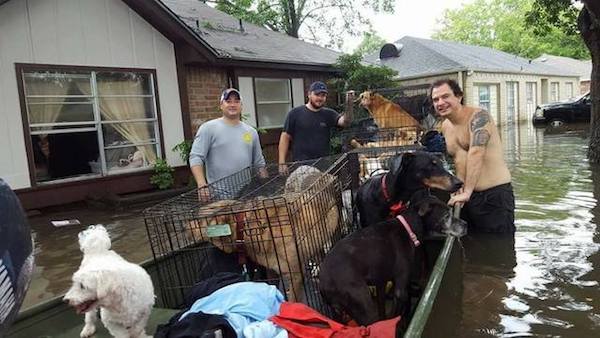 Betty Walter has four dogs of her own and was pet sitting for a friend when Harvey hit. She then tried to rescued neighbors' animals from the flood when she was forced into her attic by the rising waters. When her rescuers showed up, they not only saved her but her dogs, too—all 21 of them!
8

Neighbors form a human chain to get a pregnant woman to safety
Watch this incredible video which shows residents of a Houston complex making a human chain to help rescue a woman in labor from Harvey's flood waters.
When the flooding began, the woman's husband tried to contact 911, but they couldn't reach emergency responders. He then sent out an email to members of their apartment complex, asking if any medical staff was nearby. Shortly after that, neighbors began to fill the couple's apartment building, searching for any way to help.
Houston FD eventually showed up to rescue the woman. Neighbors then made a human chain as a way to safely escort the woman and her husband to the emergency workers' truck.

9

A mattress store owner houses hurricane victims in his stores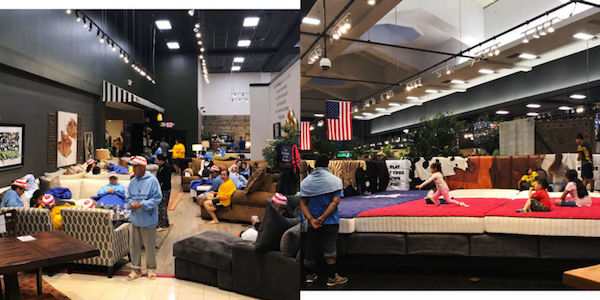 Jim McIngvale owns Mattress Mack, a chain of furniture stores in Houston and he's opened a couple of showrooms for people displaced by the storm to come and rest and sleep on his inventory.
The Houston Chronicle reports: "A message from a store representative stated that they would be allowing families to use the store as shelter from Harvey. The store is putting out a call for kennels to accommodate pets. Gallery Furniture, according to the release, is stocked with food, water, and mattresses. Each store can accommodate a few hundred people comfortably. 'Houstonians have a safe, dry place to take shelter at Gallery Furniture so if they can get here they are welcome,' said owner Jim 'Mattress Mack' McIngvale in the release. 'We hope to give them some comfort in this incredibly difficult time.'"