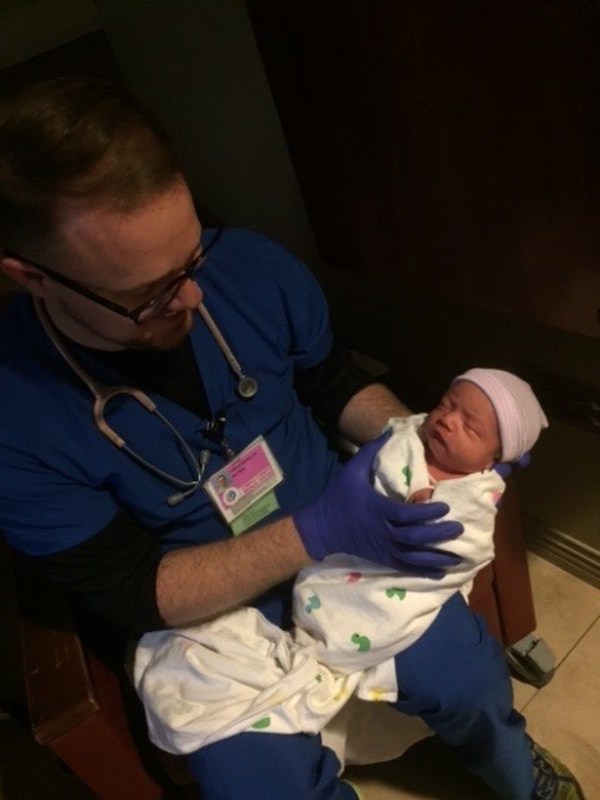 A baby who was born in Corpus Christi as Harvey made landfall has been named—you guessed it—Harvey.
Harvey, who came into this world at 7?pounds and 18¹/? inches, didn't have a set name before his mom, Irma Rodriguez, went into labor. Harvey came at the suggestion of a nurse at Corpus Christi Medical Center Doctors Regional.
"It was exciting delivering my baby during the hurricane," Rodriguez said. "We are thankful for the care we received."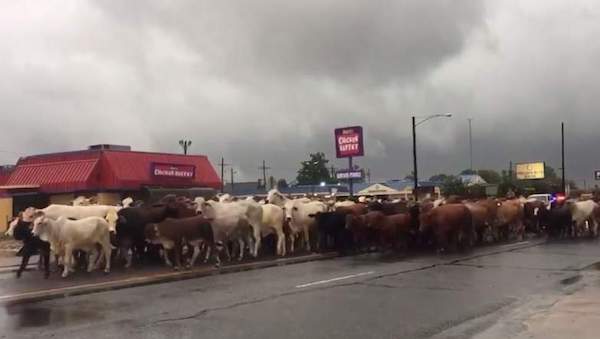 Police near Dayton, about 40 miles northeast of Houston, guided dozens of cattle down a street to higher ground because of the nearly 50 inches of rain that's predicted in the area. Watch as Liberty County deputies drive slowly down a street as dogs and ranchers join in the process.
Police moving cattle to higher ground just outside Dayton, TX with team @contessabrewer @CNBC pic.twitter.com/yRuqvahPOw

— Harriet Taylor (@Harri8t) August 27, 2017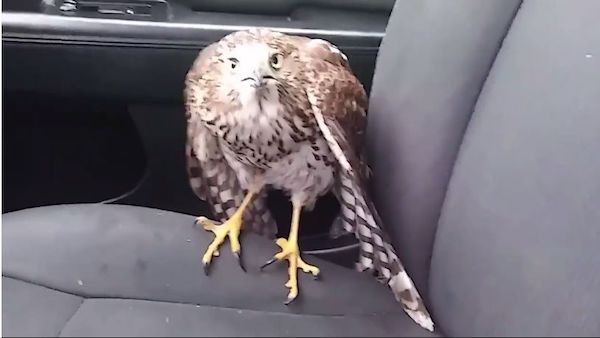 A hawk sought shelter in a Houston man's car as Hurricane Harvey hit.
William Bruso came back to his taxi after stopping to stock up on food and supplies, when he realized a Cooper's hawk was sitting in the passenger seat of his car. The bird did not appear injured, but refused to leave the vehicle.
Bruso speculated the hawk was looking for a place to "hunker down" during the storm, so he named him "Harvey the Hurricane Hawk." Harvey rode out the storm with Bruso and his family before being transferred to the care of the TWRC Wildlife Center.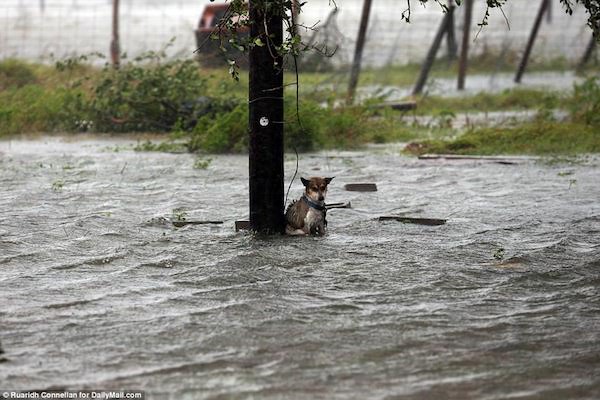 In the midst of the hurricane, a dog was spotted chained up and abandoned as flood waters from Hurricane Harvey rose up around it.
Photographs taken by the DailyMail.com show the dog tethered to a telephone pole in Victoria, Texas, where as much as 10 inches of rain have inundated the area in just 24 hours.
Photographer Ruaridh Connellan rushed across the flood water, which was fortunately not dangerously deep, and untied the dog, who wagged her tail and bounded off to safer ground. He now calls her Lucky. She's safe, and Connellan has since been back to feed her.
DailyMail.com has been unable to trace who was living in the trailer. Connellan would be happy to step into the breach, after forming a bond with the energetic pup. "I'd love to take Lucky to live with me in New York, but I'll have to wait and go through the proper channels."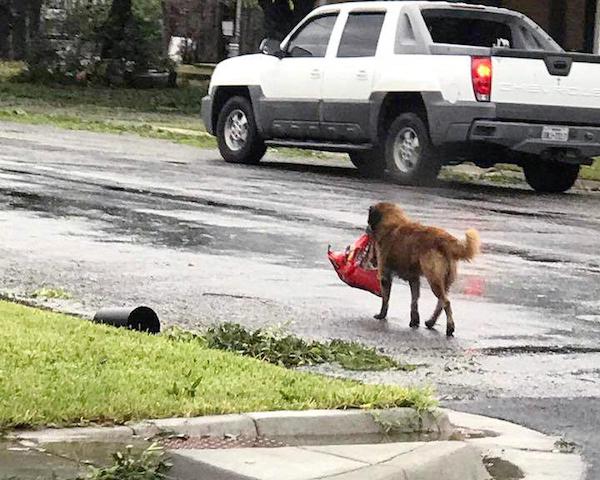 The above image of a resourceful pooch carrying a bag of dog food in Sinton, Texas has been shared almost 35,000 times on social media.
Otis, a German shepherd mix, strolled out of his home and into viral fame as Hurricane Harvey pummeled the state. He got frightened by the storm and took off from for about four hours. He returned home with the bag of dog food and plopped right back down on the porch and has become an early symbol of the spirit of the people in south Texas.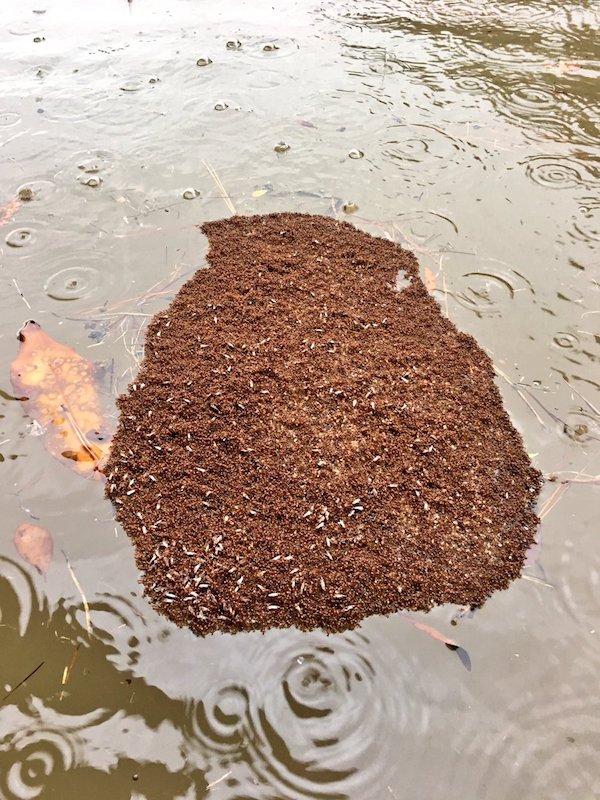 Floating colonies of fire ants, as many as 500,000 in one group, are banding together to stay above water in flood-wracked Houston.
The ants flee from their underground homes when floodwaters start rising and form a loose ball. Then they can ride along the surface of the water until they reach land or another dry space to crawl onto, but be careful—they sting and can induce an allergic reaction in those who respond to their venom.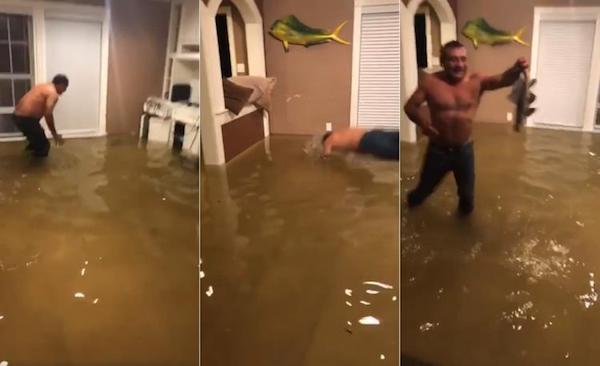 A shirtless man was captured on video catching a fish with his bare hands in his Houston home. "Why go out looking for food when the food is coming to our living room?" wrote Viviana Saldana, who posted the video to Facebook.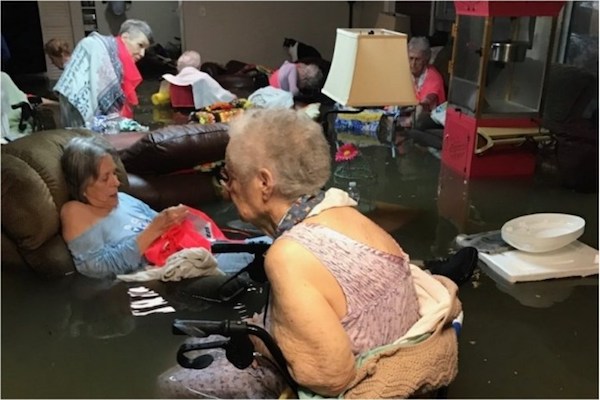 The inhabitants of the La Bella Vita nursing home were photographed sitting in a few feet of water while waiting for assistance in Dickinson, Texas. With the vast majority of residents in wheelchairs or on oxygen, responders had to act fast.
The Galveston Office of Emergency Management affirmed that it had rescued the inhabitants. "They were up to their midriff" in water, said Ken Clark, a Galveston County magistrate.
The nursing home was never advised to evacuate, even as flood waters rose.