1

The man who kayaks to work every day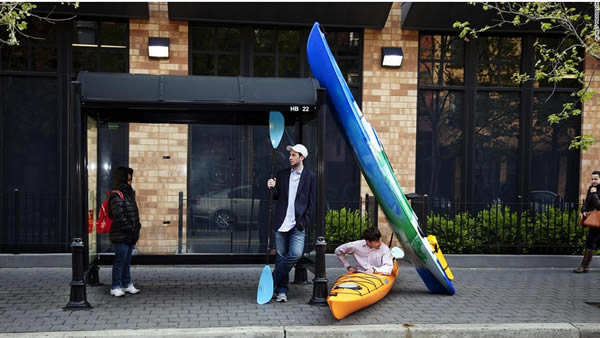 For many of us, the morning commute can be a dreaded necessity, featuring gridlocked traffic and a troubling proximity to strangers. But for Zach Schwitzky, it's a blissful escape from the nonstop hustle of city life. In fact, it's a moment he relishes each day since the entrepreneur makes his trip to Manhattan by kayak.
The Hoboken, New Jersey, native kayaks across the Hudson in about 20 minutes. He arrives at Pier 66, West 26th street, where he stores his kayak at the Marina and walks the rest of the way to work. All in all, it's a 45-minute commute.
2

The German man who swims to work every day to avoid heavy traffic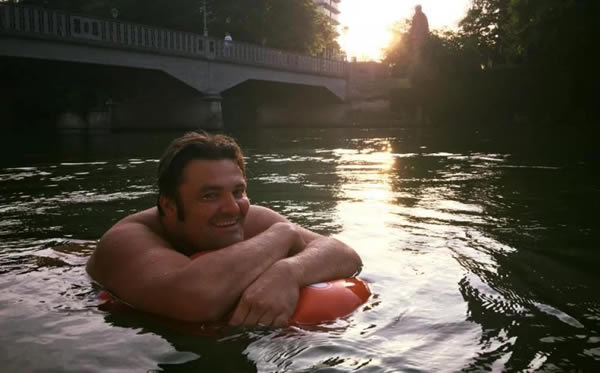 Commuters in Munich, Germany, spend hours stuck in traffic or trying to squeeze into one of the overcrowded subway trains, but for 40-year-old Benjamin David, commuting is a relaxing experience. Every day, he jumps into the Isar River and swims two kilometers to his workplace in Kulturstrand.
David used to be one of the thousands of Münchners trying to make their way to work on busy roads and cycling paths, but two years ago, he decided that he needed to find a simpler alternative and the river seemed like the obvious answer. It flows right past his apartment in Baldeplatz, and, even though no one has been using it for traveling purposes in decades, it's one of the best ways to get around.
The swimmer also found the perfect way to keep his things dry while he is in the water—a special bag that is not only waterproof but fills up with air when you roll it shut, acting as a buoy. It's called a "Wickelfisch, " and a startup designed it in Basel, Switzerland, where swimming to work has become a significant trend. It holds Benjamin's laptop, paperwork, and clothes, and allows him to float down the river if his arms get tired.
3

The man who built a plane to avoid a 14-minute long commute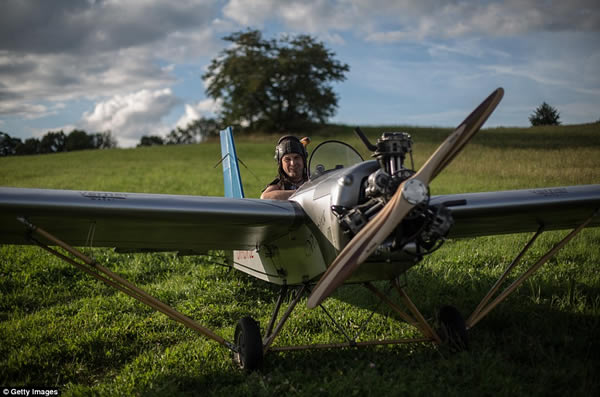 Frantisek Hadrava thought driving to work for 14 minutes was too much, so he built a plane to cut the commute by half.
Hadrava, a 45-year old locksmith from the south-western Czech village of Zdikov, took about two years of his spare time to built the Vampira, an ultralight plane based on the U.S.-designed Mini-Max aircraft.
The plane has an open cockpit and is propeller powered by a 3-cylinder engine made by Czech firm Verner, and flies at a maximum speed of 146 km (91 miles) an hour. It cost about 3,700 euros ($4,200) to build, Hadrava said.
4

The Chinese man who uses single bamboo stick as a raft to cross a large river on his way to work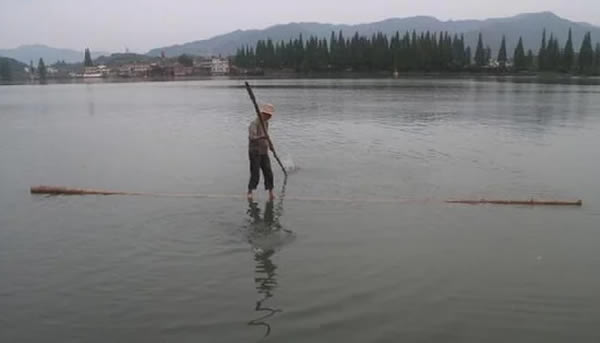 Who needs a boat when you've got incredible core strength and balance? Two simple bamboo poles will do if you're anything like this 51-year-old Chinese man who can cross a large river standing on one pole and rowing with the other!
A video of Fang Shuyun's unique commute has recently gone viral on Chinese social media and millions were left baffled by the ease with which the middle-aged man navigates the waters of Fuchun River, sailing smoothly and swiftly on a 23-foot bamboo cane. He was reportedly traveling at a speed of 100 to 164 feet per minute.
Fang, a native of Hangzhou city, first tried out the feat one night in 2014 after he missed the last boat ride home from work. He spotted a bamboo pole floating in the river and decided to use it to get to the other side. He failed in that first attempt but came away with the feeling that he could complete the ride if he worked on his sense of balance. So, he spent the past two years practicing, and it appears that he has finally managed to master the skill.
5

The inventor who created a jetpack for tired commuters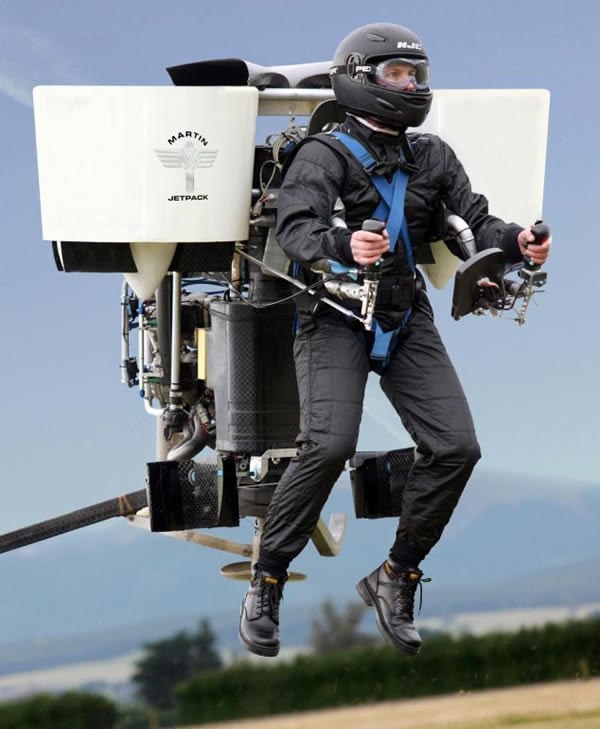 Put away the Gulf Stream and park your Lamborghini, the ultimate transportation accessory can be yours for just $75,000. THIS is the machine that will impress your friends, assuming you don't mow them down upon arrival.
The Martin Jetpack is a real-life version of the toy we all fantasized about as children (and some of us as adults). Simply attach, the manufacturers claim, and up you go. No more traffic jams as you slice through the air at speeds of up to 186 mph.
Developed in secret for ten years by Glenn Martin, an inventor based in New Zealand, the jetpack made its public debut in 2008.
6

The man who flies 770 miles hours to work EVERY day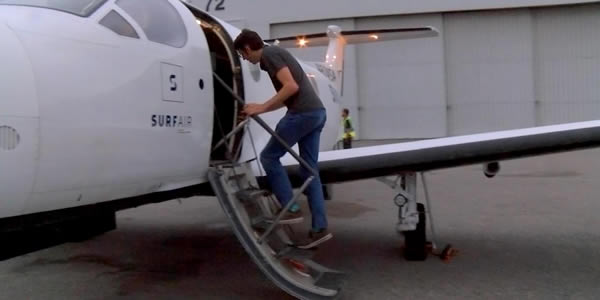 Curt von Badinski, a mechanical engineer and co-founder of a San Francisco-based tech company, has a six-hour daily commute from Los Angeles, most of it by plane.
Five days a week, he rises at 5:00 am for the 15-minute drive to the Burbank airport for a 90-minute flight to Oakland and boards a Surf Air flight. (Surf Air is a California-based airline that offers unlimited flights on a single-engine turboprop plane for a monthly fee. Von Badinski pays $2,300 to take return flights from Burbank to Oakland.)
Once he's in the air, he uses his time to work free of interruptions and networks with other like-minded air commuters, including start-up founders and venture capitalists.
Von Badinski gets to the office by 8:30 and leaves by 5:00 allowing time for busy traffic on his drive back to Oakland airport to catch his return flight at 7:15. He is home in Burbank shortly after 11:00 pm.
7

The five-year-old girl who guides her blind father to work every day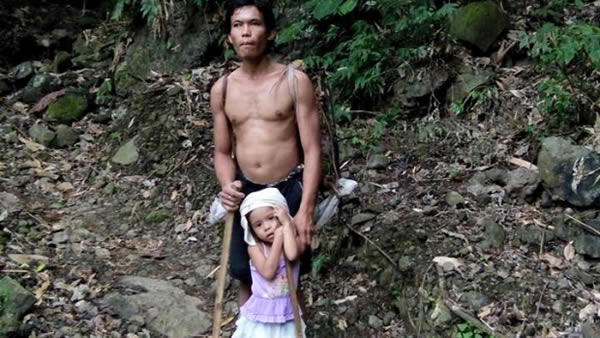 In 2016, a heartwarming 3-minute video showing a young girl guiding her blind father to work on a coconut plantation in the Philippines went viral and changed the lives of its protagonists.
The video shows five-year-old Jenny, walking barefoot as she guides her blind father, Pepe "Dodong" Nelson, around a coconut farm, using a small wooden stick. She can be seen helping him avoid other people as they make their way through the coconut trees and guides him to his lunch of crackers and water. With her help, Nelson manages to climb around 60 trees every day, for a payment of around 300 pesos ($6), which is barely to put food on their table.
The massive exposure and positive feedback from internet users prompted a charitable organization to get in touch with the family and assist them. The ABS-CBN Foundation visited the father-daughter duo and took them to a hospital in Manila, where Nelson was diagnosed with retinal detachment and retinitis pigmentosa. He will now undergo "livelihood training," and he and Jenny will soon be relocated to a "safer environment."