1

The daredevil duo who was the first to scale a nearly frozen Niagara Falls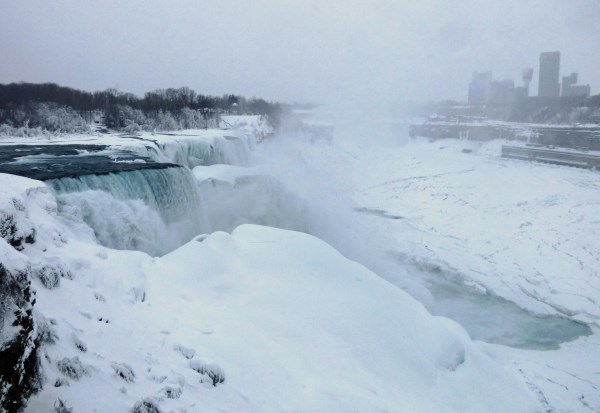 In 2005, two daredevil Canadian climbers, Will Gadd and Sarah Hueniken, attempted the impossible—scaling Niagara's 51 meter high, frozen falls. And it only took them just under an hour to do it.
Niagara Falls, the collective term for the three waterfalls that dominate the border between New York State and Ontario, Canada, flows at a rate of up to two million liters per second. Because of that enormous volume, the falls almost never stop moving. In fact, other than a 30-hour dry spell on March 29, 1848, when an ice jam in the upper river blocked the regular flow of water, the Falls didn't come to a standstill until 2014 during an extreme wave of cold weather.
Even in those instances, the Falls never completely froze over, and any attempts to climb them is perilous. The water, albeit in smaller volumes, continues to flow, forming unstable layers of snow, slush, and ice. Still, for Gadd and Hueniken, being the first climbers to travel up Niagara Falls is a good way to go down in history.
2

The aerialist who performed a record-breaking feat by hanging over Niagara Falls by her teeth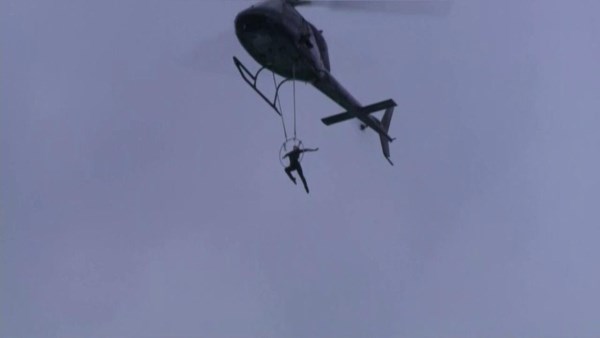 In June 2017, Erendira Wallenda, the wife of famed high-wire artist Nik Wallenda, completed her own heart-pounding stunt that involved hanging by her teeth and toes from a hoop dangling out of a helicopter as it flew over Niagara Falls. The aerialist stunned onlookers as she performed the record-breaking feat, telling people afterward that it was harder than she expected because of the weather.
The stunt comes five years after her daredevil husband became the first person to walk across Niagara Falls on a high wire in 2012.
Wallenda was just high enough to avoid the mist and pesky wind currents that come with the Falls as she performed an elegant acrobatic routine, weaving in and out of a hula hoop. She dangled from her knees, her hands, her toes and, just like Nik did in 2011, only her teeth.
3

The first person to walk across Niagara Falls on a high wire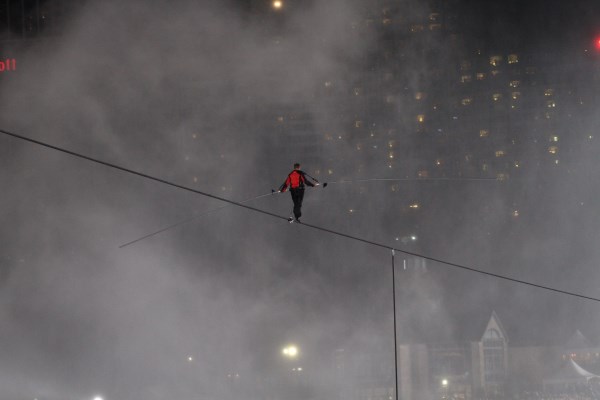 On February 15, 2012, acrobat, aerialist and daredevil Nik Wallenda received approval from Ontario's Niagara Parks Commission (NPC) to walk a tightrope across Niagara Falls, a dream he had had since he was a child. The plan called for crossing the Niagara River and its 200-foot (61 m) deep gorge from the American side at Goat Island and making his way across the river to the Canadian side near the site of Table Rock. The American Falls and Bridal Veil Falls would be behind him and to his right, while the Canadian Falls would be on his immediate left and behind.
The approval came after nearly two years of lobbying governments in both the United States and Canada. Wallenda's walk also brought in $3.3 million of revenue to the city of Niagara Falls, New York. 38,000 people gathered in that state to watch the action.
4

The woman who crossed the Niagara Gorge with her feet in peach baskets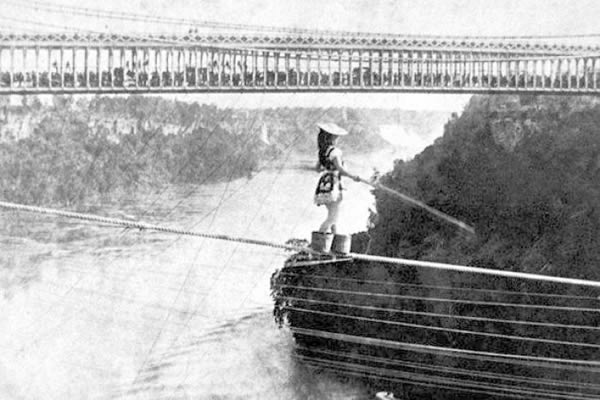 In the summer of 1876, crowds gathered to see an Italian woman challenge Niagara. Maria Spelterini made several successful trips across the gorge on a tightrope, tempting fate by making the crossing while shackled. She walked across with peach baskets on her feet and also made the trip walking backward.
The last legal tightrope walk occurred in July of 1896.
5

The first person to conquer the Horseshoe Falls in a barrel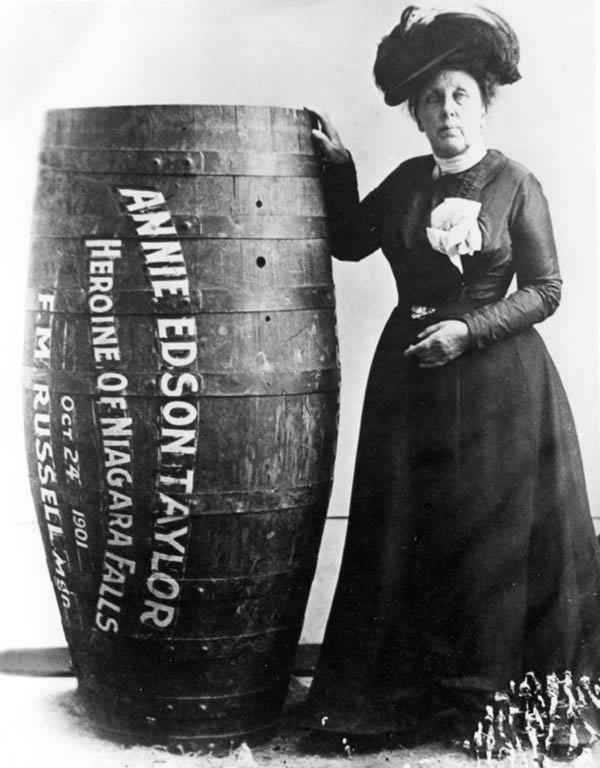 On October 24th, 1901, Annie Taylor became the first person and the first woman to go over the falls in a barrel and survive. Taylor, a 63-year-old schoolteacher from Michigan, accompanied by her cat, decided to tempt fate to gain fame and fortune.
The Pan American Exposition was taking place in Buffalo, New York, and Taylor felt she would be able to attract a huge crowd. A small boat towed the barrel containing Taylor and her cat into the main stream of the Niagara River where it was cut loose.
At approximately 4:30 p.m., the barrel was seen edging over the brink, only to reappear less than a minute later floating at the base of the Falls. Fifteen minutes later, the barrel appeared close to the Canadian shore, where it was dragged to a rock and its lid removed.
To everyone's amazement, Annie Taylor emerged from her barrel, dazed but triumphant. Her only injury was a cut on her forehead that she received while being extracted from her barrel.
6

The man who set the record for being the first person to take the plunge down the Falls with no protection and later died repeating the stunt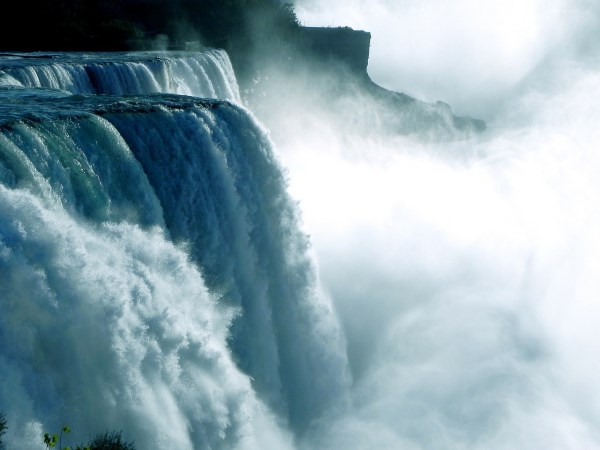 A Niagara Falls daredevil made a splash in 2003 as the first person to take the plunge with no protection. He should have called it quits then.
Kirk Jones tried the stunt again on 2017—this time in a 10-foot inflatable ball—but was killed the second time around. The 53-year-old's body was recovered 12 miles away at the mouth of Lake Ontario, and his ball was picked up by the Maid of the Mist tour boat.
Jones survived the Falls on Oct. 20, 2003, when he went over wearing only his clothes. The man's family said Jones had planned his unprotected plunge as a daredevil stunt, but he initially said he was trying to kill himself. He broke his ribs and bruised his spine in the 180-foot fall and Canadian authorities banned him for life after he pleaded guilty to unlawfully performing a stunt and mischief. He was fined nearly $3,000.
7

The daredevil who plunged to death while riding jet ski over Niagara Falls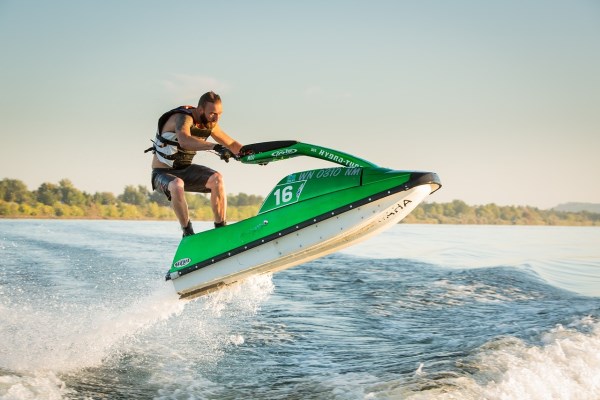 Every year Niagara Falls attracts people hoping to join the privileged ranks of those who have gone over and survived. Back in 1995, 39-year-old California stunt man Robert Overacker expected to join that exclusive club—until tragedy struck.
Overacker planned to jet ski over the Falls on the Canadian side, deploy a parachute, and land safely. Strapped to his back was a specially designed parachute with thrusters. These thrusters were supposed to deploy before the chute to ensure that he was far enough away from the falling jet ski. Somewhere along the line, however, there was a malfunction. The parachute did not open, and Overacker fell to his death. His body was found by the Maid of the Mist, a Niagara Falls tour boat. Crew members brought him on board and tried to resuscitate him, but it was already too late.