1

The bride-to-be who wore her engagement ring around her neck for a year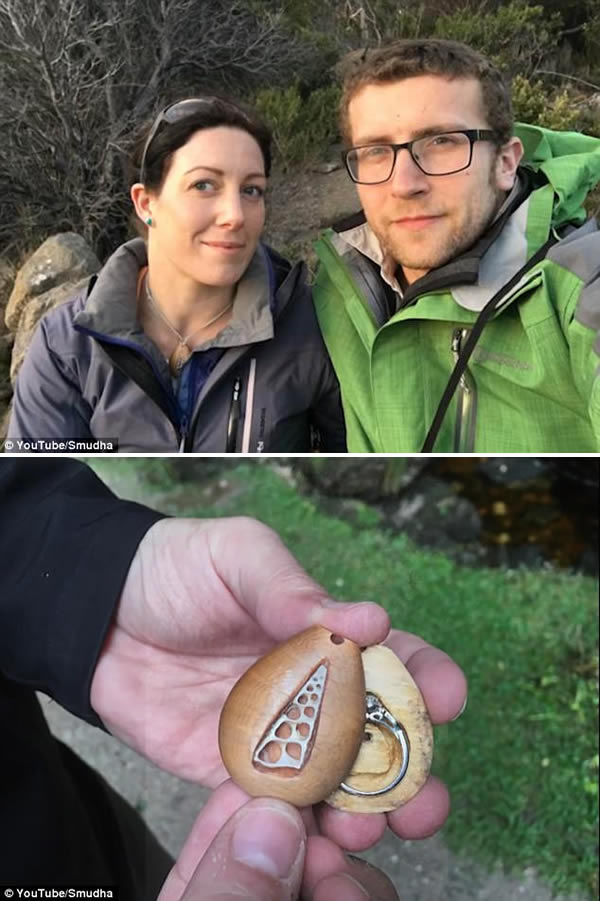 Devising a unique, meaningful proposal can be a daunting task for any man. But Terry went a step further than most when he proposed with a ring he had managed to get his girlfriend, Anna, to unwittingly wear for an entire 18 months. The keen Australian craftsman, who declined to give his surname, had hidden the diamond inside a wooden one-of-a-kind necklace he made himself.
Terry crafted the shell-decorated necklace from Tasmanian pine wood and gave it to Anna on the couple's one-year anniversary back in 2015. The pair, who are both in their early thirties, then spent another year-and-a-half together before he decided it was finally time to pop the question in an idyllic location.
After Terry had cracked open the necklace, he explained how a stunned Anna immediately said "yes," before adding, "But I could have lost it, you f***ing idiot!" Anna had been wearing the seemingly non-valuable necklace every day, so the chances for it to get lost—or for the ring to get exposed—were many.
2

The boyfriend who proposed to his nurse girlfriend by hiding her engagement ring inside his wound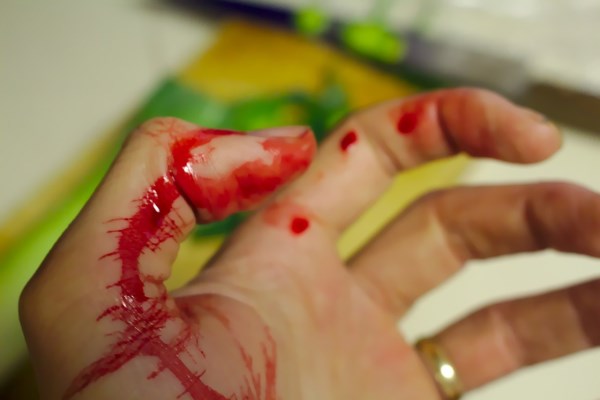 In 2017, a Russian man proposed to his girlfriend by hiding a ring inside his stomach wound. Yeah, you read that right.
The unidentified Lothario, from Karachay-Cherkess, had a friend film as his bemused partner, who is also a nurse, tries to extract the jewelry. She then bursts into tears after realizing what the embedded object is and agrees to the proposal—though stops to wash the ring before putting it on.
It is not known how the man became injured, though local media reports he came up with the prank after convincing a surgeon to hide the ring inside the wound. Whoever said romance was dead?
3

The man who hid a ring in his girlfriend's bath bomb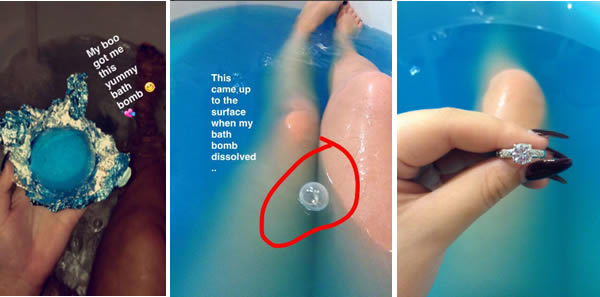 One woman has shown us the perfect example of a different, yet relatively simple, gesture. Twitter user Kennessy shared some pictures of what she thought was a conventional bath bomb which her boyfriend had gifted her. She uploaded the picture with the caption: ''My boo got me this yummy bath bomb."
When the bomb began to dissolve, she found a small clear plastic ball inside it which held a sparkling ring. Kennessy clarified that it was, in fact, a promise ring rather than an engagement ring.
The gesture apparently impressed a lot of people because the post has been favorited almost 50 thousand times and has been retweeted nearly 30 thousand more.
4

The man who hid a handmade ring at the end of a carved wooden puzzle book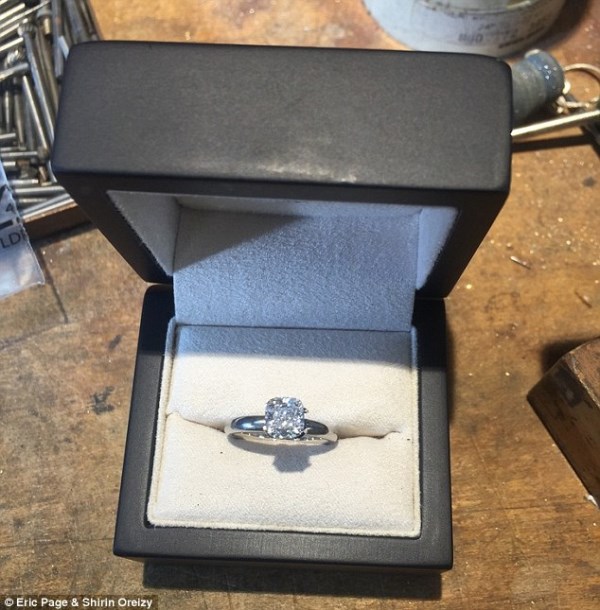 A doting boyfriend designed an elaborate fairytale storybook filled with puzzles—and a handmade engagement ring—to propose to his girlfriend of five years after they met at SantaCon.
Eric Page, 42, from San Francisco, popped the question to his fairytale-loving girlfriend, Shirin Oreizy, 39, the day before her birthday. They were near Zion National Park in Utah, their "favorite place in the world" when he presented her with a handmade wooden laser-etched book filled with puzzles that unlock after each chapter. Eric explained that each section is about how he and Shirin fit together perfectly at that moment in their lives.
Not only did he pull off an unbelievably special proposal tailored to their romance, but Eric also handcrafted the ring.
5

The engagement ring that was hidden inside a box of Chicken McNuggets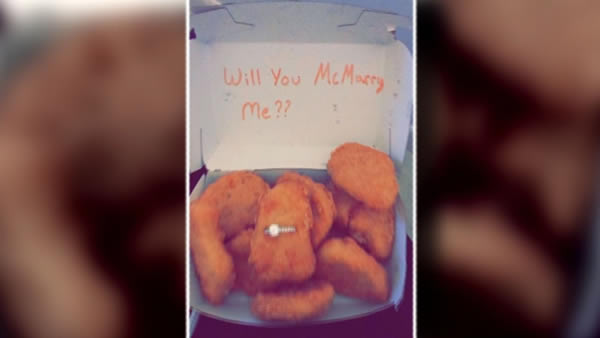 Every girl dreams of seeing an engagement ring box, but Karsyn Long's was a little different. "Her love for Chicken McNuggets, I'm sure, is more than her love for me," says her fiance, Kristian Helton.
"I know this sounds bad," Long says. "I go to McDonald's a lot, and I always get Chicken McNuggets. I won't get anything else."
Helton proposed on Valentine's Day with a box of nuggets and an unusual question: "Will You McMarry Me?"
"She has devoted her life to Chicken McNuggets, so that had to be part of the engagement. I mean, it was just given," Helton says.
Surprisingly, she said yes.
6

The man who proposed with a box in a box in a box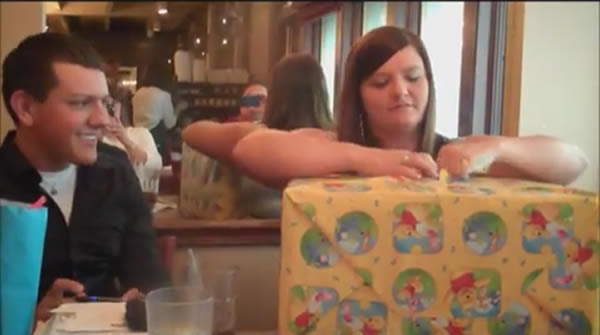 Trey Amsler proposed to his girlfriend by putting the ring inside a box, inside another box, inside another box, etc. You get the idea.
7

The guy who hid an engagement ring inside an egg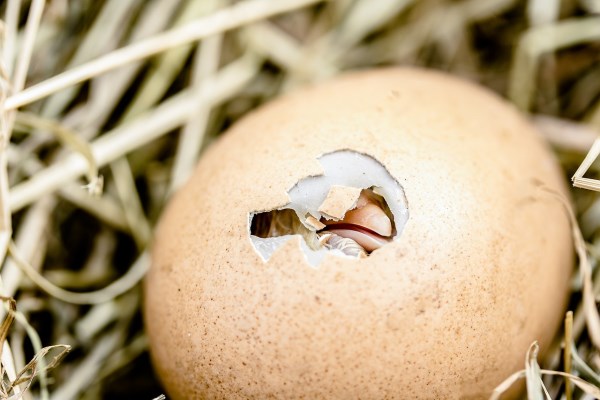 In 2014, Dan wanted to propose to his foodie girlfriend in a unique way and decided it had to include food.
Erica Eckman is the presenter of DevHour TV and thought she was filming an episode about making crepes. What she didn't know—her boyfriend had been working with one of the producers on a surprise proposal that would be romantic and unexpected.
If you want to make a surprise egg proposal, Dan was kind enough to send the instructions:
1. Cut the egg with a straight razor
2. Put magnets on the top of the top half of the egg and the bottom half of the egg to weigh it down
3. Put the ring in the egg with cotton balls
4. Super glue the two egg halves together
5. Crush up egg shells into a powder
6. Use the powder to cover up the line that forms when you cut the egg with the straight razor
7. Find the right girl to give it to
Watch the video here.