1

Europe's First Beer Fountain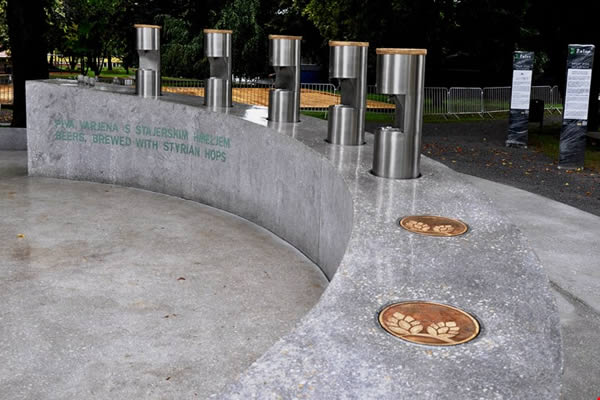 A few months ago, the town of Žalec in eastern Slovenia unveiled Europe's first beer fountain. Sadly, the fountain isn't the free-flowing cascade of frothing ale that people may have been hoping for—Instead, it has a curved design, symbolic of a hop flower, with eight taps that dispense different beers.
Drinkers pay €6 for a special microchipped glass that allows them to pour themselves 100-milliliter portions. The glass is placed under the nozzle of the pump, which extends down, dispensing the serving of beer before retracting again. Laško's Kukec dark ale, Kratochwill honey light beer and Vizir IPA are some of the names on tap.
The town's mayor, Janko Kos, wants to promote the culture of drinking beer. He hopes the new fountain will put Žalec on the map and draw beer lovers in from across the world.
2

Dr Pepper Fountain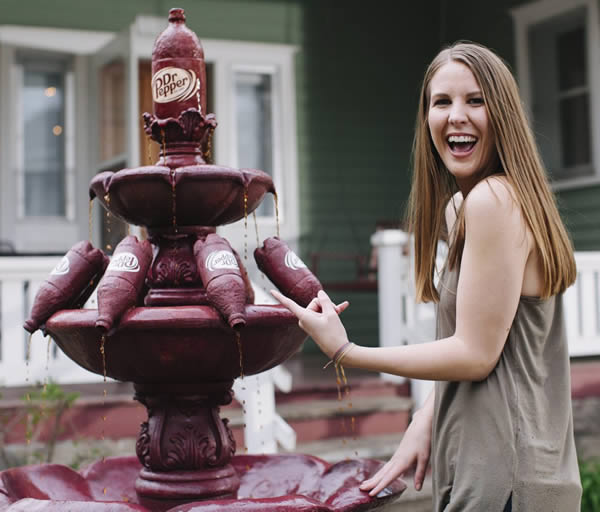 Be careful with what you wish for—one Kansas State student loved Dr Pepper soda so much that she tweeted, "I really just need to have a Dr Pepper fountain installed in my house. That would probably be cheaper than how much I spend on it currently."
One month after Claire Daniels posted the tweet, Dr Pepper's marketing team reached out her and asked if they could come to Manhattan and surprise her as a reward for her loyalty. It wasn't until Daniels came downstairs and heard the sound of Dr Pepper flowing through the fountain that she realized her wish had turned into a reality.
3

Italian Wine Fountain
There may be no such thing as a free lunch, but in Italy, visitors can top off their bottles with wine without paying a penny. In 2016, Cantina Dora Sarchese unveiled their new wine fountain, which is open to tourists and pilgrims traveling along the Cammino di San Tommaso (or route of St Thomas) between Rome and Ortona. While the fountain might not be flowing like the Trevi, it is open to visitors 24 hours a day, seven days a week.
The fountain is situated in Caldari di Ortona, a commune in the Abruzzo region. It was a joint project between the owner of Dora Sarchese winery, Nicola D'Auria, and Cammino di San Tommaso, which promotes the pilgrimage route in the region. As such, the wine is primarily intended as a refreshment for pilgrims, though anyone can drink from it.
4

Sparkling Water Fountain
In 2010, Paris started offering free water to dissuade its residents from using plastic bottles. The fountain in the Jardin de Reuilly was connected to the public water system and uses six taps to provide both sparkling and flat water.
At about 128 liters (about 34 gallons) per person, the French consume one of the highest per capita amounts of bottled water in the world annually. In northern Italy, 215 similar fountains have been installed and have proven to be very popular.
5

World's Largest Champagne Fountain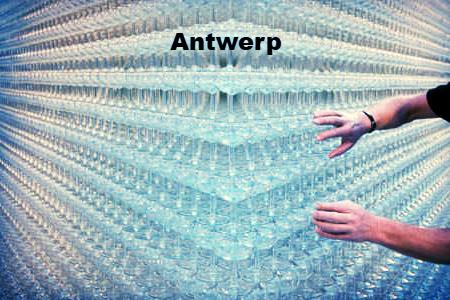 In 2008, a group of enthusiasts decided to break the world record and make the world's largest champagne fountain. The height of the fountain was 7 meters; it weighed 9 tons and consisted of 43,000 champagne glasses. The attempt was made in Wijnegem's shopping mall near Antwerp, Belgium.
6

Ketchup Fountain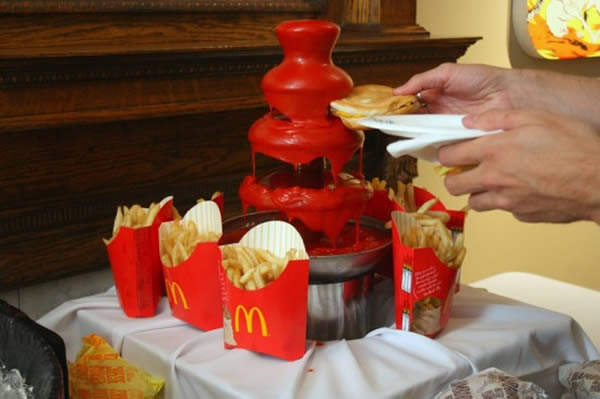 Chocolate fountains—pffft, those are so tacky. These days, it's all about the ketchup fountain for making a classy statement at your next party.
7

Nacho Fountain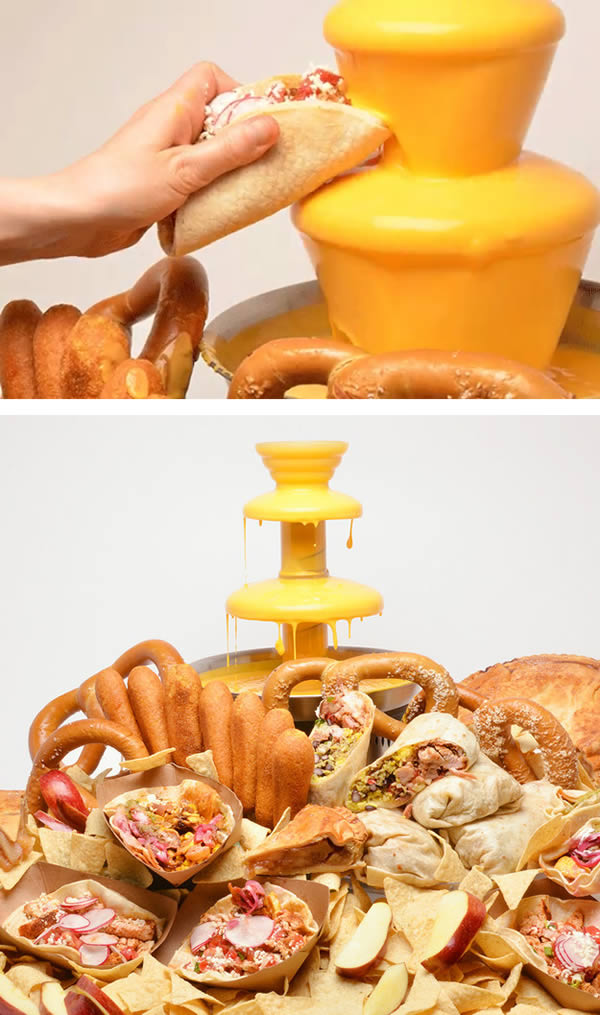 Perhaps you're getting married, and don't want to have the same spread all your friends had at their weddings. Sure, having a ketchup fountain like the one above would certainly impress your guests, but a nacho cheese fountain would make your wedding stand out. And unlike most wedding ideas, it's quite affordable and easy to DIY.
8

Brazilian Natural Mineral Water Fountains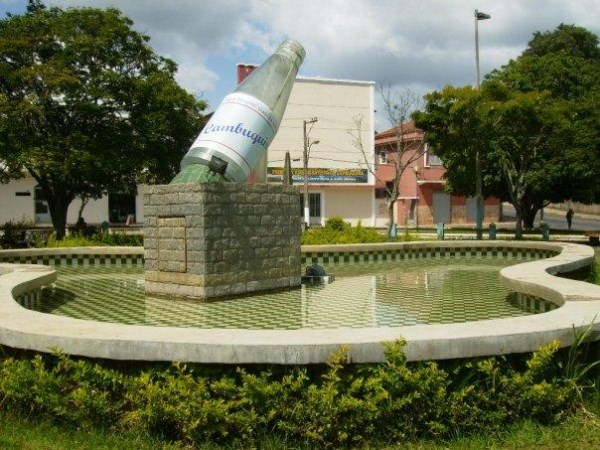 Cambuquira is a Brazilian municipality in the State of Minas Gerais, Brazil, famous for being part of the Circuito das Águas ("Water Circuit"). It is considered the best water in Brazil, and in the Americas!
The city is a 950-meter high oasis in the mountains of southern Minas Gerais and boasts seven sparkling water fountains. The therapeutic quality of the waters combined with the region's pleasant climate makes Cambuquira one of the most important hydro mineral resorts in Brazil.
9

World's Largest Chocolate Fountain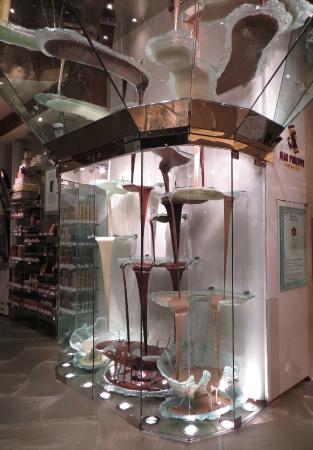 The "world's largest" chocolate fountain' is located at the Bellagio Hotel in Las Vegas, Nevada. Emerging from the Jean-Philippe Patisserie on the promenade of the Spa Tower is a visual and aromatic masterpiece designed by the pastry chef himself. This floor to ceiling sculpture circulates more than 2,100 pounds of melted milk, dark, and white chocolate thru 500 feet of pipes 24 hours a day. It's designed to operate continuously for over a year without having to change or replace the chocolate.
Since chocolate contains no water, there's no evaporation. You can experience the chocolate cascading down 14 feet from one suspended glass vessel to another while being intoxicated by the smell that drew you there in the first place. Between the unique hand crafted glass basins and the visually stimulating flow of three different colors of chocolate, you'll be mesmerized for hours. The only complaint is that this is an encounter strictly for the eyes and nose, no dipping allowed!