Have you always dreamed about going to business school? No one can blame you. A great many youngsters have their mind set on getting an MBA degree. Business school gives birth to successful entrepreneurs who do very well in their careers. The number of applicants for programs designed for business leaders increases by the year, meaning that competition is fierce. Getting into business school is hard and that's not going to change any time soon. It may be difficult, but it's not impossible. The journey involves a great many steps, not to mention a lot of dedication, perseverance, and hard work. Are you up for the challenge? If the answer is yes, please continue reading to find out what it takes to get accepted into a top MBA program.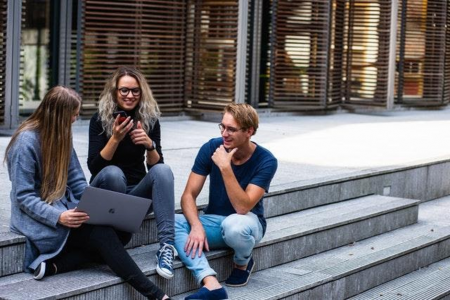 Take the GMAT 2 or 3 Months Before Sending Your Application 
The vast majority of MBA programs require taking the GMAT. GMAT is an acronym and it stands for Graduate Management Admission Test. It's an examination that helps assess the candidate's quantitative, verbal, and analytical skills. The test is made up of 4 sections, each of them containing a 30-minute writing task. If you don't have extraordinary qualifications, it's a good idea to take the test. The GMAT will make a strong case for your place in the MBA program. 2019's results saw Stanford Graduate School of Business topping the list with an impressive 732 GMAT average. The GMAT test isn't your only way into business school, but that doesn't mean that you can afford to ignore it.
It takes about 2 weeks to get the results back, which is why it's not recommended to take the test right before your application deadline. Plan ahead of time; take the GMAT a couple of weeks before the due date of your application. It could be 2 or 3 weeks, even earlier than that. Create a comprehensive study plan. It's necessary to spend a couple of hours per week and a lot more during the weekend. An online program will offer you the flexibility you need and save you time for practicing. Find a GMAT prep online course and get to work. There's no time to waste.
Find Your MBA Program Fit 
You're going to business school. You've understood that MBA programs aren't for people who are looking forward to profiting from the status quo, but for those who want to gain proficiency in their area of specialization. Needless to say, there are many options available in terms of business school. You can study at any university around the world, so you can't complain of a lack of choice. Where should you apply? Well, it depends. This isn't the answer you were waiting for, but the truth is that not every MBA program is a good fit. Since business school is the launch pad for your career, it's important to choose wisely.
Here are Some Things to Keep in Mind: 
Find and compare school rankings
Talk to alumni
Figure out your chances of getting into the business school of your choice
Read blogs and articles on the various MBA programs
In case you didn't already know, respected and internationally recognized institutions of higher education, offer online MBA programs too. Programs of this kind are aimed at individuals who are looking to develop the necessary knowledge and skills for careers in the corporate world. Examples of universities offering online MBAs include but aren't limited to St. Bonaventure University Online (US), London School of International Business (UK), and EMAS Business School (Russia).
Gain Work-Based Experience to Increase your Odds of Success 
Work experience is important, especially if you're thinking about applying to graduate school. A solid amount of work experience on your resume will certainly make it stand out. Business schools take into consideration work experience because it enhances the learning experience, in addition to the fact that it's simpler to search for a job after completing the MBA program. It's not a specific requirement for admission, but it's generally regarded as a big plus. Attention needs to be paid to the fact that quality is more important than quantity. You can't afford to be wasting your time.
It's best if you have 5 years of work experience when entering university. As mentioned before, the numbers aren't that important. If you have a bare minimum of 2 years of work experience, you'll be perfectly fine. A summer internship at a reputable company is desired. It counts as work experience in the admission process. When they see your resume, the members on the admission board will immediately understand that you can positively contribute to the program. Look into the available options and keep in mind the duration of the internship.
Explain Why You Would be a Good Fit for the MBA Program 
You must convince the business school that you're a good fit, which is easier said than done. Almost all candidates have stellar qualifications and would make a vibrant addition to the community. The secret is to just be you. Trying to package your identity for a given MBA program is a huge mistake. You will be judged no matter what you do, so it's recommended to be yourself during the interview. Tell the admission board who you are and what you plan on becoming. Basically, explain your interest. Talk about yourself and your background.
When the people on the admission board ask you all those questions, they just want to get to know you better – in other words, they want to dig deeper into your character and discover what makes you one-of-a-kind. If you act with confidence, you're sure to make a good impression. Learn everything you can about the MBA program and don't rely on the information that you find in brochures and websites. Dig a little bit deeper. Write your essay as if you were addressing friends and family. When you're done, polish up the piece of writing for the business school's admission board.