If you don't already use these grocery store hacks, now you can.
We all need to grocery shop, so why not do it with some grocery shopping hacks, that may even save you some cash? From where to shop and when, here are some great grocery shopping hacks.
Shop The Outside
Have you ever heard of this, shopping the perimeter? This is a healthy grocery shopping hack, as the meat, produce, and dairy are on the outside border of most stores. By bypassing the aisles, you're bypassing most of the cans and boxes, along with the price tag that comes with them.
Bulk Buy
For this most part, this will help your pocketbook, but watch what you're purchasing. Some things are sold in a multi-pack, making it a convenience item. In this case, bulk buying doesn't save you any money, but instead ends up costing you more.
Cheaper Chicken
We want good quality chicken, but we want it for a fair price. This can be a buying decision and a grocery shopping hack to buy pieces like drumsticks or thighs. A whole chicken can be a great dinner and provide leftovers as well.
Egg Check
Make sure to check your eggs, have you heard this before? Eggs are really fragile and can easily break in their travels to the store or while there. Make sure to open your carton and check that your eggs aren't broken or cracked. Make sure you know what you're paying for with this egg check hack.
Online Ordering
When it comes to grocery shopping and thanks to COVID, there are endless options whether delivery or pick-up. You are also less apt to grab things and throw them in your cart if you aren't walking down the aisles. Delivery fees can add up, but there are monthly deals for that if you want it. Most pick-up options require about $35.00 for free pick-up, but that's easy enough and you don't even have to go into the store.
Fancy Salt, Shmancy Salt
Almost all kinds of salt are chemically the same, so there's no need for the fancy salt. However, to avoid any added ingredients in salt, opt for kosher. It's pure and comes in large flakes.
Lower Shelves Equals Lower Prices
For the most part, expensive brands are placed at eye level and above. For the deal, stoop down to the lower shelves. (This is also where they keep a lot of bulk items.)
Go Kid Free
I know this isn't an option for everyone (or a need,) but if you go without kids, you'll only have to restrain yourself from extra purchases. Also, not only are the more expensive items right at eye level, but there are bright and eye-catching items at eye level as well. The kids are going to see things easily from the cart and you know what that means.
Panty Hose Your Onions
It sounds weird but if you store your onions in panty hose, they should last for about eight months. If you buy them in bulk and save them this way, it'll be cheaper and you'll always have that onion to add to your favorite recipes.
Use Your Freezer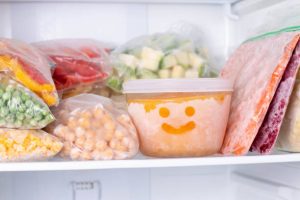 Buying in bulk is awesome if you have the space. Even with a single freezer, things like cheese, bread, and even pre-cut vegetables will last a long time. Storing things cut up, proportioned or in their own bag, make them perfect and at your finger tips. What's better than food that's ready when you are?
Which of these grocery shopping hacks do you have to use at your next trip to the store? Or will you decide on pick-up from now on and skip going into the store all together?