Despite being millions in debt, she returned the money — because that was right.
"Life is like a box of chocolates; you never know what you're going to get," said Forrest Gump. Apparently, you could swap chocolate for a KFC sandwich and the saying would still be correct.
That's probably what JoAnn Oliver — a grandmother from Jackson, Georgia — thinks, at least. Her recent visit to KFC came with a truly unexpected surprise.
Namely, more than half a grand in lukewarm, finger-licking good cash.
On September 14, Oliver left her workplace and drove to a nearby KFC to grab lunch. She ordered a chicken sandwich meal and went back to her workplace to eat.
But when she opened her lunch bag and pulled out her sandwich, she noticed someone on the restaurant staff had slipped something extra into her order. In an envelope, there was $543.10 in cash.
"I started counting it and when I got to $500, I stopped and just put it back in the envelope, closed the envelope put the sandwich back the way I got it," Oliver told WSB-TV Atlanta.
She grabbed her phone and called the police. Then, she waited until the officers arrived — while her lunch got cold.
With the police, Oliver went back to the restaurant to return the money. The City of Jackson Police Department said on Facebook that someone, somehow, had placed the KFC branch's daily deposit in Oliver's sandwich bag.
"Not only did Mrs. Oliver do the right thing but she saved the manager's job," the police said.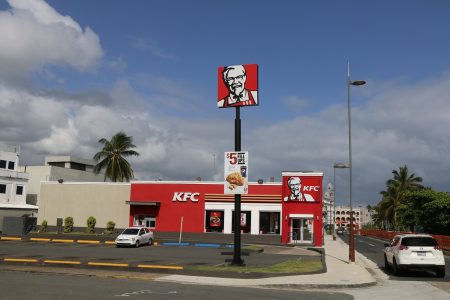 Could've Used the Cash
They say opportunity makes the thief and despite promptly returning the money, Oliver honestly admits that she was briefly tempted. She said that she considered keeping the money "for a second."
"That's my light bill and some. We thought about going shopping. I said I should have kept a 20 because I'm sitting on E," Oliver confessed.
Before you judge her too harshly, you should know that Oliver and her family could've really used some extra cash. According to Oliver, her husband has suffered multiple strokes and is currently struggling with cancer.
As a result, Oliver said she and her husband are looking at roughly $2 million in medical bills. Had we been in her shoes, that extra half grand would've looked really tempting.
But Oliver is a woman of integrity. She didn't keep even a dollar of the money because she knew it wasn't hers.
"If you don't do the right thing, it's gonna come back on you," she mused.
"I mean, it wasn't mine. I didn't need to keep it. I'll get mine in the future."
For what it's worth, the City of Jackson Police Department praised Oliver for being an upright citizen.
"Character and integrity is doing the right thing when no one is looking. The Jackson Police Department would like to honor [Oliver] for her honesty and goodness," the police said.
"Mrs. Oliver, thank you for reminding us that we have amazing citizens in Jackson. Its people like you that make us great," they added.
The KFC branch, for its part, also gave Oliver a small reward. The restaurant refunded her sandwich and gave her a free meal.
'I Don't Want That Money'
It's rare to find loads of cash at fast food restaurants, but sometimes it happens. But in another story, the roles were reversed.
In 2014, somebody forgot a blue backpack at a San Jose Burger King restaurant. The assistant manager, Sahista Bakawla, initially let the bag be, assuming somebody would come back to pick it up.
But after several hours, the bag was still there. Bakawla took it to the restaurant's owner, Altaf Chaus, so he could try and reunite it with its rightful owner.
When he opened the bag, though, Chaus couldn't believe his eyes.
"I open the zipper, I see lots of money, cash money. One hundred dollar bills stacked up like half the bag," Chaus said.
All in all, the bag contained roughly $100,000 in cash.
"I said, 'Wow! Today is my birthday, this is my birthday gift,'" recalled Chaus
And then he called the cops. Like Oliver, Chaus has his principles and he wasn't about to keep money that wasn't his.
"I've been in this country 26 years and I worked two jobs for 15 years before I bought this Burger King. I'm a very hard-working man. I don't want that money, maybe it belongs to somebody," he said.
We couldn't find out whether the cops ever found the bag's owner. But if you happen to find incredible treasures in your next burger, be like Oliver and Chaus — be like Oliver and Chaus.