I mean, do what you have to do, but at least go in the bathroom? Or something..
What's that saying about masturbation? That we all do it? Well, this mom does too, but she took it too far. Here's the story.
Noelle Rascati, 32, was video chatting with her boyfriend, 26-year-old Tathan Fields, when the conversation quickly turned sexual. The thing is, there was a child in view of the camera, and by default, the sexualized video conversation.
Rascati was charged with a felony after the 'extremely sexual' masturbation call. During the call, Fields was in jail, "sitting in what appears to be a jail pod."
Rascati was seen, to start, in a pink bathrobe sitting on the edge of her bed in Lake County. The child, believed to be her son, is seen in the video standing next to the bed and Rascati and Fields begin the call.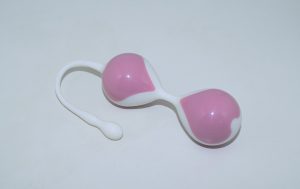 The call lasted for 12 minutes and 28 seconds, and besides a few quick words to start, the two engaged in sexual acts for the remainder of the call and all while in front of the child. The relationship to the child isn't specified, though it is believed that Rascati is the child's mother. There is not mention as to Fields having any relation to the child.
Police state that the two begin "masturbating while watching each other." Rascati even grabs a pink sex toy from her closet. She then exposes 'her entire nude body' and uses the toy 'with her legs spread towards the camera' and 'continues to pleasure herself with an assortment of sex toys.'
All of this is happening with the child in the room and also in view of the screen, showing Field's masturbating. The crime was detected after a review of Field's jailhouse calls was conducted.
Field's is currently serving a sentence of 15 years for burglary and grand theft. Also, this isn't the first time he is getting into trouble for masturbating, either. He was charged while in prison because of masturbating during a prison class to a female teacher.
Field's was also charged with mailing a letter that he claimed contained Anthrax. Rascati is facing engaging in lewd and lascivious conduct in the presence of a minor with a bond of $2000.
Want to tell your strange story?
Tell us about it
and it could be featured on Oddee. You can remain fully anonymous.