Art or blatant theft? You decide.
What is art? Artists, philosophers, and the general public have pondered over that question for ages and we still don't have an answer.
But now a Danish artist has pushed the definition of art potentially to its breaking point. His idea of an artwork consists of borderline stealing tens of thousands of dollars from a museum.
Jens Haaning, 56, is a contemporary artist living and working in Copenhagen, Denmark's capital. He's best known for his conceptual work tackling economic inequality and related power structures.
Some of his most famous works include a 2007 piece titled "An Average Danish Income," which featured Danish krone notes fixed to a canvas. In 2011, he created a similarly titled follow-up piece about Austria, this time using euro bills.
Kunsten Museum of Modern Art, located in Aalborg, northern Denmark, was interested in procuring recreations of Haaning's two works for their "Work It Out" exhibition. The exhibit features artwork examining people and their relationship with their jobs.
To reproduce the artworks, the museum sent 534,000 krone — nearly $84,000. On top of that, Hanning received an artist's fee of close to $4,000.
Two days before the exhibition opened, the museum received a package from Haaning. He had emailed the museum in advance, telling them that he had provided them with new work instead of the reproductions.
Curious to see what the artist had created, the museum unwrapped the artworks. They discovered a piece titled "Take the Money and Run," consisting of two empty canvasses.
But what about the money? Well, that's safely in Haaning's pocket.
"The work is that half a million krone are missing," Haaning told Danish public broadcaster DR.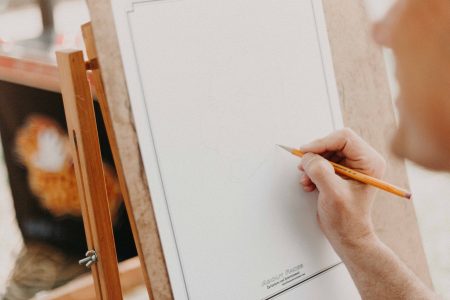 The Things We Do for Money
So, let's get this straight. The artist pilfered $84,000 intended for artwork and sent the museum two empty canvas frames.
Is this art or is this just, you know, theft? The answer, of course, depends on who you're asking.
Haaning defends his stunt a conceptual work of art.
"The work is that I have taken their money," he stated.
Haaning explained that he came up with "Take the Money and Run" as a protest against the compensation the museum offered him. He claims that the money he received wouldn't have been enough to recreate his previous works, and he would've had to pay almost $4,000 out of his own pocket to complete them.
The artist also didn't think that his works about an average income more than a decade ago were relevant for the exhibition.
"Why should we display a work that is about Denmark and Herning 11 years ago, or one that is about Austria's relationship with a bank 14 years ago? Why shouldn't I create a piece about my own work situation?" he asked.
Haaning added that his… Uh, creation serves as commentary on unfair work conditions on a larger scale.
I encourage other people who have just as miserable working conditions as me to do the same," he said.
"If they are sitting on some s*** job and not getting money and are actually being asked to give money to go to work, then take the box and plug off. It is a general call."
It's Funny, But Where's Our Money?
Alright, of course the artist himself stands behind his work. But what about the museum? They can't be exactly thrilled about this, can they?
Well, no, they're not. But the Kunsten Museum CEO Lasse Andersson does see the humor in the situation.
"I actually laughed as I saw it," Andresson told NPR as he recalled unpacking the blank canvasses.
Andersson even sees the artistic merit in "Take the Money and Run."
"I will absolutely give it to Jens that a work has been created in its own right, which actually comments on the exhibition we have. The new work reminds us that we work for money," he said.
That said, Andersson doesn't think Haaning should be allowed to keep the money he took. According to him, the cash came from a small fund intended for the museum's upkeep.
"We are not a wealthy museum. We have to think carefully about how we spend our funds, and we don't spend more than we can afford," explained Andersson.
The contract Haaning has with the museum also specifies that the money was handed out as a loan. The artist has until January 16, 2022, to return it.
"I believe he will give it back to us, he is a well-regarded artist. But if we don't get it back, we will have to file charges against the artist," said Andersson.
But Haaning himself claims that he has absolutely zero intention of paying the money back.
"No, it's not theft. It is a breach of contract, and breach of contract is part of the work," he said.
If Haaning's stunt gets declared as an official artwork, then… We might have some student loans that we also need to turn into fine art.