It's nice to know that at 40 the sisters are still breast friends. I mean, uh, best friends.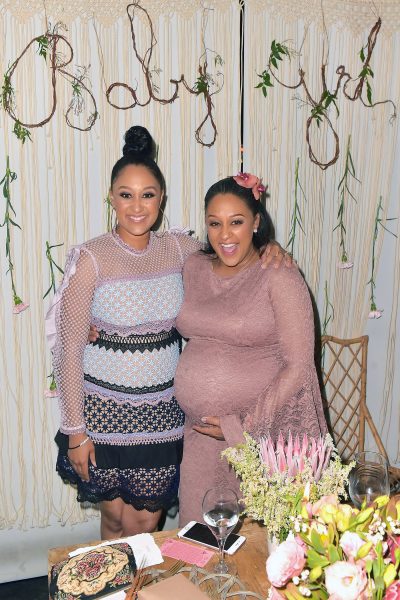 Celebrities do some really strange things in the name of health and beauty. They stick things in places things weren't meant to be stuck. They use creams made from the cells of parts of bodies don't sound like they should be rubbed into your face. But twins Tia and Tamera Mowry have taken a new leap and aren't bothering to hide the weirdness of it.
Tamera Mowry-Housley, 40, recently became ill. Her search for a remedy leads her to her sister, Tia Mowry-Hardict. (I'm not telling you how old she is, they're twins, work it out.) But instead of home remedies like herbal teas, honey and garlic, onions in your socks, or a million other old wive's tales, Tia offered her breast milk.
Tia welcomed her daughter to the world in May of last year. She claims to have found an article about the healing properties of breast milk.
The American Pregnancy Association says that breast milk for newborns contains the "perfect combination of proteins, fats, vitamins and carbohydrates" which is essential for their development. Adults, however, break down those nutritional aspects differently than babies, CBS News reported.
Experts caution against the practice for adults. Experts like Elisa Zied, a registered dietitian nutritionist in New York, also echoed those sentiments.
"Human breast milk [is] designed to nourish babies — not grown [adults]," Zied told Today. "Bottom line: I find the idea of an adult using human breast milk for health benefits unsubstantiated by science."
Human breast milk can contain dangerous impurities, such as infectious diseases including hepatitis, HIV and syphilis, and bacterial food-borne illnesses if the milk is not properly sanitized and/or stored, CBS News said.
View this post on Instagram
But that didn't stop the sisters from sharing their love of sharing bodily fluids online.
"Soooo, my sister is desperate for some healing," she wrote on Instagram. "She's sicky poo and I sent her an article on how breast milk has healing properties and was okay with drinking my #breastmilk. Ps, she's had some before and I mean, she's my twin. Here's what she had to say."
Wait. What? "Ps, she's had some before and I mean, she's my twin." … I don't see how that's a direct correlation there, Ms. Mowry-Hardict.
"Oh my gosh, Tia, this is amazing," Tamera said in the clip as she held up the cup of liquid. "Your breast milk is the best milk I've ever tried in my life, oh my god."
She also captioned the video, which altered her face and voice through a filter, with, "Well, I do feel better ?????"
Ya know what? As long as it's not hurting anyone, drink up, Tamera. The people on this big spinning ball of mud in space never ceases to surprise me.
Want to tell your strange story?
Tell us about it
and it could be featured on Oddee. You can remain fully anonymous.