New Years Eve has come and gone. What did you do for the night? Did you celebrate an odd tradition?
Friends of mine always have an early dinner of surf and turf. And many others have the nightly ball drop with celebrations, champagne, and other fun traditions. But what are the traditions for New Years around the world? Keep reading to find out!
Bolivia
This country has a sweet yet odd tradition. They cook sweets with coins in them. When people eat the sweets, there's the chance of finding the gold coin. And whoever finds the gold coin will have good luck for the next year. What a great New Years tradition.
France
For an easy and delicious tradition, follow the lead of the French. Their New Year starts with consuming a stack of pancakes. Yup, easy and delicious it is.
Thailand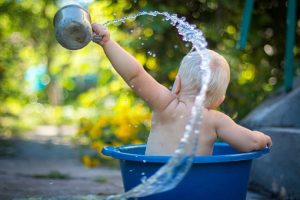 They have some weird New Years traditions to bring in the New Year, but then again, they probably think that we have weird traditions, too. Or they definitely think that our lack of traditions is weird. Anyhow, in Thailand they throw buckets of water on each other to start of the celebrations. They also go around smearing gray talc on each other. But, I guess, don't knock it until you try it? Either way, this is arguably an odd tradition.
Chile
Ok, so this is odd, weird, and even 'chilling.' The people of Chili like to spend the night with their deceased loved ones by sleeping with them in the cemetery. No to this one. Just no.
Ireland
Bread lovers, this is the day you've been waiting for, well unless you want to eat the bread. Then this odd tradition may not make you happy. In fact, it may make you sad. In Ireland, they throw bread at the walls to get rid of evil spirits.
Panama
Oh Panama and what a country it is. Well, not really. But let's just say, this tradition isn't too surprising.
Estonia
If you like to eat your way into the new year, then you should visit Estonia and indulge in their traditions. That is to say, indulge in food like the Estonians. People eat seven times a day on New Years Day to ensure abundance in the new year. Ha. What abundance is left if everyone is eating seven times for the start of the new year?
Denmark
Want to ring in the new year Denmark style? All you have to do is get high, high into the air that is! The people of Denmark climb on top of chairs and "jump" into the New Years. They claim it brings good luck, and who are we to disagree?
Switzerland
People in Switzerland like to drop ice cream on the floor. What? How sad is that to an ice cream lover? Well, at least this only happens on New Years, as far as we know anyhow. To celebrate New Years, they simply drop ice cream onto the floor. Weird? Yup. And  this odd tradition is a little sad.
Puerto Rico
This isn't Thailand but the buckets of water are similar for the celebrations of New Years. In some parts of the country, they throw pails of water out their windows to drive away the evil spirits. Whatever works!
Japan
Land of weirdness. Just kidding, well, not really kidding. And this isn't super weird, at least not compared to other things the people of Japan do. For the new year, they ring all of their bells 108 times in alignment with the Buddhist belief that this brings cleanness. It's considered good to smile and known as good luck for the New Year.
South America
To determine your fate in the new year, you must be sure to wear the right colored underwear. Yes, this strange and odd tradition is the way of the South American people. And they say if you wear red underwear, then you'll find love. For wealth, wear the color gold. And while, well that signifies peace in the new year.
Spain
The new years tradition for this country revolves around grapes. You want good luck? Grapes are for you. If you stuff 12 grapes into your mouth at midnight, you've achieved good luck for the new year. Sounds easy enough. Just open up and stuff them in!
Did you do any of these things to celebrate the holiday? Whatever you did, it's a new year now! Let's see how odd this year can get!