When two politicians got tired of debates, their fists started talking.
Politics can be pretty boring. Endless hours of debates, negotiations, meetings, committees…
Recently, though, two Brazilian politicians brought some action into politics. They decided to speak soft and punch hard.
Simão Peixoto, the mayor of Borba in north-central Brazil, and the town's ex-councilor Erineu da Silva have been at each other's throats for a while. To settle their dispute, the two men stepped into an MMA fighting ring.
At the center of their feuding is a water park in Borba. Silva, also known by his nickname Mirico, has been accusing Peixoto for failing to preserve the attraction.
Mirico, 45, hasn't minced words in calling Peixoto out, calling him a "rotter" and a "crook," according to The Guardian. Recently, he demanded Peixoto, 39, come out and settle the matter with his fists, if he's man enough.
In an online video, Peixoto said he was more than ready to take Mirico on. "Show your face!" he declared.
Some of his voters, however, felt that a mayor shouldn't get into a brawl and be more diplomatic. In response — supposedly after he'd cooled down some — Peixoto clarified his intentions.
"I'm not a street fighter. I'm the mayor of the municipality of Borba," he said on Facebook in November.
"[But] if he really wants to fight, we're ready to fight. I've always been a winner," Peixoto added.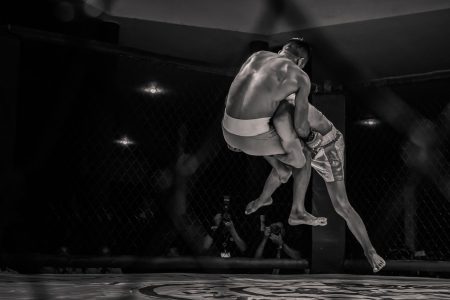 Out for Blood
As it turns out, Mirico really wanted to fight. On December 12, the two political rivals climbed into the ring at a local school.
The two were appropriately clad in shorts and gloves for the crowd of hundreds that had come to see the fight. Out of the duo, Peixoto seemed to really be out for blood.
According to local reports, the mayor — with a towel emblazoned with the word "Jesus" around his neck — marched twice over to Mirico's corner. Both times he swiped his fingers across his throat.
For once, we don't have to try and guess what a politician's statement actually meant.
Ready… Fight!
The three-round fight finally commenced. According to Vice, Mirico started aggressively by delivering low kicks to Peixoto's legs.
Growing tired of having his shins kicked, Peixoto delivered a right jab to the ex-councilor's face, knocking him to the ground. He proceeded to jump on his down rival, pinning him down and delivering several more punches.
But all that managed to do was piss Mirico off. In a surprise move, he flipped Peixoto to the floor and started raining punches on the mayor.
The first round lasted for several more punches and kicks, until the referees pulled them apart. Both were clearly not accustomed to fighting, since Peixoto and Mirico were both already reeling and out of breath.
But there were still two more rounds to go.
Winner by Technicality
The following rounds were nowhere nearly as energetic as the first one. According to reports, both contestants got more and more tired and their punches got increasingly sloppy.
Still, Mirico managed to pull ahead, delivering quite a whooping to the mayor.
"The mayor took such a beating his jaw dropped," Fato Amazonico wrote.
At the end of round three, Peixoto was so messed up that he could barely walk. It seemed Mirico had defeated his opponent.
However, the judges disagreed. In the end, they declared Peixoto the winner for having scored more points.
The crowd clearly wasn't pleased with the result. "A stitch-up!" they shouted, according to Fato Amazonico.
It seems, though, that the rival politicians had found a sportsman-like respect for each other. After the match they shook hands, hugged, and exchanged a few hushed words before leaving the ring.
A Hostile Environment
So, did the fight settle the dispute over the waterpark? We don't know yet, but that remains unlikely.
If anything, many in Brazil see the punching match as evidence of the increasingly antagonistic nature of Brazilian politics. And it's no surprise — the country's president Jair Bolsonaro has done his best to fuel division in Brazil.
"This is what politics in Brazil has become of late. It's frightening. We've become the Wild West," one Brazilian tweeted.
The Peixoto-Mirico match wasn't the only political brawl of the day in Brazil, either. According to reports, the bodyguards and supporters of Brazilian president Jair Bolsonaro attacked journalists on the same day.
At least Peixoto and Mirico fought in a regulated environment. Hopefully they can continue their debate in a more civil manner now that they've let out some steam.