Hell must be running on a deficit if a two-bit skeleton onesie is the best they can afford.
Remember the 80s? What a great decade, with neon windbreakers, New Wave music, yuppies, late-stage Cold War… What a time to be alive.
And then there was also the Satanic Panic. You know, the mass hysteria about how supposedly everything from roleplaying games to heavy metal music and actual real-world social issues was some kind of a global conspiracy to turn the entire world to worshipping the Lord of the Pit?
Haha, what a silly thing to think! The people in the 80s sure had some wild imaginations. I sure am glad all that's over.
Okay, fine. You know how these kinds of intros work. It's not over at all.
This time it seems Old Nick is trying to get his sulfur-reeking claws on our souls through lingerie advertisements. At least that's what people seem to think on social media, and when have they ever been wrong?
The vessel for Satan's devilish plot is a new ad published by Australian lingerie firm Honey Birdette. But the arm of the Devil is long, and the company also operates some stores in California.
An underwear company seems like a fitting conduit for temptation. Why else would Honey Birdette produce such sinful attire if not to lead good people down the path into sins of the flesh?
In theory, Satan seems to be on the right track. But can the final product pull through?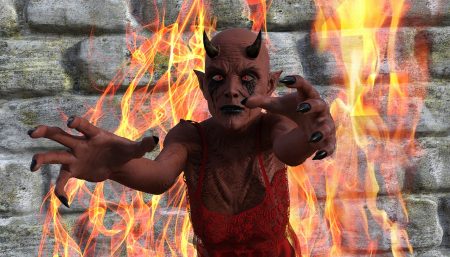 A Sight for Sinful Eyes
The advertisement that's set righteous souls aflame with divine fury is a video promoting Honey Birdette's new bondage-inspired collection – aptly titled The 666 Club.
The firm uploaded the video on their Instagram page. Just so you know, it's fairly saucy for an ad, as are the other related pictures. You might want to grab the Bible or some holy water or something to safeguard your eternal soul.
The red-tinted video opens up with an ominous line: "Don't forgive them, Father, for they do know what they do." Alright, that's pretty clever.
Next, a pretty model starts wandering through a night club, which we can probably assume to be the titular 666 Club. She is clad in an ever-changing variety of undergarments from the company's new line.
Apparently abyssal magic allows you to change clothes in the blink of an eye.
Underlining the tempting power of these bras and panties, the club is filled with writhing, smooching couples of all orientations. But they're clearly in awe of the Satanic might of the main model, since none of them dares lay a hand on her.
And so she continues her journey through the club untouched until the Prince of Darkness himself appears to feel her up! No, it's not Ozzy, just some dude painted red with a corny villain 'stache and goatee.
The cartoon devil is quickly replaced by a bunch of people in equally cheap skeleton onesies. I think I've seen these things for sale at the Dollar Store for $1.99 around Halloween.
And then the ad's over. Can you feel the forces of Hell grabbing hold of you already?
Me neither.
Empowering Satan
But some people sure did, since the video's comment section is riddled with crusaders denouncing this blatantly Devil-worshipping sin fest.
"Thought it was just me. But all these Satan comments make me realize I'm not crazy for feeling a little [meh emoji] about this," wrote username jsattt.
Yeah, we wouldn't be so sure about that.
D_amatus007 saw the video as nothing more than yet another sign of our world slowly slipping down into the depths of Hell. "Not surprised everything you see in the video is satanic. It's the new way and what many seek and are fighting for as we sit here," they commented.
Others who have shopped with Honey Birdette before have been put off by the ad. Lingerie that covers barely anything is fine, but a devilish figure that looks like he could be an elementary school student's home-made Halloween decoration?
How dare they!
"You guys just lost a very loyal customer you Satan worshippers! Disgraceful!" wrote username ezcali.
"WTF anti-Christian much? Unfollow. Not buying your brand now!!!" yelled mstessascott.
Still some thought the video was directly channeling power to the Devil. Or something like that.
"Little bit s**tty empowering Satan like that," thought loius_meyer.
But, in the name of fairness, others had more reasonable criticisms for the ad. Sprinkled in the comments are people who are just straight-up not that excited about what they're seeing.
"I'm gud luv, enjoy. So disappointed in the plain designs," said username natvanel.
Poor Effort, Devil
Now, we here at Oddee don't claim to be experts on all things Satanic or anything like that. And by no means do we want to disrespect anyone's deeply held beliefs when it comes to what's good for your soul.
But really, a guy in red bodypaint and a cartoon goatee? Some dudes in cheap skeleton bodysuits? At the end of October there'll be a Halloween party on every block that will get more sacrilegious than this.
You'd imagine an organized group of Satan worshipping masterminds would be a bit more sinister. If this is the best Hell's demonic legions can cook up, they'd better step up their game. The most sinful thing about this video is the costume department's budget.
Is this really what's supposed to tempt us into damnation? Not today, Satan.