Freezing your shoes to clean them? Just when you thought you've heard it all...
Regardless of whether you've owned a pair of shoes for years or you're just starting to wear them, there are some simple ways to clean them and make them look good again. Read on to find out what you should be doing.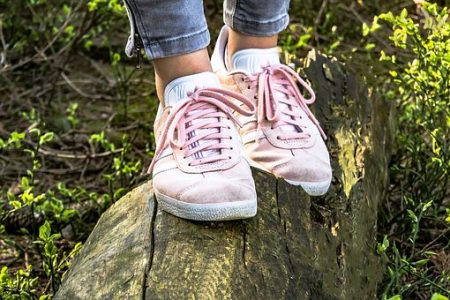 Soaking
Having your shoes clean is an important part of keeping them looking new. Having them cleaned on a regular basis will help protect them from fading, cracking, and other common problems associated with shoes. 
However, not all shoes are created equal. They all have varying materials that can affect the cleaning process.
For some materials, soaking your shoes in water may be a necessity. However, you should use caution when soaking your suede or canvas shoes. 
If you have to soak your shoes, it's better to soak them in cold water. This will allow for easier rinsing and drying. If you don't want to rely on the washing machine, you can do it manually by filling a basin with water and a few drops of dish soap.
Damp Cloth
Using a microfiber cloth, scrubbing the soiled areas with pressure is the best way to go about this. You can also spot clean stubborn stains with a lukewarm water and shampoo solution while doing this.
Using a damp cloth for shoe cleaning is an effective way to remove stains and dirt from shoes. A damp cloth will also speed up the drying process. Using a sponge can also be effective. 
Start by cleaning the soles of your shoes. You can do this with a brush, sponge, or a soft cloth. The sponge can also be used to spot clean stubborn stains.
Baking soda
Using baking soda for shoe cleaning is an effective way to clean and remove dirt and stains from your footwear. This natural cleaning solution is safe to use on fabric, canvas, leather, and nylon shoes. It is an easy and inexpensive way to remove stains and keep your shoes looking clean.
Baking soda is a natural deodorizer and absorbs dirt and grime. It can also help remove tough stains. You can also use baking soda to remove stains from other things like clothes and curtains. 
Baking soda works well on white and light-colored shoes. However, it can fade colors of non-white shoes. To use this technique, you will need to test the solution on a small patch of the shoe before you use it on your entire pair.
The first method for cleaning shoes using baking soda is to apply a paste made from baking soda and water. Brush the paste into the shoes in a circular motion. After 30 minutes, rinse the shoes thoroughly. If there are still stains, use a liquid detergent to remove the stain.
For stubborn stains, you can also use a bleach pen to clean the shoe. Be sure to dilute the bleach in water. When the stain is removed, use a clean cloth to wipe the shoe. If you have a mesh shoe, you can also scrub the shoe with a soft bristle brush.
White toothpaste
Using white toothpaste to clean shoes is a popular cleaning trick. However, you should be careful in using the trick. It can be hazardous to your leather shoes. You may want to use a special shoe-care toothpaste for this task.
The best toothpaste to use to clean shoes is a non-gel white toothpaste. It will help to remove dirt and grime from your canvas shoes and white sneakers.
You can use toothpaste to clean shoes by applying a small amount to an inconspicuous spot. Then, let the toothpaste sit for about 10 minutes. When the time has passed, wipe the area with a clean damp cloth.
This trick works best with leather and canvas shoes. However, it will not work with suede or nubuck. It may also leave a mark on your white shoes. You may also want to consider using baking soda or vinegar to clean your white shoes.
When using toothpaste to clean shoes, the amount of pressure you use to scrub the dirt is going to vary depending on the color and condition of your shoes. So, you should only use toothpaste on a small, inconspicuous area of your shoe to see if the trick works for you.
Soft Bristled Brush
It is also a good idea to use a soft bristled brush when using toothpaste to clean shoes. This will help to loosen up any dirt and make the job faster.
Using a soft bristled brush is a good way to get a deep clean on any type of shoe. This method also helps to prevent stubborn stains and dirt from sticking to the upper of your shoe.
The first step is to remove all dirt and debris from your shoes. This includes the laces and insoles. It is recommended to use a clear degreasing dishwashing detergent. If your shoes are made of leather or another durable material, you may need to use a heavier laundry detergent.
Next, you will need to soak your shoes in a solution of water and a detergent. This is important to get rid of stains. The soapy solution will also help to remove dirt.
Once the shoe is soaked, you will want to scrub the stains off. You can use a soft bristled brush or a hog hair brush. 
You will want to make sure that you use the right brush for your type of shoes. A medium bristled brush will scrub off tough stains, while a soft bristled brush will be gentle on your shoes.
Drying them properly
Whether you have a pair of new shoes or old running shoes that need a new life, you need to dry them properly. 
Leaving them in the sun could make them fade and crack. You can get them dried quickly with a fan, but there are also other more environmentally friendly ways to dry shoes.
A newspaper hack has been around for ages. The paper is made of wood pulp and can quickly absorb water. It may not work for every type of shoe, but it can be a good idea if your shoes are made of leather or suede.
The newspaper method may not be the best way to dry your shoes, but it is one of the easiest. You need newspaper, a dry cloth, and some sort of container. Newspaper works especially well for dry footwear, but it can also be used to dry other things like the outside of your shoes.
The newspaper method works well for leather shoes, but it is not so good for soft shoes. Depending on your shoes, it may take a few hours to complete. The newspaper can be stuffed into the shoe to dry. It can also be sanitized if needed.
Another method of drying your shoes is to dry them in the dryer. You will need to untie the laces. Then place your shoes on the drying rack. The shoe labels usually indicate whether or not they can be machine dried.
Ooops… Chewing Gum on Your Shoes!
Not only can it leave your shoes looking dirty, but the sticky residue can also attract dirt and debris, making them harder to clean. 
Plus, when you step on gum it can be uncomfortable and cause pain in the soles of your feet. 
If you happen to get chewing gum on your shoes, the best way to remove it is to freeze it off. 
Put the shoes in a plastic bag and place them in the freezer for an hour or two, then use a butter knife or credit card to chip away at it until all of the gum is gone. You can also try using a bit of WD-40 or rubbing alcohol on a clean rag to help break down the gum. 
Just be sure to test it on a small inconspicuous spot first before using it on the entire shoe.
Taking preventative measures is also important when it comes to avoiding sticky situations like chewing gums and dirt altogether.
Think Ahead and Prevent!
Before putting on new shoes, be sure to clean the soles of your feet so that dirt does not get stuck to the bottoms of the shoes. 
After taking off your shoes for the day, you can use a damp cloth to wipe off the dirt from your shoes before putting them away.
Avoid wearing your shoes in wet or muddy areas, as this can cause dirt and debris to stick to the bottom of the shoe. If you do get caught in a downpour, try to dry off your shoes as soon as you can using a towel or tissue.
Consider wearing shoe guards when walking in wet or muddy areas. These are plastic covers that fit over the sole of your shoes and can help keep dirt off your shoes. You can buy these at most sporting goods stores or online.