Finland is famously known as the Land of a thousand lakes. But the small, Scandinavian winter wonderland has lots of odd things. Whether you want to tour the country or simply want to learn more about Finland, this article covers loads of interesting things. Let's get started.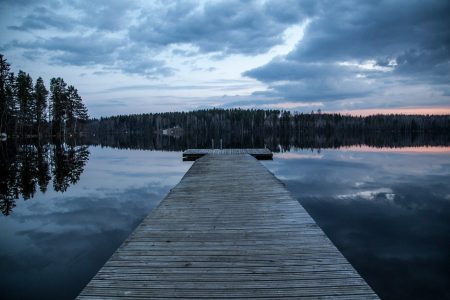 1. Finland is the Happiest Country in the World
Finland is the happiest country in the world according to a study by the UN. It was also the happiest nation in the world last year, in 2019 and 2018. In the latest poll, the UN focused on people's feelings of security based on their country's response to COVID-19.
As it turned out, the Finnish were impressed by how their government is fighting the pandemic. They also rank their country's infrastructure, educational systems, quality of life and other crucial factors highly.
And why wouldn't they? For the most part, education and healthcare are free in Finland. There are low crime rates and excellent job security. That said, Iceland, Denmark, Switzerland and the Netherlands were the second, third, fourth and fifth happiest countries in the world.
2. Finland is 10% Water
When they say Finland is the land of a thousand lakes, they aren't exaggerating. Finland is 10% water thanks to its 187,888 lakes and ponds. This doesn't include the 36,000 square kilometers of the Baltic Sea under the control of Finland.
Due to its large water coverage, taking a road trip around Finland is exciting but long. Roads have to go around lakes, some that stretch over 100 miles. Lake Saimaa, for example, is the second largest laker in Europe at 1700 square feet.
Interestingly, many of Finland's lakes are shallow. For clarity, a shallow lake is one where sunlight is able to reach the bottom. That translates to about 15 feet 4.5 meters.
3. Finns Enjoy Gambling
Online gambling has been legal in Finland since 1996. The country's only brick and mortar casino—Veikkaus—has the sole authority to provide online slots and table games. This means foreign companies can't acquire licenses to set shop in Helsinki.
That said, Finland's laws don't prohibit locals from gambling at foreign casinos. Offshore casinos provide better services: games of higher quality, bigger bonuses, and higher limits for high rollers.
Some casinos, like Dreamz, also personalize their websites to support the Finnish language and local banking options. This makes gaming simple and convenient for both beginners and experienced gamblers.
4. There ae 190,000 Reindeer in Finland
Finland is called the home of Santa Claus for a reason. The country's northernmost region of Lapland is home to 190,000 reindeer. It's also incredibly cold, with winters that last up to seven months.
The reindeer in Lapland are surprisingly domesticated. They wander throughout Lapland, sometimes on people's gardens. This means you can also befriend and use them to ride sleighs in the snowy regions of the country.
Thanks to its extremely cold weather, Finland is a haven for winter sports. Whether you cherish ice hockey, skiing or dog sledding, the nation's weather provides an excellent environment to relish lots of winter sports.
5. Finland is the Mecca of Saunas
They say numbers don't lie. Finland is a country of 5.3 million people. Yet it has 3.3 million people—a sauna for every two people. There's a sauna almost everywhere in Finland, from restaurants and bars to fitness centers and homes.
According to the BBC, 99% of people in Finland take at least one sauna per week. The number of visits to saunas double or triple during the summer. Of course, when people are not warming up in a sauna, they're usually cooling in one of the country's 188,700 lakes.
Why do Finns love saunas so much? It's calm, relaxing and meditative. It's a place where people go to relax after a long day at work. And it's so respected that most saunas prohibit eating, drinking, using mobile phones or discussing religion and politics.
6. Finland is Home to Popular Games
This might come as a surprise to some. But some of the most successful video games originated from Finland. Let's start with Nokia's snake game. During the golden age of Nokia, everyone owned a Nokia device and they all played the snake game.
Today, Nokia is no longer at the helm of the smartphone food chain. But people still play its snake game through apps all over the world. Speaking of apps, another mobile game you can download on the app store—Clash of Clans—was created by a Finnish startup.
Super Cell, the company behind Clash of Clans, is also responsible for other popular games like Cash Quest, Clash Royale and Clash heroes, all spinoffs of the original game.
7. The Average Finn Drinks 12 Kgs of Coffee per Year
How's this for a stat? The average person in Finland drinks up to 12 kilograms of coffee per coffee. You can't really blame them: the winter season in the Land of Santa Claus is brutal. Sometimes temperatures drop to -40 degrees Celsius.
Owing to the country's love affair with coffee, some office divide work hours by coffee break. On average, there are four to five coffee breaks, allowing employees to drink up to five cups of the beverage daily.
8. 75% of Finland is Forested
If you've been wondering why there's so much water in Finland, it can be linked to the nation's large forest cover. Over three quarters of the country is forested and this is despite the increase of lumbar factories since 2000.
The best part of Finland's forest area is that it's occupied by indigenous trees. And since everyone is free to roam throughout the country, the forests make up for excellent camping spots.
Compared to other countries in Europe, Finland ranks first in forest cover. This is also 16 times the average forest density around the country. As mentioned, however, the lumbar industry has been growing sporadically in the last two decades. If not controlled, then Finland's gigantic forested area could reduce over time.