Any homeowner can make essential improvements. It will improve the general appearance and add value when you sell the home someday. It is recommended you hire a professional team to assist with the work.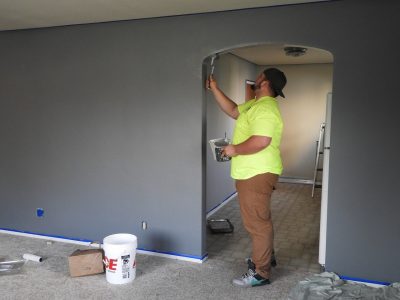 In this article, we are going to discuss several home improvements you can make. Without further ado…
1. Getting Organized.
Getting Organized is a home improvement project that you can handle yourself. When organizing a home, the goal is to get rid of the things you no longer need. Go through each room, emptying shelves. It would be best if you then re-organized what's left.
Remember that no organization plan works unless it is maintained. Whatever organization system you choose, make sure it is easy to stick to long-term.
2. Painting.
Painting is an excellent way to transform the overall look of any house. This task requires little budgeting in case you choose to do it yourself. You can decide to paint your whole house, the entire exterior or just the doors. It's entirely up to you to paint as much or as little you see fit.
One of the main benefits of painting your house is that it protects your home from wear and tear. The painting also protects your house from dust and mold.
3. Adding Updated Systems and Appliances.
Whether you intend on selling your home or sticking around, this is a remodeling project to consider significantly. You have to make sure that all systems in your home are updated and fully functioning. Below are home systems you should consider fixing and updating:
Air conditioner.
Plumbing line.
Water heater.
Roofing system.
Sewer line.
Lighting can enhance the home not only with it's illumination but by the light fixtures themselves. If you like the nostalgia of barn lights, Steel Lighting Co. can help. This project may be expensive, but it is well worth it.
4. Replacing Hardware.
Take a look at the doors in your house. It could be your front door or kitchen cabinet doors. Does furniture impress you? If not, you need to change.
You can opt to replace old doorknobs and also install new door hinges. Replacing hardware may take up most of your time, but it's one of the easiest ways to give your home a new look.
5. Adding Technology.
Homes with the latest technological updates are gaining popularity, especially among Americans. With technological advancements, houses are getting smarter. Smart homes allow you to control electric appliances remotely using a smartphone through an internet connection.
Below are smart home gadgets that are gaining popularity:
Smart light bulbs.
Smart thermostats.
Smart speakers.
Wi-fi security cameras.
Video doorbells.
Smart lock.
The most substantial benefit of having a smart home is convenience. You can control it from anywhere as long as you have a stable internet connection.
6.  Improve Landscaping.
The American Society of Landscape Architects recommends investing 10% of your home's value on landscaping. The outside of a house tells a lot about the inside. Your front lawn is what everyone sees first when they pull up in front of your home. You ought to make it look more attractive for you and potential buyers if you intend to sell it.
Let's have a look at some of the ways you can improve your landscape:
Plant a tree.
Trim the bushes and shrubs.
Consider an artificial lawn.
Refresh your mulch.
Dress the door.
Maintain a healthy lawn.
Consider installing an irrigation system.
A well-maintained landscape betters the living environment.
7. Consider Installing a Deck.
Decks benefit every home. A deck is used as a backyard retreat for entertainment purposes. Adding a deck to your house is an excellent investment .  A beautiful deck compliments your outdoor living experience as well. You can buy ready-to-assemble outdoor concepts, to add an outdoor kitchen to your deck, allowing you to consolidate steps and stay outside to join your guests. To learn more, contact RTA Outdoor Living.
For the best deck installations, deck contractors in Northern Virginia have got you covered. Most have received national recognition awards as a Top Remodelers by Qualified Remodeler Magazines for their explicit construction and remodeling services.
Remodeling your home has several benefits. Let's have a look at some of them:
Makes Your House More Comfortable and Functional.
Once you do a home renovation, you make your house very unique in a way that reflects your taste. Apart from creating more space, you can create your dream home by remodeling it.
Remodeling your house decreases energy to use; hence, you can save money in the long run. A lot of energy-saving devices are on the market. These energy-saving devices include LED lighting, energy-saving outlets, and energy-efficient appliances. These devices were not available in the past.
If you are planning on selling your house someday, remodeling your house will increase its value. The standard payback in an abode's resale value is approximately 56 percent of the cost of the renovation. This report is according to a survey done by real estate professionals. Elementary remodeling projects like painting will still add value to your home.
Enhances Comfortable Living.
Your home should be your place to relax after an exhausting day at work. Remodeling it to your desires enhances your home experience.
Conclusion.
Remodeling homes is commonly done in most homes nowadays. You can choose any of the tips listed above to make your house livable and functional. If you find remodeling difficult, always hire a professional.