It took almost six decades for someone to check the date on an article? Man, they're correct when they say newspapers are a dead medium.
Who doesn't like a good conspiracy theory? Even if you don't believe in them, they're entertaining stories to read – the more outlandish the theory, the better!
Conspiracy theories are usually spawned by significant historical events, especially ones where someone important dies under murky circumstances. One of the most significant of such in – at least relatively – recent history is the assassination of John F. Kennedy.
Even if you're like the author here and your birth was still decades off when it happened, you know the scene. JFK sits in an open-topped car in Dallas, Texas, in November 1963, when someone puts a bullet through his head.
The official story is that Lee Harvey Oswald shot JFK with a rifle from the window of the Texas School Book Depository. Alternative theories, some of them wilder than others, posit otherwise.
Many of the conspiracy theories have been put to rest as impossible after decades of ongoing investigations. Now, one such investigation, published by The Conversation, has disproven yet another theory.
The search for truth was carried out by Gonzalo Soltero, professor of Narrative Analysis at the School of Higher Studies, National Autonomous University of Mexico. The theory Soltero researched claimed that Oswald – who always said that he was just a "patsy" – was in league with Cuban communists to kill JFK.
This conspiracy theory was put out to the world by one man – Mexican reporter Óscar Contreras Lartigue. But as Soltero came to find out 57 years later, Contreras' story had one major hole in it that disproves the whole thing.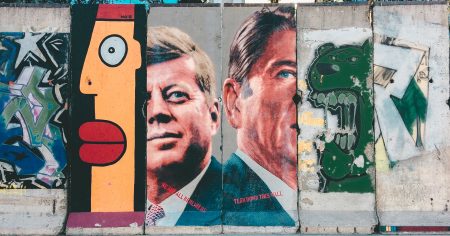 The City of Cold War
To get the proper historical context, we need to first take a little trip down the memory lane. Our destination is Mexico City, circa 1963.
The Cold War was at its hottest at the time. The East and West had just come out of the Cuban Missile Crisis the year before, barely avoiding global nuclear conflict.
In Europe, the communist East German government had started building the Berlin Wall in 1961. A couple years earlier, in 1959, rebels led by Fidel Castro had overthrown Cuba's government and established a communist regime right just some miles off the U.S. coast.
Mexico, then, was a bit of an oddity in this environment. The country hadn't really taken sides in the Cold War, and both Western democracies and Eastern communist dictatorships has embassies in Mexico City.
Due to this relatively welcoming atmosphere, political outsiders of all kinds flocked to the Central American nations. Exiles and refugees from Soviet states, American communists fleeing the Red Terror, and those sympathetic to the newly-founded Castroist Cuba all flocked to Mexico.
As such, Mexico City was a playground for opposing intelligence organizations. Both the American CIA and the Soviet KGB competed with each other to steal the enemy regime's secrets.
A Dark Pact
It should come as no surprise then that Oswald – a self-proclaimed Marxist – found himself in Mexico City on September 27, 1963. According to official intelligence from Cuban and Soviet embassies, he was there to try and secure a visa to either of the communist countries.
However, his efforts proved fruitless. A few days later, on October 2, Oswald traveled back to the U.S.
That's the official story. There's a catch, though. Oswald spent five days in Mexico City – neither American, Soviet, or Mexican intelligence agencies know what he did during three of those days.
This is where Contreras' conspiracy theory comes into play. Contreras, in his own words, met Oswald at a pro-Castro campus group at Mexico's National Autonomous University (NAUM). He had been there to seek help for getting his Cuban visa.
Contreras claimed that Oswald spent two days with the campus group, and then later met them again. This time, however, the meeting was at a Cuban embassy.
The theory implies that during that meeting, Oswald and the Cuban regime struck some kind of a pact. Perhaps Oswald was offered a visa, maybe even citizenship, for assassinating JFK.
The CIA caught up to Contreras' story and, in 1967, an agent interrogated Contreras about his story. He said that he had only told of his encounter once before – to his editor, shortly after JFK shot in 1963.
However, Contreras refused to go into details. He only said that the word "assassination" was never used directly.
One Fatal Mistake
And so, the conspiracy theory that Cuba hired Oswald to kill the U.S. president lived on. As late as 2015, reporters and authors writing on the JFK assassination found Contreras' story credible.
It does sound believable – that is if you ignore one simple fact that Soltero has only recently discovered.
You see, it turns out that Contreras was most likely nowhere near Mexico City when he claimed to have met Oswald.
Soltero got hung up on one oddity in Contreras' account. Contreras claims that he was studying law at NAUM in 1963. He then supposedly fled the campus in 1964 to escape political persecution and moved to his native Tampico.
Soltero, however, knew that college newspapers aren't common, and Contreras was a law student, not a journalism major. Who, then, was the newspaper editor he presumably told about his encounter with Oswald in 1963?
As Soltero started digging deeper, he discovered a local Tampico newspaper called El Sol de Tampico. It ran a Sunday gossip column titled Crisol. And who else was writing stories about weddings, quinceañeras, and other local events for Crisol but Óscar Contreras.
Soltero found stories published between June and October 1963. That is, during the timeframe when Contreras supposedly met Oswald in Mexico City.
"A political correspondent may live far from where his newspaper is published. But for a gossip columnist, that would be dereliction of duty," said Soltero.
A Dud of a Story
And just like that, the house of cards that was Contreras' story comes tumbling down. The man himself died in 2016, so he can never confirm it, but it seems highly unlikely that he was in Mexico City together with Oswald.
That's not to say that Oswald couldn't have met with Cuban communists and agreed to kill JFK. There are those three blank days in Oswald's travel schedule that remain a mystery.
One thing is certain, though. Contreras wasn't there in Mexico City to see the events play out the way he said they did.
We're not sure if we should be more astonished by the amateurish mistake that Contreras made, or how long it took to uncover it. If you claim to be somewhere on a certain date, at least make sure there's no written record of you clearly being some place else.
But hey, as we said in the beginning, at least this story made for a fun little exploration of Cold War intrigue.