After spending more time at home than ever over the course of the past year, everything that's both fantastic and not so great in your house is more apparent.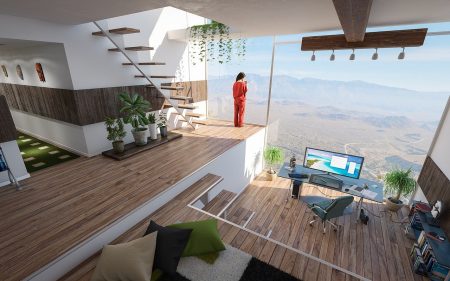 For instance, while you love your home office set-up and are pleased with the way you created an online classroom setting for the kids, you also realize much of your interior needs a major upgrade.
Fortunately, this is not an impossible task by any means; in fact, modernizing your home can be fun and may also be done as your time and budget allow. As for how to go about doing it, consider the following tips:
1. Add a Few Pops of Color
Modern style involves using bright and fun colors but in a very conservative way. This means not painting the entire family room acid green or the kitchen a buttery yellow, but instead adding cheery colors to a couple of accent walls that will help highlight each space.
2. Use Photography as Art
A modern home won't typically have renaissance oil paintings or bright and garish prints on the walls. If this sounds all-too-familiar, consider switching out your current artwork for some photography art. You can find photography art to fit your modern tastes from online art retailers like Minted. 
3. Create an Open Feel
In a perfect world, you would hire a contractor to knock down some walls to create an open concept in your house. If your budget won't allow for this right now, no worries at all. Instead, you can make your floor plan look more open in other ways. For example, group your furniture so that the room appears more spacious and allows for an easier transition between other parts of the house. Additionally, leave plenty of open space in the hallways, and if possible, avoid using bulky furniture that can take over a room.
4. Remove Clutter
One thing all modern homes have in common is a lack of clutter. In order to pare down the belongings you have on display, donate any items that, as Marie Kondo would say, do not spark joy. Then consider storing the majority of what's leftover. In general, knickknacks and other dust collectors will make rooms look busy and cramped. To achieve a more modern and minimalist style, focus on open designs, like a sleek coffee table that's free of piles of magazines as well as a bookcase with a few framed photos and books instead of a bunch of busy tchotchkes.
5. Update Your Flooring
As your budget allows, consider removing any old carpeting and replacing it with plank tiles or pre-finished flooring. These options are both ideal for a modern home and, if used throughout several rooms, can also help create the feel of an open concept. As a bonus, these choices are far easier to keep clean. Plus, if allergies are a problem in your household, you won't have to deal with pollen and pet dander getting caught in the carpet fibers.
Enjoy Your More Modern Abode
Transforming your home into something more modern doesn't have to be a costly or stressful process. By adding a few accent walls here and there and hanging photographs on the walls, as well as spending a weekend clearing out any clutter and saving up for new flooring, your home will get the modern upgrade you desire.