Here are some funerals you'd want to attend even less than usual.
Arranging a funeral is one of those things that's never fun. It's a difficult and sensitive event to begin with — you don't want anything to go wrong while it's happening.
But, of course, sometimes things do go wrong. And sometimes, they go really, really wrong.
Here are five funerals that turned into absolute nightmares.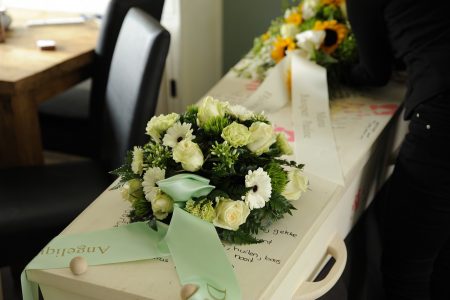 1) The Casket That Fell Down a Mountain
In October 2020, in the Chinese province of Yunnan, the family of a deceased 73-year-old woman had gathered to lay her to rest. The mourners were performing a traditional funeral procession, carrying a 550-pound casket up mountainous road.
At one point, they had to haul the coffin up a steep cliff with a rope. But as the pallbearers hauled up the casket, the rope snapped.
The coffin tumbled down the hill and crashed onto three other pallbearers. All of them got taken to a hospital, but luckily nobody was seriously hurt.
Another silver lining is that the casket wasn't occupied when the accident happened. The woman had been cremated and the pallbearers were taking the coffin to a cemetery so her ashes could be placed in it.
2) American Businessman Faked His Death and Beat His Wife
Lord Timothy Dexter was an American businessman in the 18th century. He was famed for his eccentricity, and he definitely has earned that reputation.
Dexter knew people thought he was a weirdo and suspected that his peers didn't respect him much. So, he put them to the ultimate test — he faked his own death to see how much they would grieve for him.
Dexter's family was in on the stunt, and he'd instructed to act heartbroken at his fake funeral. On the day, his son tried drinking his sham sorrows away and his daughter wept inconsolably.
His wife, though, didn't shed a tear and even dared to smile. Furious, Dexter called her into the kitchen, scolded her, and even gave her a few good whacks with his cane.
When the funeral guests heard the commotion, they entered the kitchen. So, Dexter revealed his plot and proceeded to act like nothing unusual at all was going on.
That'll teach everybody to call him weird.
3) A Porn Film at a Funeral
Simon Lewis and his toddler son, Simon Lewis Junior, died tragically in a car crash on New Year's Eve in 2016. Hundreds of heartbroken friends and relatives gathered at Thornhill Crematorium in Cardiff, UK, to pay their respects to the father and son.
During the funeral, the funeral home staff was supposed to play a video about Lewis' life. But when they pressed play, one of the four TV screens at the funeral home instead started showing a porn film.
The sex flick wasn't on the screen just for a brief moment, either. It played for four full minutes until an engineer managed to shut the screen off.
According to Cardiff Council, responsible for supplying the TV screens to the funeral home, said that it was impossible for anyone to play or download anything on the computer hooked to the screens. They suspected that the Wi-Fi and Bluetooth-enabled TV may have picked up a signal from somewhere on its own.
4) Contaminated Funeral Beer Kills 69 People
In Mozambique, it's traditional to serve a local beer called pombe during funeral services. This tradition was observed at the funeral of a newborn who died shortly after birth in January 2015.
Two batches of pombe were served at the funeral, one in the morning and one in the afternoon. Those who had the beer in the morning were fine, but the afternoon guests fared less well.
After having the beer, the guests quickly started experiencing violent diarrhea and muscle pain. Eventually, 196 guests were hospitalized, while 69 died — including the mother of the child to be buried.
During investigation, officials discovered that the pombe was contaminated with bongkrekic acid. This toxic substance is extracted from crocodile gallbladders.
According to tradition in many African countries, crocodile gallbladders must be buried in front of several witnesses to stop them from being used as poison. Authorities suspected that someone may have intentionally poisoned the funeral beer.
5) The Woman Who Sat Up from Her Coffin
In 1915, doctors in Blackville, South Carolina, declared that 30-year-old Essie Dunbar had died from a fit of epilepsy. Her funeral actually proceeded without incident and Dunbar, laying in her coffin, was safely buried.
Unfortunately, Dunbar's sister arrived late at the funeral. The mourning woman begged the minister to have her sister dug up so that she could see her one last time.
The minister agreed, and so Dunbar's coffin was picked up from the grave. But when they opened the lid, the supposedly dead woman sat up and smiled.
Understandably, the event gave the entire town quite a shock. For years afterwards, the local community treated Dunbar with suspicion, going so far as to claim that she was a zombie.
Dunbar didn't really care, though, and proceeded to live for another 47 years. Fun fact, she outlived the doctor who'd pronounced her dead.