If you're quick, you can still go vote on your favorite place to relieve yourself.
We just love to compete. With the Tokyo Olympics having concluded recently, you might be looking for the next big competition to follow.
If you are, and want to take a break from sports, we have just the event for you. The 2021 America's Best Restroom contest is about to finish this week.
The 10 finalists of the competition were announced on July 19, when public voting for the winner began. The polls are open until August 20, so you still have a couple of days left to have your say on which bathroom is above the rest in comfort, cleanliness, and design.
But you can't vote if you don't know who you're voting for. Here are the finalists.
Core24 GVL — Greenville, South Carolina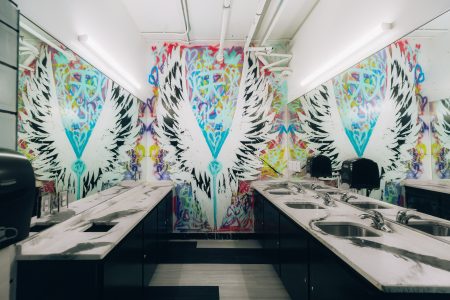 Core 24 GVL is a concept gym in Greenville, South Carolina. Their women's restroom is a work of art that combines music, art, and design into a colorful environment.
"The restroom features a spray-painted mural that is the perfect backdrop for guests' gym selfies," the contest organizers say.
The spacious restroom provides ample counter space for the ladies to freshen up after a hard workout. And after that, they can shoot another selfie at the large flower wall, complete with the gym's pink logo.
We assume you can also use the toilet facilities on top of taking selfies.
Fancy Flush — Santa Rosa, California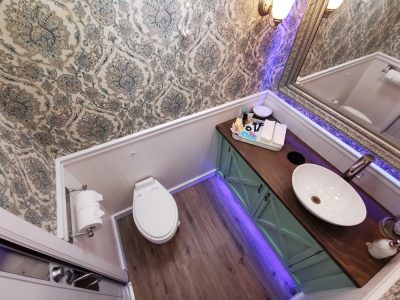 Portable toilets aren't usually what you'd expect to see in a best restroom competition. But here's the exception that confirms the rule.
Fancy Flush isn't your everyday Porta Potty. To begin with, it includes not one but two roomy restroom suites, each decked out with all the modern restroom luxuries.
You'll find spotless vessel sinks, touchless faucets, AC and heating, soothing ambient music, dimmable light, and complimentary toiletries. To top it all off, the bathroom décor features country chic faux-wooden surfaces with wrought iron finishes.
JFK Airport Terminal 4 — New York City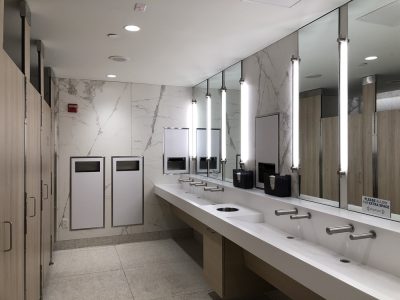 The JFK International Airport hasn't skimped on renovating its restrooms. You'll find them easily, thanks to the teal penny tile feature that guides you in.
Once you enter, you'll find a massive (for a bathroom) 900-square-foot space with white terrazzo flooring, marbleized walls, and delicate wall sconces. In the women's area, the vanity space is lined with impeccable Calcutta porcelain tiles.
To bring some organic, non-bodily-waste-based warmth to the space, JFK has installed full-height wood laminate partitions between the booths. You'll enjoy your privacy with style and comfort.
Nan Thai Fine Dining — Atlanta, GA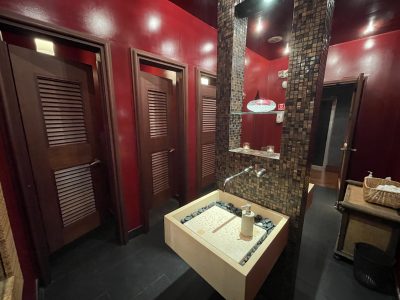 Nan Thai serves more than fine Asian cuisine. Their guests have been praising their bathroom for the past 20 years — and they're likely to keep doing so.
The combination of red and gold colors inside the restrooms evokes a certain sense of luxury. Meanwhile, the modern design choices, including Zen garden-like stones in the sinks, highlight the Asian vibe of the restaurant.
Planet Word – Washington, D.C.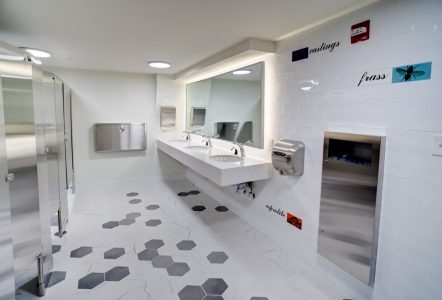 Planet Word is a free museum, and you might not expect much from their restrooms. But the gleaming, spotlessly clean white surfaces inside are sure to put you at ease when you need to go.
You can even have a chuckle while you do your business. Continuing with the museum's word theme, the walls are covered with words for animal waste, instructions on how to ask where the nearest restroom is in multiple languages, and other kinds of toilet humor in surprisingly good taste.
Pump House — Kannapolis, NC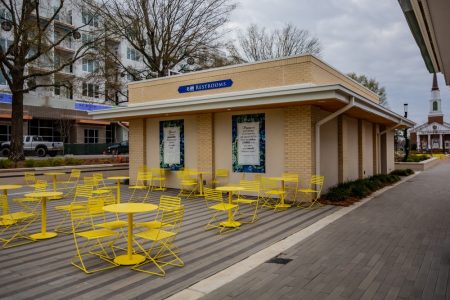 The Pump House is a public toilet facility in Kannapolis, North Carolina. It's designed to be a peaceful and beautiful place to rest, both inside and out.
City workers keep the bathrooms clean, so you won't have to worry about gross surprises. The surrounding area is bedight with sculptures, water fountains, and other urban works of art.
There's even a brewery right by the Pump House, so you won't have to go far to fill your bladder again.
Steamboat Springs — Steamboat Springs, CO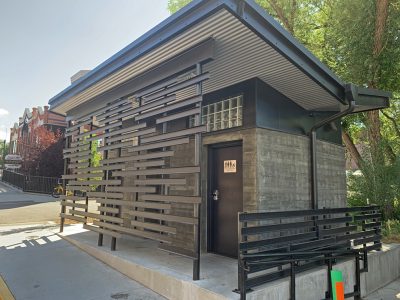 The city of Steamboat Springs has wanted a public restroom in its downtown for years. Now they finally have it, and it's a nice-looking one to boot.
The restroom features a butterfly-style two-pitch roof with multiple materials used in its façade, including steel cladding, board form concrete walls, and glass blocks. While the inside doesn't exactly stand out, it's a clean and comfortable place with year-round heating.
The Fed Community — Clarkston, MI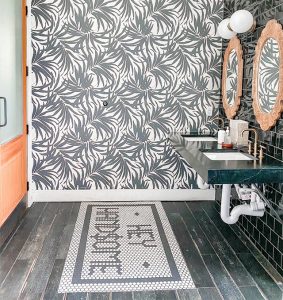 The Fed Community restaurant wanted to make its restroom a conversation piece. We'd say they succeeded.
The roomy bathrooms mix unexpected colors in various patterns and textures, from muted dark stone to bright floral patterns. The standout feature are confidence-inspiring quotes on the floor, rendered in black-and-white tiles.
Two Cities Pizza — Cincinnati, OH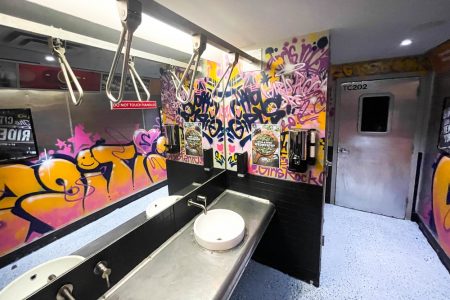 Two Cities Pizza wants to evoke the New York subway vibe with its restroom. Luckily, they decided to not include all the… Well, if you've ever been in the NY subway, you know what we mean.
The bathroom's walls are covered in graffiti, and feature stupefyingly authentic signs and metallic surfaces. The restroom looks so much like the real subway that guests have been able to fool their New Yorker friends with selfies shot inside this urban wonder.
William S. Craycraft Park — Mission Viejo, CA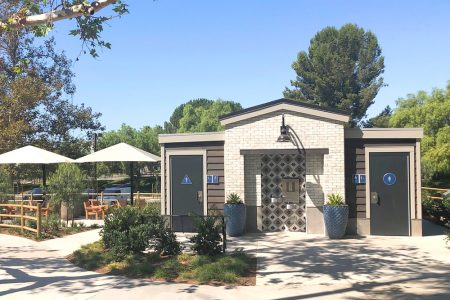 This public restroom has everything you could need to take a relaxing break from wandering around the park. The tiled front alcove provides cover if the weather takes a turn for the worst, while the off-white brick finish of the outer walls blends in with the surrounding neighborhood.
Inside, you'll find a spacious restroom that's capable of serving 540 visitors per hour. On top of clean toilets, the facility features drinking fountains and water bottle fillers.
About the Competition
America's Best Restroom might sound like a strange contest, but it actually has a lot of history behind this. This year's competition marks its 20th anniversary — that's a long time to highlight the cleanest and fanciest restrooms around the country.
"The public is expecting a higher hygiene standard in public restrooms, and we're proud to spotlight these unique restrooms that are well-maintained without sacrificing aesthetic quality," said Sean Mulcahey, marketing manager of the competition's sponsor, Cintas.
To vote on your favorite restroom, visit the America's Best Restroom website.