4. Jersey Shore Shark Attacks of 1916-Inspiration for Jaws Movie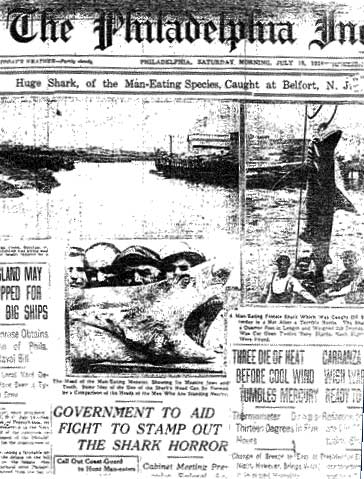 Over the course of just a few days in 1916, five people were involved in shark attacks at the Jersey Shore. Four of them died. The first, a 25-year-old, went for a swim and a shark tore off both of his legs. He bled to death on the beach. Six days later, another swimmer met the same fate just 45 miles up the coast.
Following that attack, an 11-year-old swimmer was dragged under by a shark and killed. One of the men who tried to rescue her received a massive shark bite while bringing her body back to shore. He died from his wounds. Within an hour of beachgoers returning to the ocean, a 14-year-old boy suffered several serious shark bites. He was the only survivor of those notorious attacks.
Shortly after the attacks, someone caught an 8-foot great white shark nearby, blaming it for all of the attacks. Rumor has it, the shark had 15 lbs. of human flesh in its belly. Scientists today believe the attacks were carried out by many sharks.