Because tattoos are works of art, just like any other creation...
Gustav Elijah Ahr was an immensely famous rapper, songwriter, and singer in America. He is still remembered by his stage name Lip Peep. Although Lil died at a young age, his fashion statement continues to be followed by his fans. In the year 2010, he was a leading figure for emotional music. His emotional twist with rock and rap vibe music made millions of people become his fan.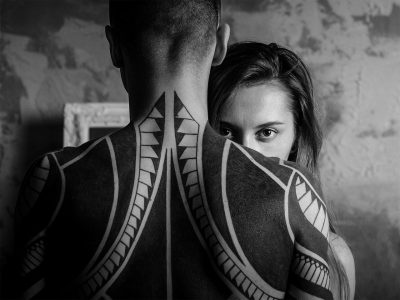 Peep was not only known for his songs but also his unique tattoo designs. His love for body art started at a very young age, and he got his first tattoo at the age of 14. Lil's tattoo designs reflected his unique personality and thoughts. Here is the list of Lil Peep tattoos that most tattoo artists love.
11 Odd Ways Of Lil Peep Tattoo Fashion Statements
Here are the 11 ways how Lil Peep made is fashion statement through his best tattoo ideas.
1. "Simpson's LISA" and "MOM."
Peep's love for Simpson's Lisa made him get it inked on his neck. Just above this tattoo, you can see "MOM" inked. He got this tattoo because it reminds him of the way his mom screams at him.
2. "Hellboy"
Lil got "Hellboy" inked just after his first mixtape was released in America. This same tattoo helped Peep gain a fan following. Lil is a huge fan of the comic "Hell," and this can also be the reason behind getting that tattoo.
3. "Pink Panther"
On his neck's left side, Peep got "pink panther" inked. While Lil was taking a trip to Venice, he visited a tattoo shop with pink interiors. The pink color of the interiors made him think that Pink Panther could look great as a tattoo design.
4. "Homesick"
On the backside of each of his fingers, he got one alphabet of the word "Homesick" inked. While traveling, he used to miss his home and mom. Therefore, he got "homesick" inked on his fingers.
5. Anarchy Logo
On Lil's left cheek, you can see the tattoo design of "Anarchy Logo." According to him, most people got similar tattoo designs. He got this tattoo inked on the left side of his face because it gives a different look.
6. Rose
On the right side of Lil's cheek, you can see the tattoo design of Rose. Most people get rose tattoo design because it represents new promises, love, feelings, and beginnings. Moreover, rose tattoo designs protect against envious lovers.
7. "Daddy"
Lil Peep got the tattoo "Daddy" inked exactly above his heart in bold letters. The tattoo designs show how much he loves his dad. Most of his tattoo designs represent his love for family and home.
8. Star
Below his right eyes and above his cheeks, you can see the star. The star tattoo design shows the fight against the darkness. Star also makes us feel connected with God.
9. "Clique"
On the right side of Lil's chest, you can see "Clique" inked. The word "clique" refers to those who don't permit others to join them. Maybe Lil got this tattoo because he likes to enjoy life without joining others.
10. Cross of Saint Peter
On Lil's left shoulder, you can see a Cross of Saint Peter. Most people recognize this tattoo design as an anti-Christian symbol. You can notice that the tattoo is an upside-down cross because Peter didn't like being crucified like Jesus.
11. Wave
On the right side of Lil's jawline, there is a wave tattoo inked. This tattoo design represents nature, emotions, dreams, and fantasies. Moreover, the wave symbol shows the ups and downs a person sees in life.
We hope now you understand why Lil Peep's tattoos gained so much popularity over the years. You can surely take inspiration from his tattoo designs to get the desired design inked. From roses to The Cross of Saint Peter, we loved all the tattoo designs Lil flaunted as a fashion statement.
Go and get one for your fashion statement!