It's summer and, therefore, the perfect time to go camping. This must-see list has unusual camping gear that you just have to have for your camping outings this year. 
Floating Tent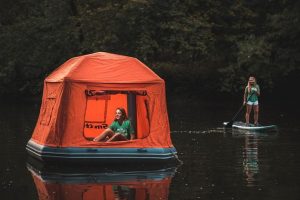 Remember in "It Takes Two," when Lindsay Lohan plays twins, and they float their soon-to-be stepmom out on the lake with a blow-up mattress? Well, this is kind of like that. Except, it's an actual tent, and it's meant to float on the lake. This tent in 100% inflatable. It's also heavy duty, waterproof, and sealed with heavy-duty zippers.  Buy now!
Massager Backpack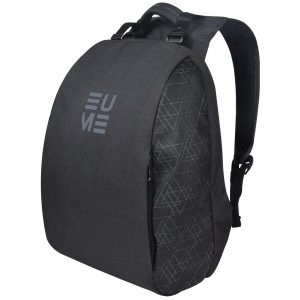 This backpack has plenty of space for your stuff. Its got anti-scratch material and is water resistant. But the best part about it, of course, is the built-in massager. That's right, you can hike, walk, or even sit, but as long as you have this backpack on, you can get a massage at the same time!  Buy now!
Folding Canopy Chair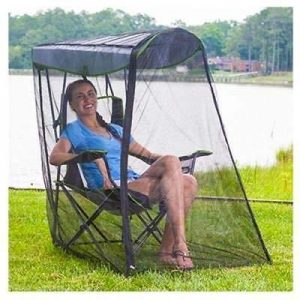 This chair is comfortable and shaded, but one of its best features is its built-in bug protection. This screened-in chair is great for outdoors and also protects against the sun, wind, and rain. What's better than that? All of the pleasures of being outside without the elements. This chair comes in an easy-to-fold-up bag with a shoulder strap.  Buy now!
Don't Read This Book Before Bed: Thrills, Chills, and Hauntingly True Stories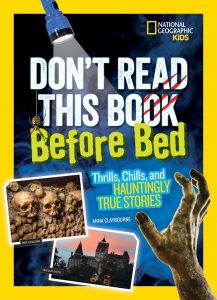 This book is perfect to read around the campfire, while out on the boat, or even laying out at the beach. These stories are scary, full of mystery, and they're true stories. What's better than that? These stories are filled with real-life monsters, menacing mysteries, disappearances, and more!  Buy now!
Smallest Portable Freezer/Refrigerator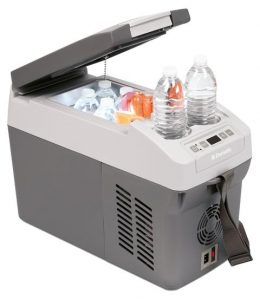 Now this is awesome. Step up your cooler game with this portable "ice box," and you will never use another cooler again. There is a temperature gauge, a high impact and weather-resistant cabinet, and LED indicators with a soft-touch operating panel. All you need to know is that this fits drinks and snacks, and it will be our new favorite thing to take camping. Buy now!
Portable Espresso Maker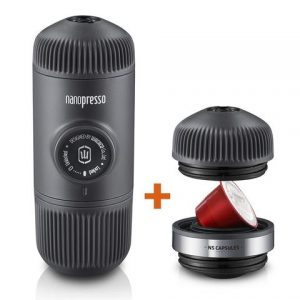 Coffee lovers rejoice! No more decaf at the campground, now that you have this espresso maker. This Nanopresso is powerful and does not require a battery or electricity. You can use any type of coffee grounds in this maker, and it's easy to use. All you need to do is add boiling water and then pump it manually.  It's small and light with a large water capacity, and is the perfect accessory for camping and coffee lovers.  Buy now!
Electric Heated Socks Rechargeable Battery
Winter camping, anyone? Most people want to camp in the summer or even in the fall but, with these heated socks, anything is possible. These socks have a rechargeable battery and help keep your feet warm and dry, no matter the weather. There are three levels of temperature, so that you can set it perfectly for your comfort. Also, you won't feel the wires, making these warmed socks the most comfortable yet!  Buy now!
Inflatable Portable Tubs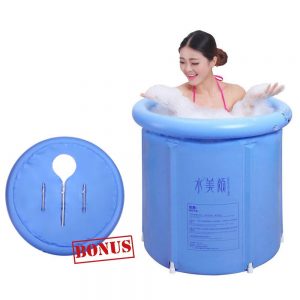 Just because you aren't at home doesn't mean you can't take a bath, and this is making it the best ever. Not only is this bath made out of environmentally friendly materials, but it's also easily foldable and storable. This spacious tub is big enough for adults or children, and you can even stretch your feet out!  Buy now!
Tactical Military Multifunction Aluminum Detachable Carry Battle Rail Mug Cap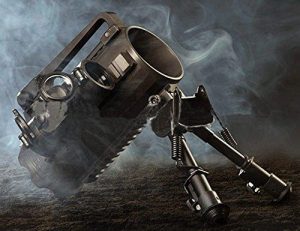 This mug holds up to 20 ounces and also has a bunch of badass features. There is a handle with rear sight included. The cookware and eating utensils are all aluminum-anodized products. This mug is not your normal cup and will wow anyone who sees it and uses it.  Buy now!
Inflatable Transparent Bubble Tent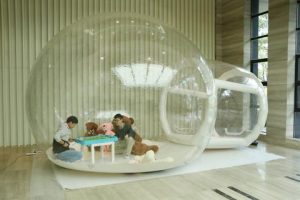 This bubble tent allows you to see outside. It's inflatable and transparent, so you will get the best views possible with this tent. You can easily fit two grown adults in this tent and, therefore, more children than that! This would be great in the backyard, or even set up in the basement, if you wanted to. There's also a silent air-blowing and filtration system, so that you can use the tent in any climate and be comfortable.  Buy now!
These are easily the coolest and most innovative new camping must-haves. Which one do you want to order first?
Note: This post is a sponsored story by Gifteee.com.  Oddee was compensated to write and share this article.