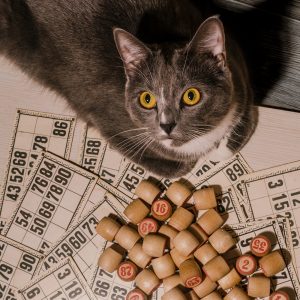 If you've spent any time in a bingo hall, you noticed the callers adding a bingo saying to every number they called. They serve a practical purpose to differentiate between numbers that sound similar when called out in a crowded and boisterous bingo hall. But they also give a glimpse into this long history of bingo and its origins. The phrases sometimes rhyme with the number called, but they're always more than just a nonsense phrase. Most of them developed in England in the middle of the 20th century, during and after World War II. The references are now obscure, but they give a glimpse into the history of the game. These are just ten of the weirdest.
Number 1: "Kelly's Eye." This reference goes back to an Australian outlaw, Ned Kelly, who devised bulletproof armor to wear during shoot-outs with authorities. The slit in the helmet of his armor resembles a number one lying on its side. You can see the armor, complete with dents from bullets, on display at the State Library of Victoria in Melbourne.
Number 9: "Doctor's Orders." During World War II, doctors would prescribe a pill called "Number 9" to soldiers feeling under the weather when no other prescription seemed appropriate. No. 9 was a universal laxative, meant to clear out whatever was bothering the soldier.  (x)
Number 25: "Duck and Dive." Again, the number 2 looks like a duck swimming, and 5 looks like an upside down 2 or a duck diving.  (x)
Number 30: "Dirty Gertie." A rhyming phrase that connects a lot of dots and begins with a statue in North London. It's a naked bronze woman holding her arms aloft in a victory 'V', which commemorates a battle in 1914 that prevented the German army from entering Paris. The statue, titled La Délivrance, is better known by her nickname, "Dirty Gertie."
Number 49: "PC." Another wartime reference, A Case for PC 49 was a film that was later turned into a serialized radio drama called Adventures of PC 49. Both followed the adventures of a crime-solving police constable. You can watch the whole movie on YouTube if you want a full history of the number 49 saying.
Number 52: "Danny La Rue." Before there was Ru Paul, there was the drag entertainer Danny La Rue performing in London's West End. He did impressions of starlets of the time, including Zsa Zsa Gabor, Judy Garland, and Elizabeth Taylor. He performed well into his seventies and even had his own nightclub for a time. You can use 'Danny La Rue' for any number ending in 2, for the rhyme.
Number 53: "Here Comes Herbie." After the Disney movie, "The Love Bug," about a VW Beetle with a consciousness whose racing number is 53. Players will call out "beep, beep!" when the caller uses this bingo saying.
Number 76: "Was She Worth It?" Before the British system of money changes to its current system, a marriage license costs 7 shillings and 6 pence. When the caller uses this phrase, the players shout back "every penny!"
Number 80: "Gandhi's Breakfast." This phrase is a pun. It's referencing the fasts of Mahatma Gandhi taken during India's freedom movement. Over his life, Gandhi took part in 21 fasts as part of his philosophy of non-violence. The rest of the time he displayed a passion for nutrition and even pursued veganism. As he was known for his fasting, the number 80, when said as eight-nothing, sounds like "ate nothing."
Number 86: "Between the Sticks." Bingo phrases are all very British, and this is no exception. The number 86 is the goalie's position on a football (American soccer) team. Between the stick refers to being between the goal posts.