Like academic books, a wedding planning book is essential for pulling off a statement wedding. While we find it easy to digitalize everything, nothing takes the place of pen and paper. The best wedding planner book is traditional, portable, and can be converted into keepsakes. It is a must-have for every bride, groom, bridesmaid, and professional wedding planner.
These wedding planners contain tips, guides, advice, inspiration, and facts to guide you. In wedding planner books, you'll find the industry latest trends from experts. You'll also find a wedding planning organizer to create your budget, to-do lists, and spreadsheets.
There are many wedding planners' book organizers but we've narrowed them down to the best. See our compilation of the top wedding planning books below.
1. The Personalized Wedding Co. Wedding Planning Book
If you don't know the first thing or where to start with planning your wedding, pick this book. In this book, you're hit with mood boards and quizzes that will help you make the toughest decisions. You are quite undecided about who makes the guest list or how to prioritize your checklist? This book helps you sort it out. You'll also find relevant schedules, timelines, and checklists. All of this for $30.
2. A Great Party
The Celebration legend, Bryan Rafanelli, has made his mark all over the world. His name drops almost anywhere that there's a statement party planned. He's put his extensive knowledge into a book, sharing it with couples and everyone else. In this $37 book, you'll find tips and advice on hosting every kind of party, including statement weddings. Even if you're going for something modest and laid back, this book is a thorough guide.
3. Bridechilla Wedding Planning Survival Code
Worried about creating seating charts or choosing wedding dresses? Don't sweat it! This manual takes you from bridezilla to Bridechilla. Just chill and get all the helpful guides to everything wedding. From picking dresses to accessing vendor quotes, studying contracts, and more, you're covered. With this $29 book, you'll learn how to overlook the small stuff and focus on what matters.
4. Paper Peach Shop Grey Wedding Planning Book
This bridal planner book is both functional and aesthetically pleasing. At $47, it has a custom gold foil cover. On opening it, you'll find relevant a party-planning checklist. It goes a step further to furnish you with the best schedule you can think of. This includes including monthly to-dos and payment schedules to match your wedding timeline. You'll also find ample space for your important contacts. Paper Peach Shop Grey helps you plan weddings efficiently.
5. Bridal Bullshit
If you don't feel like spending so much on planners, this cheap wedding planner book is yours. In the course of planning a wedding, you can get overwhelmed, pretty pissed, and even cuss out! This is a cheeky book needed to help you keep your smile through wedding planning. For only $10, it's a valuable gift from anyone to you.
6. All The Essentials Wedding Planner
If you're looking for a wedding organizer book that carries you along, buy this. This is a gorgeous 3-ring binder divide by color tabs. It's an interactive manual full of charts, timelines, downloadable templates, and much more. Created by Alison Hotchkiss, a Sausalito based wedding planner, this book is loaded for $25. You can look to this book for how to create a registry, all-round current wedding advice, booking photographers, and more.
7. Fluytco Wedding Planner and Journal Organizer
This wedding planner organizer is one of the best engagement gifts for the bride. It's a treasure trove of guest lists, seating charts, timelines, and even tips for planning a honeymoon. With this manual, you're able to tie the details of your planning in one place. What's more? For $30, you'll find materials for a mind-blowing bridesmaid proposal plus two wedding day cards and envelopes!
8. Vera Wang on Weddings $65
Vera Wang is without arguments, one of the most relevant, sought after and adored bridal dresses designers in the world. And have you seen her? She ages! This makes her one of the most qualified to give expert advice and tips on weddings. Get this book for $65 and enjoy premium wedding planning tips like choosing invitations, flowers, and the wedding dress. You'll also get advice on necklines, hemlines, beauty, and more.
9. Storied Weddings
If you're looking for the best wedding organizer book that gives you everything, this is it. The book is written by Aleah and Nick Valley of Valley and Co. Events, based in Seattle. It offers an in-depth exposé of the wedding planning process. The book opens you up to tons of helpful tips and guides matched with stunning wedding imagery. It's a very attractive compilation just like children's storybooks. The $24 manual is both inspiring and practical.
10. Celebrate Everything
Created by Planning expert and designer, Darcy Miller, the book is colorful and aesthetically pleasing. And this energy is well transferred into your wedding planning to make if fun. At $26, Celebrate Everything is a blueprint to hosting weddings and events in general that speaks YOU. This book is full of unique ideas and tips to guide you through effective planning.
We've rounded up ten wedding planners and organizers for your benefit. Each wedding planning book holds unique information to help you with seamless wedding planning. From schedules to budgets, booking vendors to signing contracts, choosing dresses, and more, you're covered. Order for one, soak in advice, get inspired, and begin your wedding planning.
By Svitlana Yefimets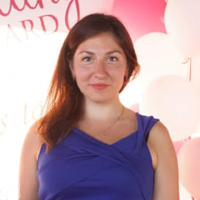 Svitlana is the chief editor and in control of all Wedding Forward content since 2017. She started writing in 2012. She is an expert in details concerning venues, gifts, ceremonies, music, and everything about real weddings. If you want to collaborate with us, send her an email. She spends her leisure tasting dishes, discovering new restaurants, and staying fit through yoga!