Most people's usual holiday traditions are on hold this year to prevent cascading infection rates in the new year. The parts of the holiday that are generally awesome are super-bummers in 2020. Holiday parties have to be over Zoom. Secret Santas gift exchanges now require thorough disinfecting. We're trading in the festive mall shopping for online deal-hunting. Nothing feels quite right. That is, except for looking at holiday lights. It's socially distanced, safe, and still makes you feel just like you did when you were a kid. If you're lucky enough to live in one of these ten places, you have one of the best holiday light displays in the country. 
10 Best Holiday Light Displays
La Cañada Flintridge, California
One of the most immersive light displays in the country, Descanso Gardens uses interactive light displays and projections to engage visitors. They've limited capacity and implemented mask requirements. 
Woodland, California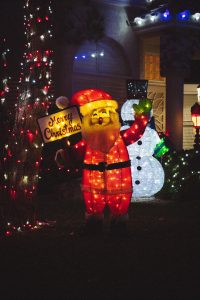 Infamous from its appearance on New Girl, Candy Cane Lane is an eight-block Christmas light competition that gets more out of control each year. You can drive through or park and take a socially distance walk through the display. 
Hartford, Connecticut
Goodwin Park in Hartford combines a million holiday lights with charity. It's a two-mile drive-through with displays dedicated to all the season's holidays, including New Year's. 
Atlanta, Georgia
The Atlanta Botanical Garden is bringing back their annual light display, with limited capacity and required masks. Whimsical displays fill the gardens 30 acres, with tickets available through January 16th.
New Orleans, Louisiana
They converted the yearly light display into a two-and-a-half-mile driving tour this year. There are optional add-on activities at the carousel garden. It usually attracts well over a hundred thousand visitors. 
Boothbay, Maine
The Coastal Maine Botanical Garden transformed their popular light display into a driving tour around the gardens. They have hundreds of thousands of lights illuminating the Boothbay peninsula. 
Finger Lakes, New York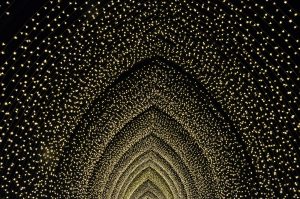 Drive around the picturesque Onondaga Lake Park in this two-mile holiday lighting display that includes the Land of Oz and an enchanted forest. 
Brooklyn, New York
Guided tour buses will take you through the neighborhood for a fee, but you can keep it COVID-safe and walk around the area that tries to bring a little extra holiday magic to New York. 
Baltimore, Maryland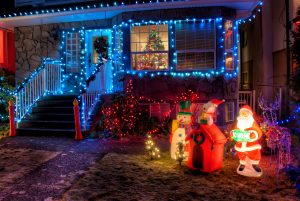 You can't beat free. Every year, the residents of 34th St. in Baltimore get together to transform their block into a winter wonderland that rivals professional displays. You can walk or drive down the street without paying admission. 
Hersey, Pennsylvania
Visitors stay in the car to drive through two miles of wooded trails. They're surrounded by 600 illuminated and animated displays.