I know what you're thinking, no. Absolutely not. Public golden showers should not be okay.
Everyone has their thing, right? Their kink? The thing that turns them on. But it should be noted that golden showers in public shouldn't be a thing.
A girl from Brass Against was more than happy to oblige a willing fan in a golden shower, on stage.
That's a whole lot.
On Thursday, Sophia Urista separated herself from her band by doing this act in the middle of performing Rage Against the Machine's "Wake Up." With a fan lying on the stage, she pulled down her pants, stood over him, and urinated all over him.
The group is known for their brass covers of songs from bands like by Tool, Rage Against the Machine, Black Sabbath, and more. The band has recently been recruited by Tool as the opener for their European tour next year.
Of course there is video of the incident.
It starts out with a male fan lying on stage. A camera is mounted to his head.
Urista told him to lay on the ground, and proceeded to pull her pants down and pee all over his face, as she was singing. After she pulled up her pants, the ecstatic man stood up and spit it back at the audience.
It all took place at the Welcome to Rockville festival in Daytona Beach, Florida. The scene was live-streamed on Twitch around the world but the stream was cut as soon as Urista's stream, started, as it were.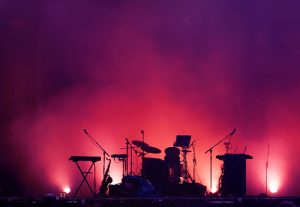 Brass Against apologized about the incident. When critics called them out about the event, they responded with this: "We're truly sorry. Not who we are as a band."
And later promised that this would never happen again.
"We had a great time last night at Welcome to Rockville. Sophia got carried away. That's not something the rest of us expected, and it's not something you'll see again at our shows. Thanks for bringing it last night, Daytona," the group tweeted.