1

The man who used an armless mannequin to cheat the carpool lane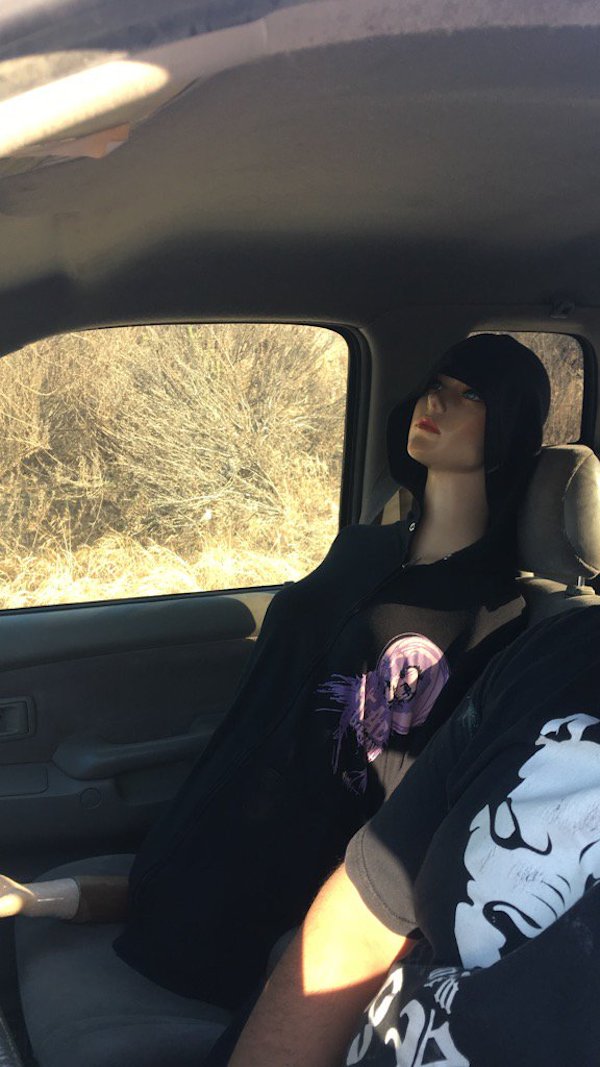 In Brea, California in September 2016, a pickup truck pulled out suddenly from the carpool lane on the northbound 57 Freeway — a little too close to a motorcycle cop. The officer pulled up to the driver's open window to warn him about being more careful when changing lanes when he spotted something funny.
The passenger in the man's vehicle was an armless female mannequin in a hoodie, who the driver had admitted to using for a while. He was, of course, issued a citation for a carpool lane violation. "Nice try," the ever sardonic Brea PD later tweeted.
2

The driver who was busted with a skeleton in the passenger seat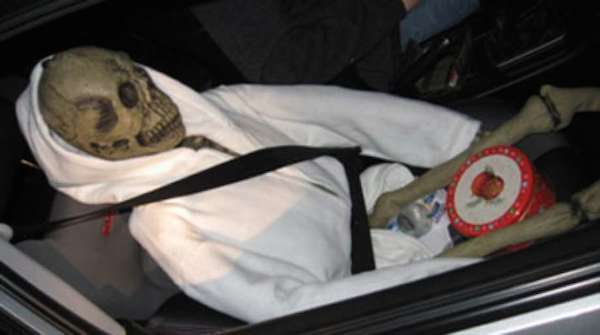 In 2012, a Washington State trooper clocked Bryan Stime at 82 miles per hour and witnessed him making some dangerous lane changes. He was immediately pulled over. The cop then discovered Stime had a very strange passenger — a seat-belted, plastic skeleton clad in a white hoodie with what appeared to be a cookie tin stuck between its legs.
Stime made no "bones" about who his passenger was, and later admitted he was just frustrated by his daily commute and decided to take action: "It's a heck of a commute, and since it was so bad, I started thinking, 'Blow up doll? Mannequin?'" He then remembered a plastic skeleton he had at home. He threw a hoodie on it and went for broke.
Stime said he used his long dead pal for some time before he was pulled over. The driver was handed a $454 ticket for speeding, unsafe lane change and driving solo in the HOV lane.
3

The woman who dressed her passenger's seat as a passenger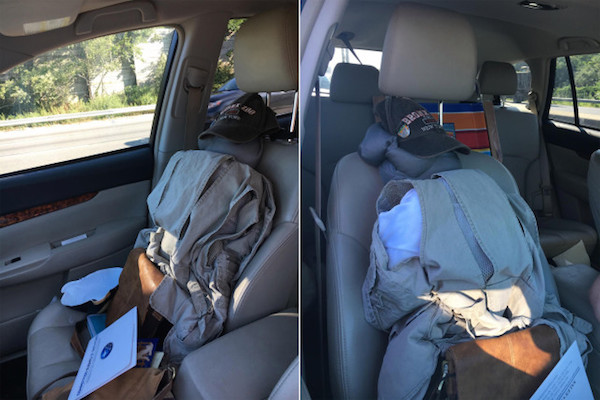 A little camouflage and she was good to go — or was she? In June 2016, Candice Breen-Warren, 61, was busted by police after she was caught driving in the HOV lane of the Long Island Expressway with a fake passenger.
Breen-Warren was traveling in the left lane of the westbound Expressway near Exit 51 in Dix Hills when an officer pulled her over and spotted the passenger seat covered with clothing, a messenger bag and topped with a Bronx Zoo baseball hat.
4

The man whose "zombie baby" passenger fooled no one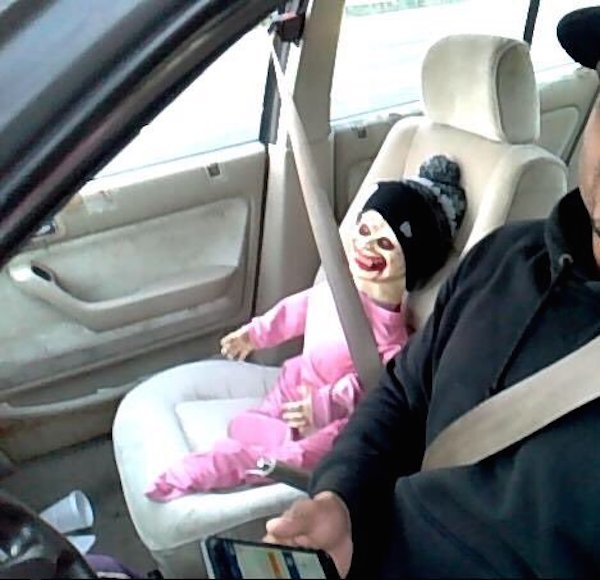 This "zombie baby" was spotted by a Washington State trooper who caught a carpool lane violator near Tacoma in October 2015.
The motorist had the doll in the passenger seat of his vehicle wearing its seatbelt (he gets a point for safety, I suppose) complete with a beanie, pajamas, and a face that only a diabolical killer could love. He was cited $136 for driving in the HOV lane.
Police gave the driver a break for not having the doll in a car seat. "At least he's in the [Halloween] spirit," Trooper Guy Gill tweeted.
5

The driver who was pulled over with not one, but TWO, dummy passengers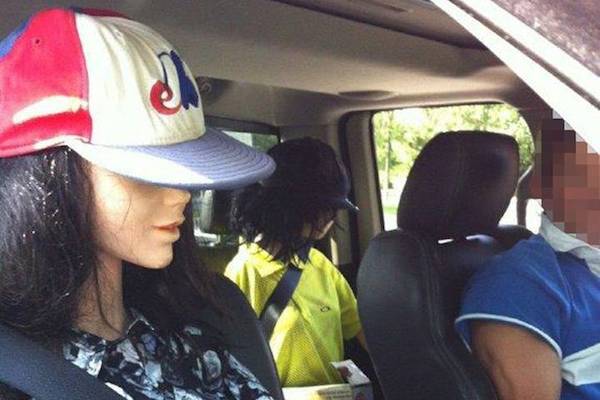 What's better than one dummy in the carpool lane? Why, TWO dummies, of course. Unless they're both wearing baseball caps, the same wigs and are both looking in the same general direction.
A driver was stopped on the Gardiner Expressway in Toronto in 2015 after an officer noticed that the passengers in his Dodge pickup truck "did not appear to be life-like." According to a statement from the Toronto Police Service (who have a wicked sense of humor, apparently), "the driver was subsequently charged with the appropriate HOV offense. On a positive, note, everyone in the vehicle was wearing a seatbelt." The photo was also shared on the department's Twitter account with the caption, "Are you hangin' with dummies?" It was favorited over 500 times and retweeted over 300 times in less than 24 hours.
6

The man trying to be on time for his new job who was busted with a wooden dummy in the carpool lane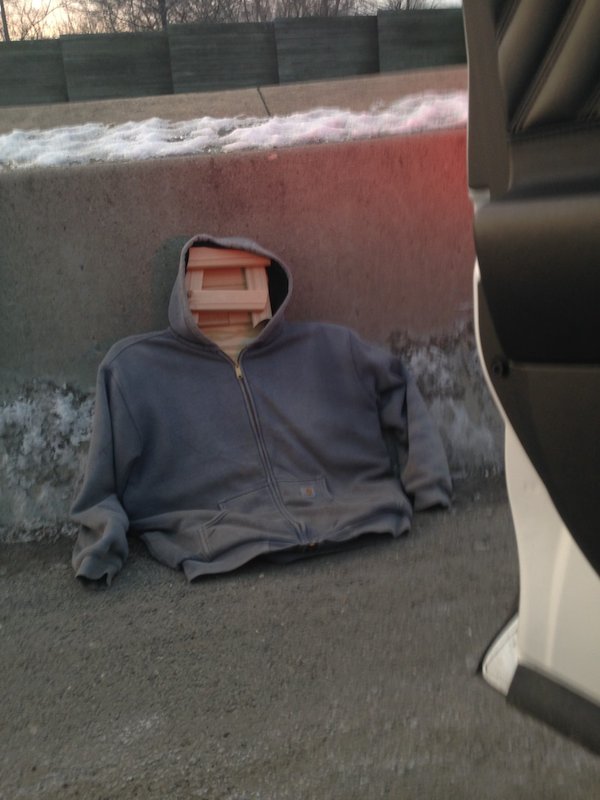 Despite this dummy's shoddy appearance, James Campbell, 56, would have gotten away with using it had he not been caught speeding.
Campbell was issued two tickets after police found him driving in the high-occupancy-vehicle lane of the Long Island Expressway with the crude wooden dummy, pictured above. He told the officer he was just trying to get to a new job on time. A genius plan — until it wasn't.
7

The driver who was pulled over with "The Most Interesting Man In The World"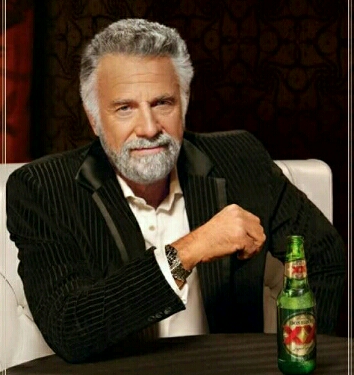 At least this dummy looks like a real person, albeit in 2D. In March 2015, a motorcycle trooper parked along Interstate 5 near Tacoma spotted a driver with a cardboard cutout of the actor who portrays "The Most Interesting Man in the World" in Dos Equis beer ads.
When asked about his beer-swilling passenger, the driver responded, "He's my best friend." The Most Interesting Man was not confiscated, but the driver was told not to use him again.
Washington State Patrol later tweeted about the incident: "I don't always violate the HOV lane law … but when I do, I get a $124 ticket."
8

The woman whose giant teddy bear gave her away in the carpool lane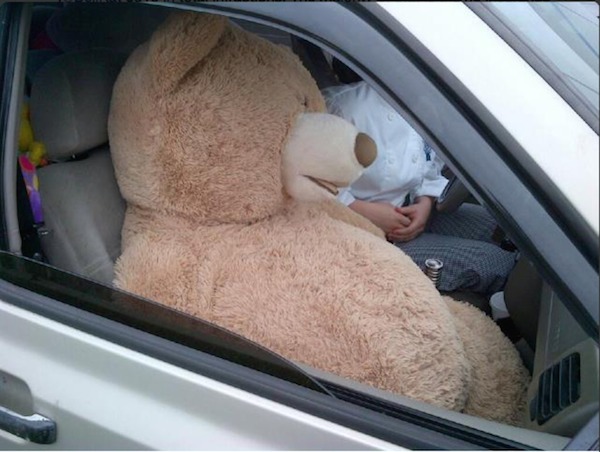 In 2014, a 19-year-old Washington state (What is it with Washington state and carpool lane violations?) woman tried to drive in the carpool lane with a giant teddy bear in the front seat next to her. Authorities spotted her, and the bear wasn't the only problem — she was driving 14 miles per hour over the speed limit.
Trooper Mark Francis told news outlets, "She said she didn't have any room in the back of her minivan for the bear." He also later tweeted that the woman was also driving without insurance.
For her many infractions, including that of her stuffed, cuddly passenger, she was fined a whopping $818. Ouch!