1

The couple who dropped everything to build a pizza boat in the Caribbean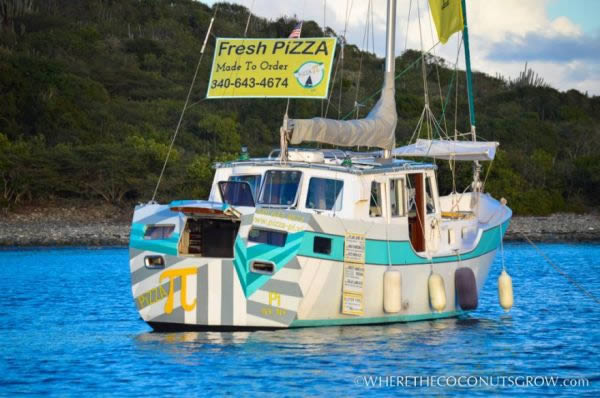 This is no ordinary food truck—it's Pizza ?, a floating pizzeria in the US Virgin Islands. Tara Bouis, a gourmet chef, and her husband Sasha, a computer programmer, left their busy lives behind and operated a charter boat for a few years. They purchased a 37-foot boat and renovated it to include a floating commercial-grade kitchen. (It even has a brick-lined pizza oven on board!)
Now, they anchor their boat offshore and bake gourmet pizzas made to customers' specifications. You can order your pizza on your boat's hand radio, call it in, or even send an e-mail. From there, pick up the pizza in your dinghy, or Pi will deliver it, if you're anchored in Christmas Cove.
2

The couple who quit their advertising jobs to travel the world — and now scrub toilets for food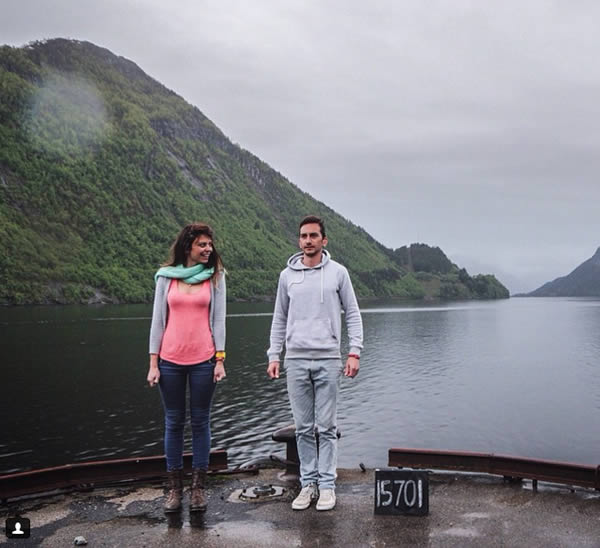 Dropping everything to travel the world may sound like a far-off dream to some, but not for Stevo Dirnberger and Chanel Cartell. The couple runs the blog How Far From Home, where they hold up signs that read how far they are (in kilometers) from their home in Cape Town, South Africa. They quit their jobs in advertising to travel for a year — and are now beginning to understand what a serious commitment that was.
It's not all sunny fjords and picturesque Greek beaches, and it's far from a relaxing vacation. To survive during their travels, they have taken on menial jobs such as scrubbing toilets, cleaning glasses, and chopping wood to make their dream a reality. "So far, I think we've tallied 135 toilets scrubbed, 250 kilos of cow dung spread, two tons of rocks shoveled, 60 meters of pathway laid, 57 beds made, and I cannot even remember how many wine glasses we've polished," wrote Cartel in a blog post.
They find these jobs through a program called Workaway, in which travelers can work in exchange for food.
3

The couple who quit their jobs to travel and live in a 98-square-foot trailer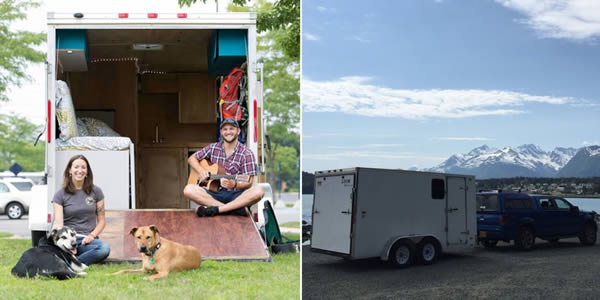 In May 2015, Curtiss O'Rorke Stedman and Kelly Tousley, both 27, decided that they were going to leave their steady teaching jobs in social services and travel the country together (with their two giant dogs) to live a more fulfilling life. And so Pay Gas, Not Rent was born, the chronicle of their cross-country, road-tripping life in a 98-square-foot trailer. The couple met and fell in love on a road trip five years earlier so living in a trailer on the road seemed like the next logical step.
4

The woman who quit her job to build sustainable bamboo homes in Bali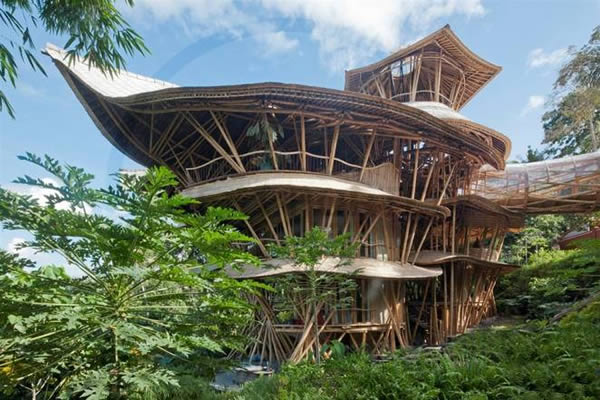 Elora Hardy left a successful career in the NY fashion world to build houses in Indonesia. The Bali resident and her team have spent the last 5 years revolutionizing bamboo construction in the belief that it is an underused but ideal renewable resource. Hardy uses boron, which occurs naturally in nature, to treat the bamboo and make it indigestible to insects. The company (named Ibuku) sources their material from independent bamboo clumps owned by individual families.
What set Hardy on her path? Her mom asked her to draw her dream house, then build it, when she was nine.
5

The female financier who quit her job to travel the world and became an Instagram hit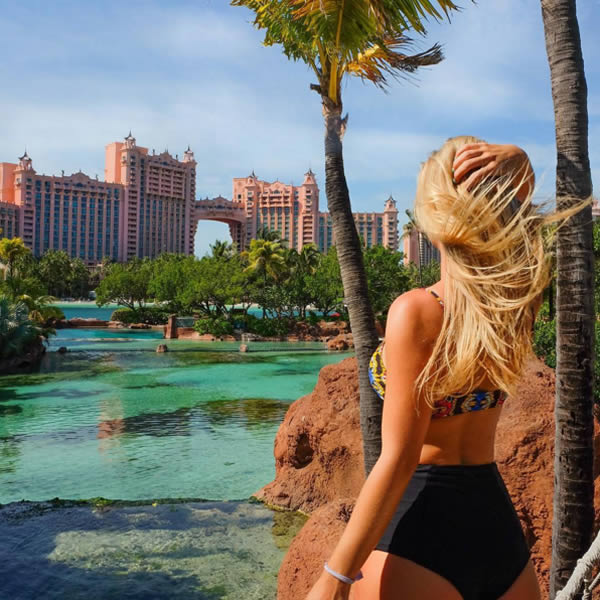 A woman with a top career in finance ditched her job to travel the world after realizing her luxury lifestyle didn't make her happy.
Kiersten Rich left the corporate world in 2011 after realizing that designer clothes, luxury apartments, and pampering sessions weren't making her happy.
She now writes about her travels on TheBlondeAbroad.com, and runs an Instagram account with more than 122,000 followers.
6

The man who quit his job to cycle around Britain with his dog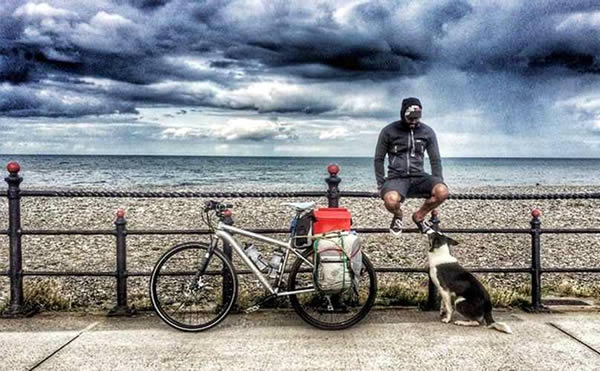 Southampton resident Joshua Sivarajah quit his job for the adventure of a lifetime—cycling around Britain with his best mate, Nero the cuddly Collie. The dashing duo rode 2,500 miles in four months, from Cornwall to the Outer Hebrides in Scotland, and even made it to Ireland, thanks to a friendly fisherman.
The original plan called for Nero to run alongside Joshua's bike as he toured the country, but that idea was quickly binned when he burnt his paws on the hot road on the first day. Joshua found a welder in Whitby to modify his bike and added a shelf for Nero to sit on.
Nero attracted a lot of attention on the road. Total strangers invited the duo into their homes for a meal or a good night's sleep. They also camped in parks and on farms, while additional costs were funded through Joshua Go Fund Me campaign. The journey was such a success that Joshua and Nero are now planning a trip through Europe on the same customized bike.
7

The woman with cancer who dropped everything to see the 7 wonders of the world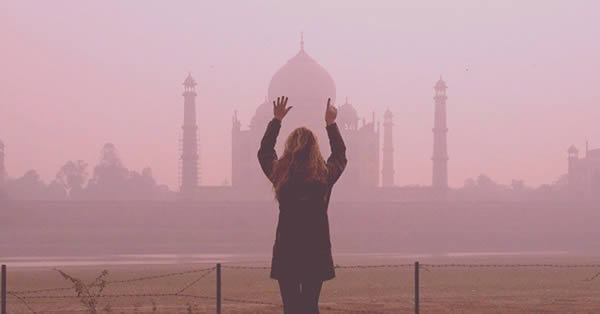 Megan Sullivan has always had a taste for adventure, but in November 2014, she had a series of events that changed the course of her life. While rock climbing in Yosemite, Sullivan fell, she was hit by a car and was diagnosed with skin cancer.
These events would have sent most people spiraling into despair, but they inspired Sullivan to begin living her life with the attitude that she can do anything. That's when she decided to see the Seven Wonders of the World in thirteen days.
Over the course of her trip, she saw Chichen Itza, Machu Picchu, the Colosseum, the Taj Mahal, and more. She slept on planes and only spent two days in each place, documenting her journey on Instagram.
8

The couple who dropped everything to take their son on an unforgettable 17,000-mile trip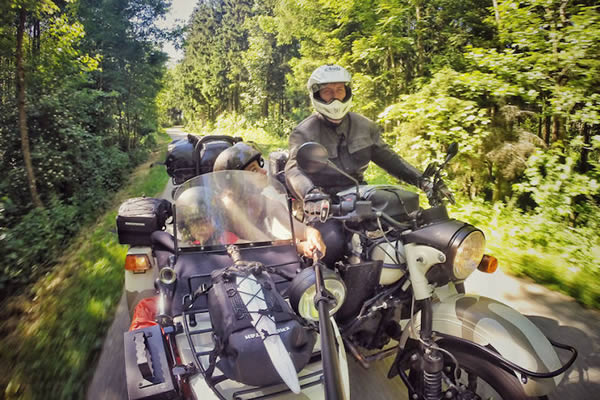 With the wind in his hair and his girlfriend and child by his side, Mihai Barbu is living the dream. Without once setting foot on an airplane, the 36-year-old photographer is taking his family on an epic adventure to show his son the world.
On May 25, 2015, Mihai and his girlfriend, Oana, left their home in Petrila, Romania, with their four-year-old son, Vladimir. Mihai had purchased a 2014 Ural Ranger sidecar and wanted to take it for a trial run. What started off as an experiment to test out the vehicle's capabilities turned into an epic four-month-long adventure. Mihai and his family simply kept on driving and racked up an incredible 17,000 miles. Vladimir got to experience different cultures and landscapes in no less than 41 different countries.
9

The artist who quit his job and went off to sketch the world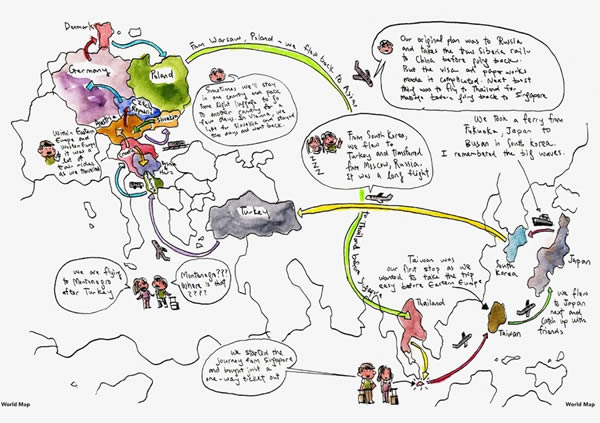 When James Tan turned 40, he quit his job, enlisted his wife and went off to sketch the world. The couple bought a one-way ticket to Taiwan and went on a three-month adventure in 2013. Tan compiled his sketches from the trip—which included stops in Japan, South Korea, Turkey, Montenegro, Austria, Germany, Denmark, Thailand and several other destinations—into a 282-page book, called The World Is So Big.
Tan has continued traveling and sketching since the publication of his book. In 2015, he documented his trips to London and Iceland on his blog. He is currently drawing in Tokyo and will soon be traveling to Barcelona.
10

The women who dropped everything to travel the world and visited 33 countries in 2.5 years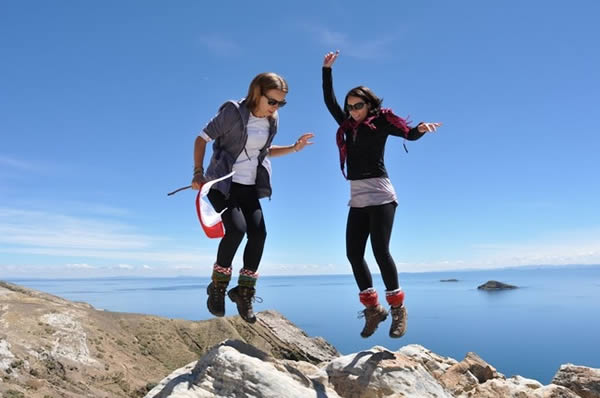 Aga and Iza (a.k.a The Hot Toddies), are originally from Poland but met in the U.S. They decided to take a whirlwind journey trying to cover every continent in one fearless shot. They barely knew each other, but dropped everything and spent their life savings gliding around the globe. 2.5 years, 33 countries and 209 different beds later, they had set foot on all seven continents.