1

The man who turned to Craigslist to find the woman who saved his life in 1972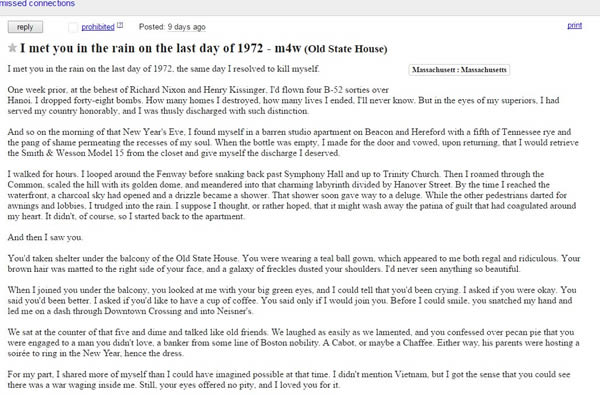 A man who recently posted in the Craigslist personals section told a story about a woman he says unknowingly saved his life more than 40 years ago. In an anonymous missed connections ad, the Vietnam War veteran describes how he'd been contemplating suicide.
"I met you in the rain on the last day of 1972, the same day I resolved to kill myself," he writes. He served as an Air Force pilot, and having just returned home from Vietnam, was struggling with an overwhelming sense of guilt. "I dropped forty-eight bombs. How many homes I destroyed, how many lives I ended, I'll never know," the post reads. The man went for a walk in the rain and said that's when he saw this woman who indirectly changed his whole perspective.
"You'd taken shelter under the balcony of the Old State House. You were wearing a teal ball gown, which appeared to me both regal and ridiculous. When I joined you under the balcony, you looked at me with your big green eyes, and I could tell that you'd been crying. I asked if you were okay. You said you'd been better."
He says the pair decided to go for a cup of coffee, where they "talked like old friends" and shared very personal things. After an hour or so, the man says he excused himself to use the restroom. When he came back, the woman was gone.
He returned to the same diner every day for a year but never saw her again. It's been four decades, but he's never stopped thinking about their encounter and how it affected him.
"Ironically, the torture of your abandonment seemed to swallow my self-loathing, and the prospect of suicide was suddenly less appealing than the prospect of discovering what had happened in that restaurant," he writes. "The truth is I never really stopped wondering."
He ends the post with this:
"So wherever you've been, wherever you are, and wherever you're going, know this: you're with me still."
2

The guy who asked the Internet for help in finding a girl who asked him to find her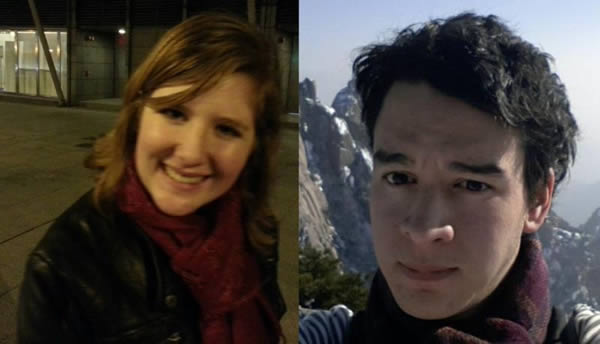 The fairy tale story of a lovelorn New Zealander who ignited a worldwide search to track down an American he'd met once on New Year's Eve has ground to an abrupt halt. The girl he finally located told him she was "flattered, but not interested"—though she kept his scarf as a memento.
Reese McKee posted a heartfelt plea on Facebook for help in tracking down a mystery girl named Katie who he met in Hong Kong. He quickly located student Katie Capp and sent her a heartfelt email. However, her response was lukewarm—while she said that it was "a memorable night," she told the smitten man that she was not interested in a relationship.
McKee, 25, said he was wandering Hong Kong admiring the lights when he saw a girl crying and approached her. After he had cheered her up with his "undeniably bad sense of humor," Reese and the woman went out drinking and eventually reconnected with friends.
The party went on until dawn. Reese and his New Year's Eve date then parted ways. Before disappearing, however, she left Reese with her name (Katie), her hometown (Washington D.C.), her photo, and a simple request—"Find me."
3

The woman with amnesia who turned to the Internet in effort to find herself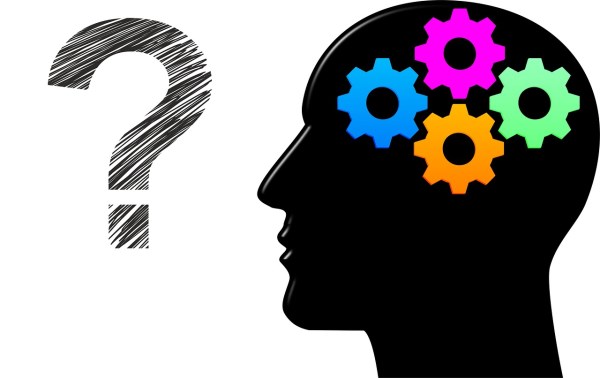 Earlier in 2015, a woman with amnesia, found by firefighters in Southern California, turned to social media to find out more about herself as she battles cancer and struggles to stay alive.
The woman known as "Sam" did not recall who she was or where she came from. But there were traces of her past life that were difficult to ignore. She spoke French and English and had memories of a life in Australia. After that, everything was a bit fuzzy.
Sam reached out on Facebook for help: "It has been just over three weeks that I have been out of the hospital. There have been no leads by the authorities on my finding my family," she wrote. "My friends that I have made believe it is time to use the Internet to see if we can find my family or friends."
Thankfully a few days later, the woman's nephew identified her as Ashley Menatta, a single woman who was born in Pennsylvania and once lived in Arizona before making her way to San Diego County.
4

The woman who turned to the Internet to find two identical twin strangers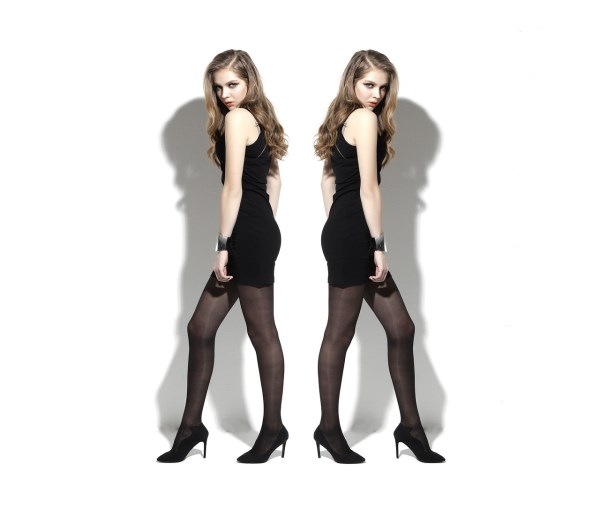 You know the popular myth that we all have a twin out there somewhere? Well, one woman went to great lengths to find her doppelganger double. Irish TV presenter Niamh Geaney launched a 28-day challenge called Twin Strangers to find her closest living lookalike. She was amazed when she discovered the woman who is her spitting image living just one hour away.
Niamh, 26, found Karen Branigan in April 2015 when her social media campaign went viral.The pair met and had a photoshoot together. Needless to say, they were shockingly similar.
While documenting her experience online, Niamh said she was "ridiculously nervous" about meeting the complete stranger who looked just like, her but found the whole adventure amazing.
Niamh's identical lookalike journey didn't end there. During the project, she met a second woman, who looked more like her than the first, living in Italy. Niamh said finding two women who shared almost identical looks was "absolutely crazy." A couple of months later, the blue-eyed brunette traveled to Genoa to meet a second "twin stranger," Luisa.
After massive public enthusiasm for the project, Geaney since has launched TwinStrangers.com. The site allows people to upload photos and describe their physical features, and then matches them to others. Geaney says matches have been made between people in Russia and Italy, Holland and the U.S., and Mexico and Brazil, among other places.
5

The girl who launched a Facebook hunt to find the man of her dreams but discovered he had a girlfriend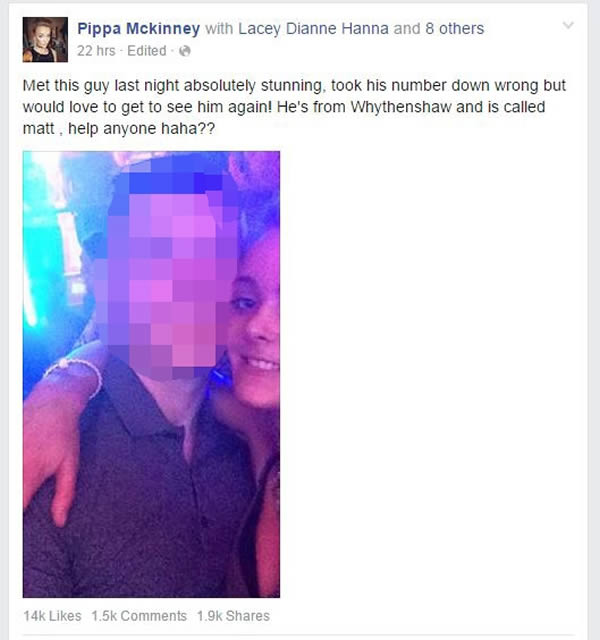 Hundreds of Facebook users posted mixed reactions and even offered relationship advice to a young woman who found out the man of her dreams had a girlfriend after an online appeal went viral.
Pippa McKinney shared images of a man she kissed during a night out at the AXM club in Manchester. The 22-year-old said she took down the man's phone number incorrectly and had no way to locate him. So, she posted his photographs on Facebook in a bid to find her Prince Charming.
After almost 14,000 likes and 2,000 shares, she finally tracked him down—but it turned out he had a girlfriend.
People offered advice to Pippa and told her she had done nothing wrong, The man's girlfriend even chimed in, saying, "I feel like joining in with the comments. Just wanna say a quick thank you to Pippa for informing me of that."
6

The Irishman who turned to the Internet to track down a mystery woman he met on a flight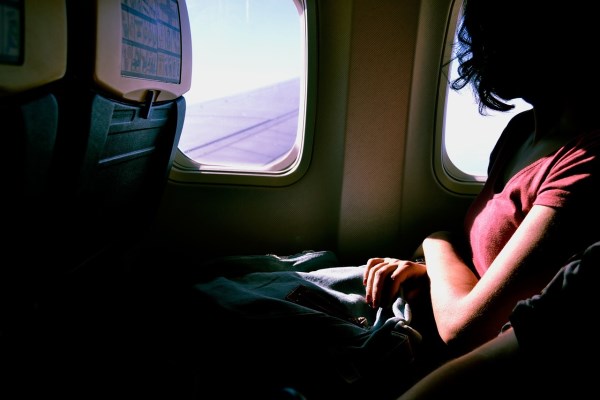 In 2014, a love-struck Irishman was reunited with a woman he fell in love with on a Ryanair flight after putting out an online appeal.
Jamie Kelly's friends launched the #loveatfirstflight campaign on Twitter after he fell for a pretty Canadian woman named Katie. The couple sat together on a flight from Barcelona to Dublin. They hit it off but got separated when they went through customs.
The smitten 24-year-old from Ballinasloe, County Galway turned to social media to find his mystery woman and unwittingly became a star in her native Canada where he made the evening news. Katie's sister spotted the story on CBC News and guessed that it was her sister he had fallen for on the Ryanair flight.
The couple was finally reunited on the Ray D'Arcy show on Today FM.
7

The photographer who launched an Internet hunt to find two mysterious women pictured on an old roll of film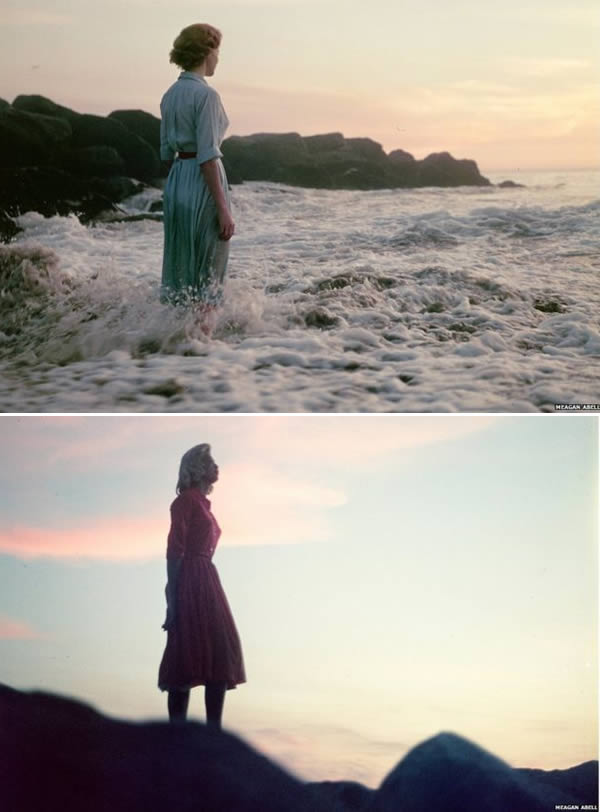 Up until July 2015, Meagan Abell was best known for her wedding photography and experiments with film. Now, the Richmond native is behind the Internet's latest obsession—a worldwide treasure hunt with nothing more than a few beautifully shot photographs as clues.
While rummaging through the shelves of a local thrift shop, Abell chanced upon a series of medium format negatives. Intrigued, Abell bought, developed and scanned them. What she saw caught her by surprise.
The result was a series of captivating photographs, built with romantic color compositions and perfectly soft shadows. The true appeal of the shots, however, is in the mystery of the subjects themselves. Each woman faces just slightly away from the camera, enough to keep their true identities hidden.
Abell posted the images on Facebook, hoping to uncover their mysterious origins.
Using the #FindTheGirlsOnTheNegatives hashtag to track developments, Abell has collected tips from several interested sleuths. The tips have helped Abell zone in on two possible beach locations in California, where the photos may have been taken.
8

The woman who started an online search to a find the man who left a note with the registration number of the truck he saw hit her car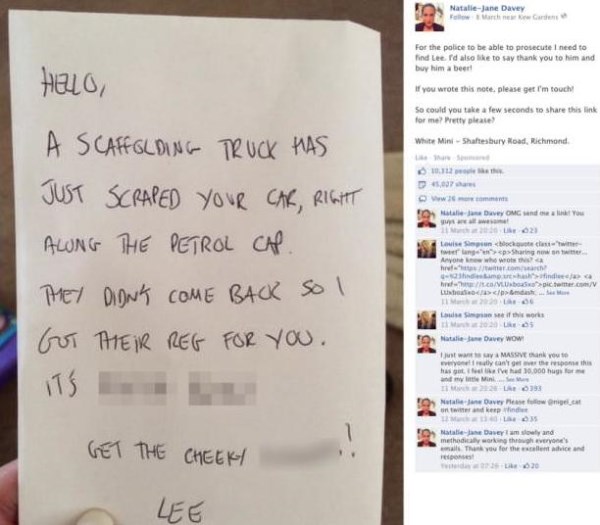 In March 2014, Natalie-Jane Davey started an Internet campaign to "Find Lee," the Good Samaritan who left a note on her Mini with the registration number of a truck he saw hit her car.
Davey returned to her car in London on a Friday afternoon to find the note on her windshield. A passerby, who gave his name only as Lee, said someone had scratched her car and drove off, but he had taken down their registration number so she would be able to trace them. Police told Davey that without a formal statement from an eyewitness, they would be unable to prosecute the truck driver. This prompted her to post a picture of the note on Facebook in an attempt to find Lee.
The photograph was shared 45,564 times and liked by 10,468 people, and the campaign moved to Twitter with the hashtag #findlee.
Lee eventually surfaced. He turned out to be Lee Harris, 25, of Greenford. He works both in security in Kingston and as part of a management team for the Download Festival.
9

The first man to find a new kidney using the Internet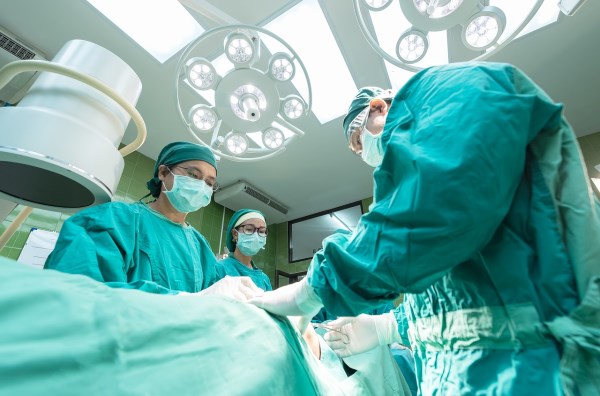 In 2004, surgeons completed a kidney transplant in what is believed to be the first operation where the donor and recipient met through a commercial website.
Bob Hickey, who lives in a mountain town near Vail, Colorado, was in need of a transplant since 1999, but had grown tired of being on the national waiting list. He met donor Rob Smitty of Chattanooga through MatchingDonors.com, a for-profit website that matches donors and patients for a fee.
"Sitting on a waiting list and hoping for a new kidney for so long, your attention is attracted to anything that might help you," Hickey said.
The transplant was scheduled, but doctors called it off at the last minute to look into whether either Hickey or Smitty stood to profit from the arrangement. Both men said no money changed hands for the organ (that would violate federal law).
There are no laws against soliciting an organ donation—an increasing number of patients have turned to friends, family, and even casual acquaintances for new kidneys or pieces of liver.
Hickey paid the site $295 per month for three months. He is also expected to pick up about $5,000 in transportation costs and other expenses incurred by Smitty. Within three months of posting his profile on the site, he received 500 offers for donations.