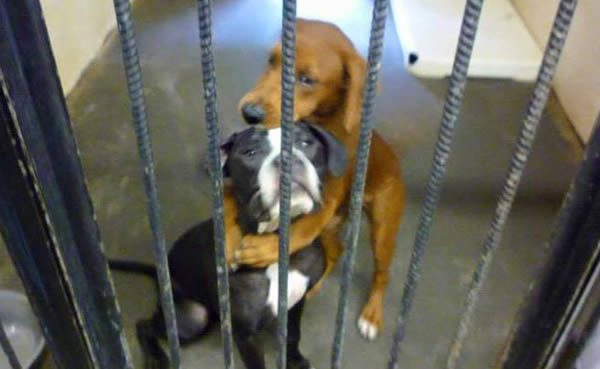 Two adorable dogs have escaped being euthanized after a heartbreaking photo of the pair hugging at an animal shelter went viral.
Keira and Kala were snapped embracing each other at a shelter in northern Georgia, shortly before they were scheduled to be put down.
In a bid to give the duo one last chance, non-profit charity Angels Among Us Pet Rescue posted the image on its Facebook page, along with a tearjerking first person message from Kala.
"I'm Kala. This is Keira. We're so scared in here. The people working in the shelters see how scared we are but just told each other that today is our deadline.
"Keira knows what will happen. You can see it in her eyes. She's putting on a brave face for sure, but I can feel her heart beating fast while I'm clinging to her."
"If no one saves us, someone will take her away from me. I'll see her as she goes down the hallway. She won't come back, and I'll cry. They'll come for me next, and I won't be as brave."
Luckily, word of the duo's plight spread quickly and the dogs were picked up from the shelter just two hours and six minutes after the photo, which has been shared over 9,600 times, was posted online.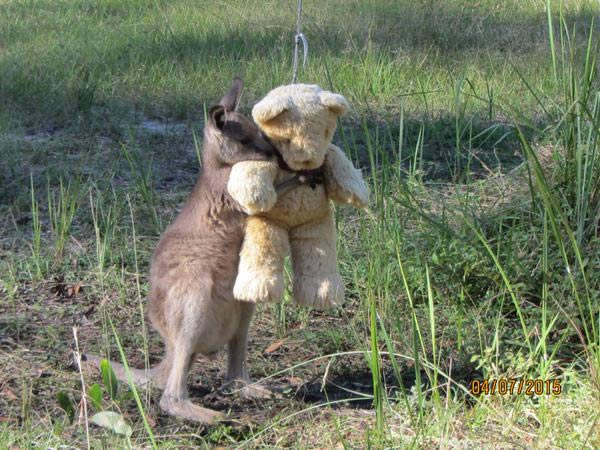 Twitter user Tim Beshara of Tasmania posted this photo by Gillian Abbot, a wildlife caretaker. It shows Doodlebug, an orphaned kangaroo. He doesn't have his family anymore, so he hugs his teddy bear. The heartwarming photo was re-tweeted over 3,000 times.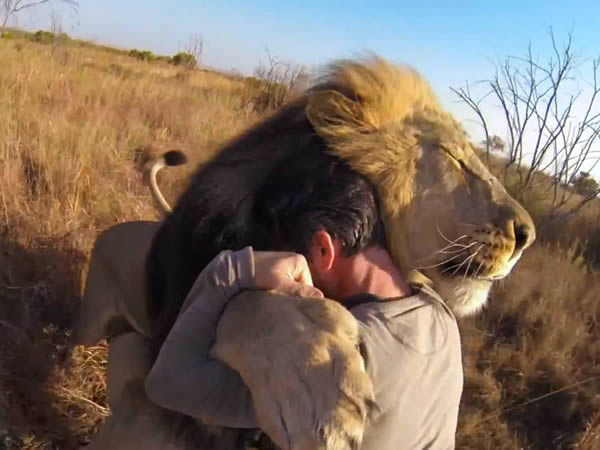 Kevin Richardson is an animal behaviorist who has become famous for getting up close to wild animals, including lions and hyenas. In a viral video, the so-called "lion whisperer" can be seen hugging and cuddling two lions that he rescued as cubs when their mother abandoned them.
The lions are now 10 years old. Despite living in the wild in South Africa for a decade, the animals still responded to Richardson's voice. He calls their names and they come running to greet him.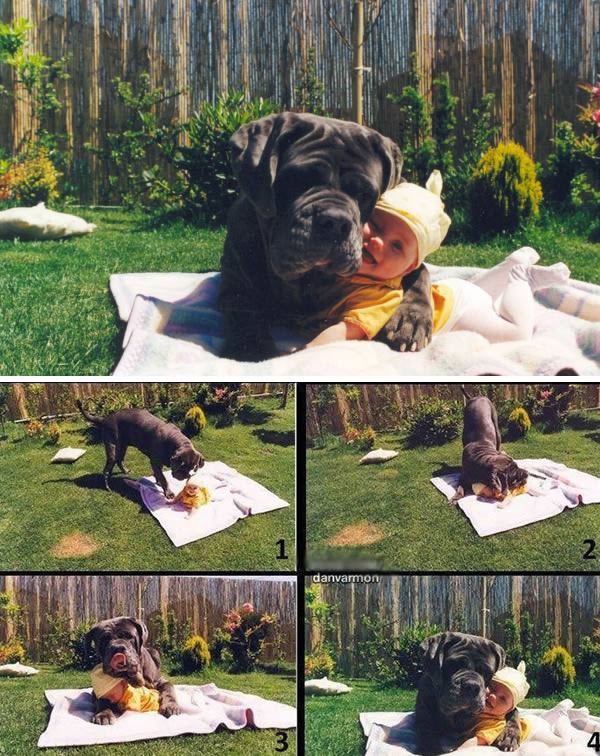 In 2007, this photo of a massive Mastiff hugging a baby went viral and became a meme called How to Hug a Baby in 4 Steps.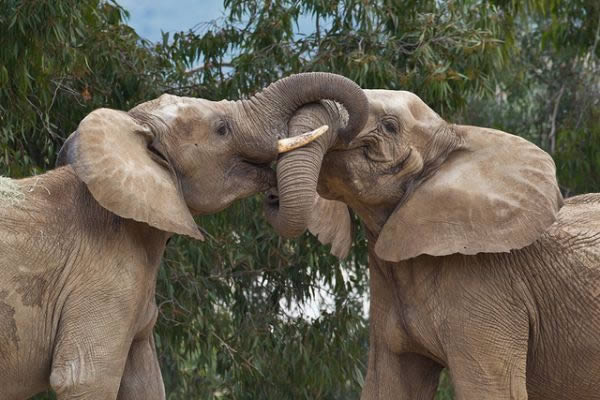 Jill Harness from Neatorama postedthis picture from the San Diego Zoo and wonders—are they kissing, hugging or shaking hands?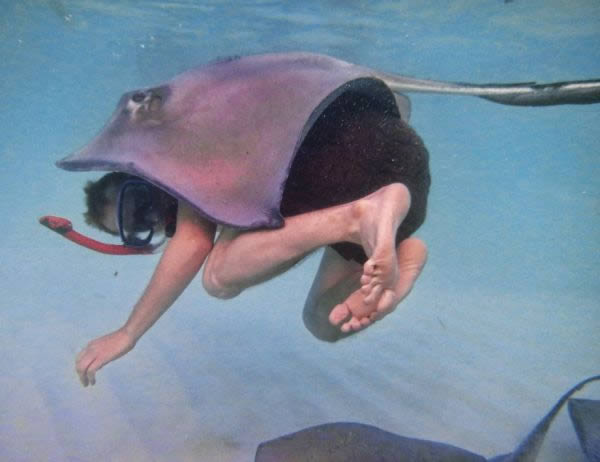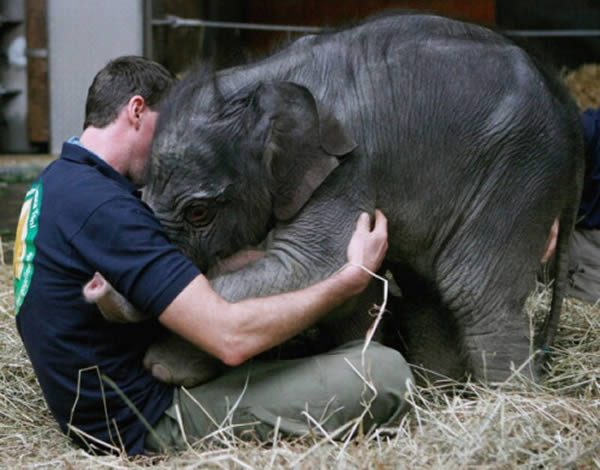 Elephants require hugging before going to sleep. Scientists have not figured out why the animal craves the act, but say they will sometimes stay awake for hours if a hug is not given.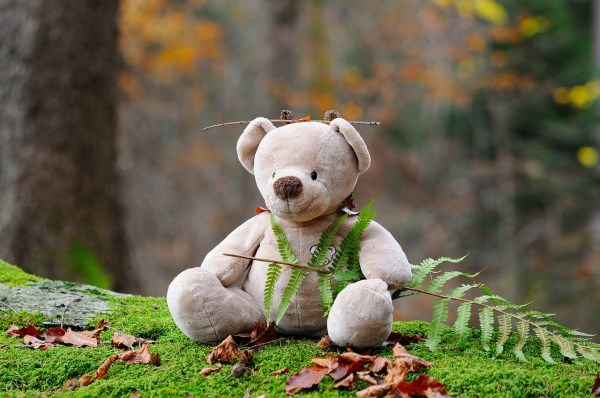 Conchita, a seven-month-old Mangabey monkey at the London Zoo, hugs a teddy bear, which is a substitute for its dead mother.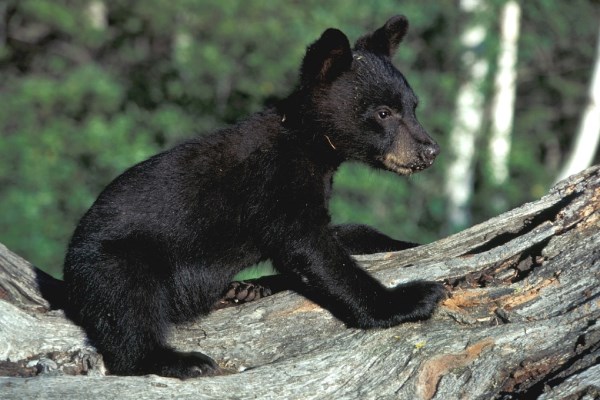 An orphaned American black bear cub hugs its cuddly toy at the Oregon Zoo and is unwilling to let go while it stays in quarantine. Brought in by zoologist Michelle Schireman, Aldo was found on April 2015 by a Medford, Oregon family who had taken it into their home but were unable to care for it.