Whether cute and cuddly or fickle and feisty, the common house cat is worshipped the world over. We've all heard of cat hoarders and chuckle amusingly at the elusive "cat lady," but cat obsession worldwide knows no bounds. Whether honored by collections and museums or put on display in cat shows or circuses, we are inexorably fascinated with our feline friends. Read this article to visit some of the more uncommon places where cats are put on a pedestal.
1

An Island where Cats Outnumber Humans: Tashirojima, Japan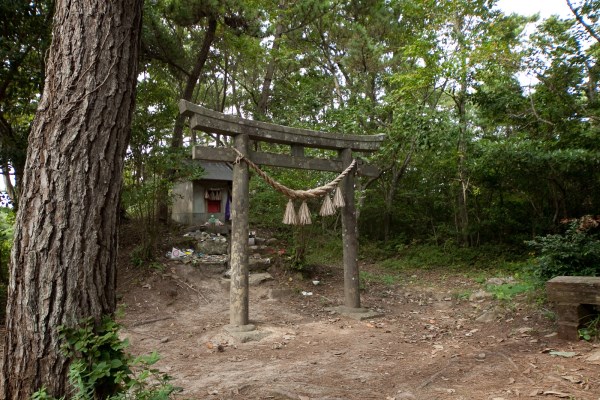 The Japanese island of Tashirojima has become a tourist destination solely because of its feverish dedication to feline worship. Here the cat population roams the streets freely, breeding as they may, while the much smaller human population feeds them, cares for them, and gives them vet check-ups. Dogs are forbidden on this enclave where cats are believed to bring the best of luck. Fanciful cat-shaped lodges were built to house this island's visitors, while shrines honoring the four-legged furballs can be found all over the isle.
2

Cat Acrobats Perform in a Feline Circus: Moscow, Russia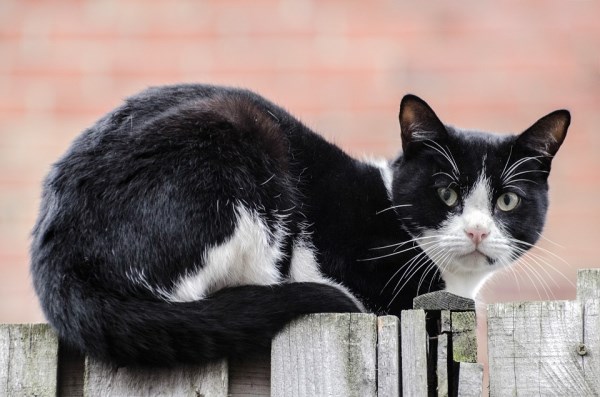 Talented stunt cats balance effortlessly on mirrored balls, walk the fine line of a tightrope, ride a rocking horse, and even coast along on a skateboard at the Moscow Cat Theatre in Russia. Opened in 1990 by a father & son animal training team, there are a total of 120 cats in the company with about 20 of them performing in each show. Surreal and magical, this feline circus is sure to surprise and charm even the most jaded dog lover.
3

Ceramic Cat Collection Numbers Over 2,200 Items: Birmingham, England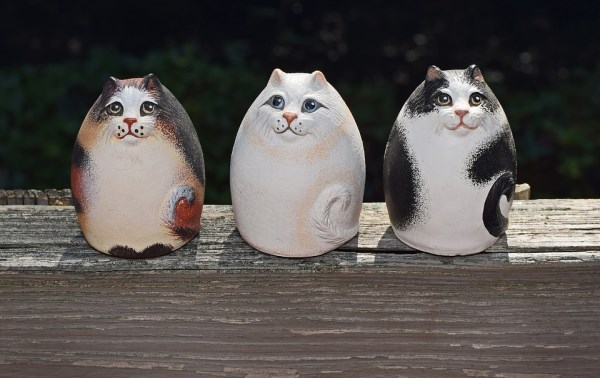 In Birmingham, England, a 60-year old woman named Pamela Cole has taken her cat collection to obsessive heights. Numbering over 2,200 and growing, Ms. Cole has dedicated entire rooms in her home to her massive trove of ceramic cats. Passionate about the hobby that has taken over her life, it has become more than a full-time job. Besides constantly scouring eBay and antique stores worldwide for kitty loot, she has also set up a worldwide network for people who are captivated by cat memorabilia.
4

Kitty Cat Band Tours America: Chicago, Illinois, USA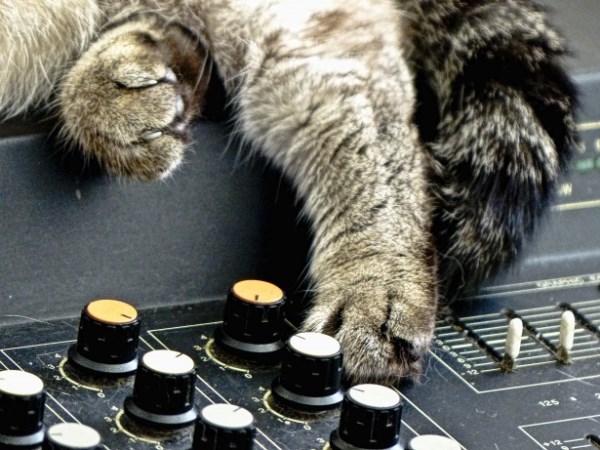 Based in Chicago but touring the USA most of the year, the Rock Cats are a band made up of cat musicians. They dance to the beat of their own drum- literally. Their music won't be found on iTunes anytime soon, but it's all about their fantastical live performances. These real cats are trained to pluck a guitar, ring chimes, play cowbells, and beat a drum. It may be atonal experimental jazz that they're playing, but they look extremely adorable while doing it.
5

Pay a Cover Charge to Drink Tea in a Room Filled with Cats: Tokyo, Japan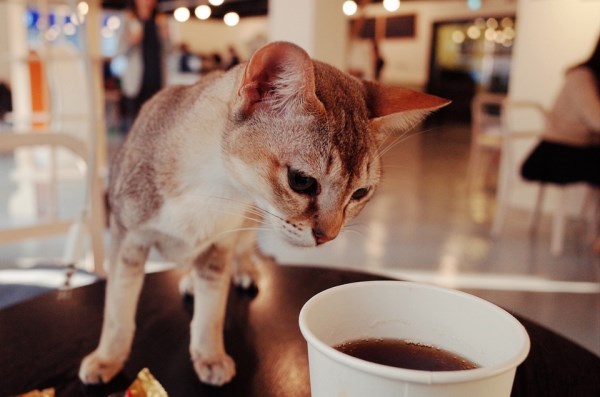 Everyone needs a kitty cuddle now and again, right? To fulfill that need, Cat Cafes have become a big trend in Tokyo right now. Patrons literally pay by the hour to hang out in a room full of common house cats where they can also order coffee, tea, and snack food. Apparently, many apartment buildings in the city have strict anti-pet rules, so kitty cat deprived city dwellers turn to these cafes to bide time with their favorite animal. The cats here have the rule of the roost and they give or withhold their affection as they please.
6

Weird Museum Mixes Cat History and Kitty Kitsch: Kuching, Malaysia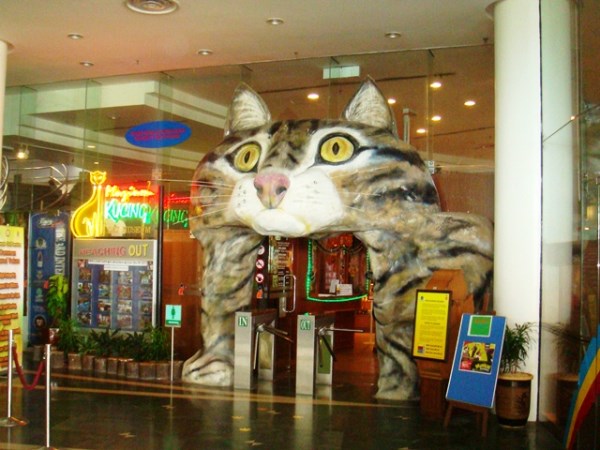 Opened in 1993, The Cat Museum of Kuching is set up to worship everything that has to do with the fickle feline. Containing over 2,000 cat related items, this museum does its best to live up to the name of the town where it is located. After all, Kuching translates to "The Cat City." In Malaysia cats are believed to bring good luck, and if that is indeed the case then this place must be overflowing with it. This is where you can feed your cat obsession to the max and explore cat history, cultural beliefs related to our four-legged friends, and view stuffed cats, including an authentic Egyptian cat mummy from 3,500 BC, and cat collectibles from the world over. This museum is a true mish-mash of literally everything related to cats and will surely bring joy to a cat lady's soul.
7

Take Part in a Purr-fect Street Festival: Ypres, Belgium
The Kattenstoet in Ypres, Belgium has extremely odd roots. Apparently dating back to the Middle Ages, the Festival of Cats' origin lies in a horrific practice in which the town jester annually threw live cats from one of the town's highest towers. The reason for this cat abuse is uncertain, but a fear that they were responsible for witchcraft may be the reason. Since the barbaric practice ended in 1817, this small town has more than made up for it by holding a parade that honors everything that has to do with cats. Enormous cat floats are constructed and hundreds of children dress in cat costumes. The parade culminates with a mock cat throwing in which a jester climbs the same Medieval tower and throws plush cat toys to the eagerly awaiting crowd. Some traditions die hard.
8

Couple Remodels House as a Cat Playground: California, USA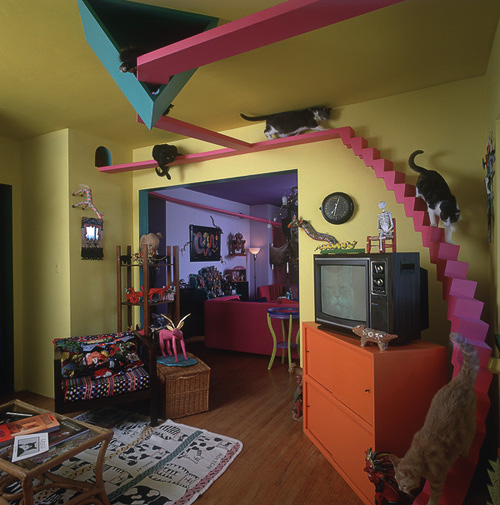 One San Diego, California married couple decided to take their cat obsession to the extreme. After adopting nearly a dozen stray cats from rescue shelters, they realized that to truly honor their new pets a complete remodel of their home was in order. They built elaborate 8-foot-high cat ramps lined with neon for nighttime kitty prowling along the perimeter of their ceiling. Floor to ceiling scratching posts, cat tunnels between the walls, and peek-a-boo cubby holes add up to the ultimate cat playground. Painted vibrant colors and decorated with cat paintings, cat statues, and leopard print rugs, their home has become a tourist attraction. During one open house they attracted more than 900 visitors in four hours' time.
9

Cattiness Abounds at a CFA Cat Show: USA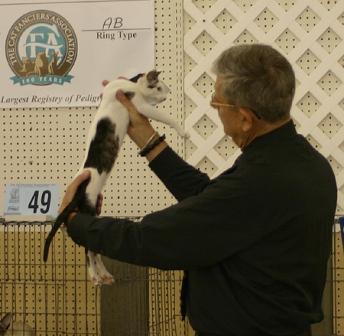 The Cat Fancier's Association is known as one of the most prestigious organizations in the United States to practice cat cultdom. In the disguise of cat competitions in which various breeds compete for Best-in-Show, these cat shows are weird geek fests in the truest sense of the word. Cats are adored, groomed, and waited on paw to paw by their fastidious owners. Sometimes it is hard to tell who is the master and who is the servant; these cats have their owners trained. In the various judging rings, owners hang by bated breath hoping that their Munchin or Princess will be selected as a champion. Truly a bizarre and surreal adventure, CFA cat shows travel nationwide throughout the year. Catch one and experience what true obsession is all about.
10

Visit a Fine Art Gallery Devoted Entirely to Cat Masterpieces: Amsterdam, Holland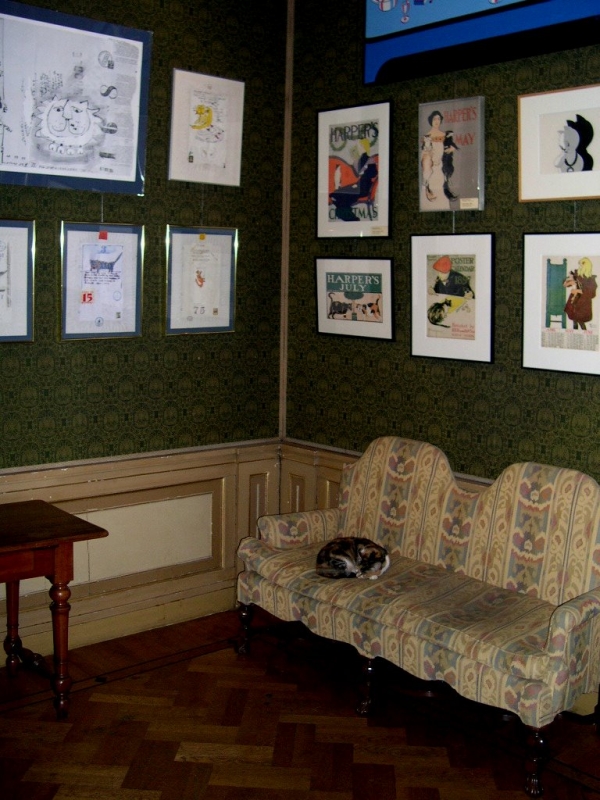 Elevate your cat obsession to high class snobbery by visiting the Cat Cabinet (Die Kattenkabinet) in Amsterdam. Here, master works of art, including paintings, sculptures, photographs, and prints, have only one thing in common: they are all devoted to cats as subjects. Started by a wealthy Dutchman to honor the memory of his deceased cat, this gallery takes itself completely seriously, even though it is more than a bit odd.