1

King Kong Home Theater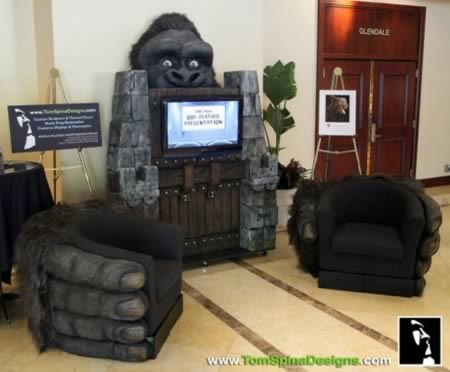 Looking for a home theater experience that will make your guests go ape?
Then check out this King Kong-inspired home theater setup by Tom Spina designs, which comes complete with faux wood and stone front, giant ape hands gripping each chair, and Kong himself peeking over the top of the TV cabinet.
This furniture is sure to make watching old horror movies a much more terrifying experience, and gives your home that all important theme park vibe. It puts the fun in funky monkey!
2

Old Pool Home Theater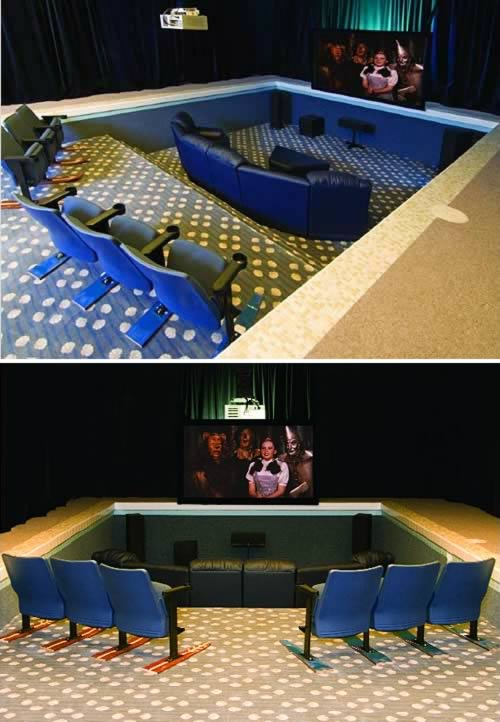 When you have a big house with many rooms, some of the rooms are not used. So they don't remain empty you could do something useful, like the owners of this Wisconsin home did with their unused indoor pool. They decided that it could become a veritable home theater, and they did a really great job of creating a spacious home theater with stadium-style seating.
3

Indiana Jones Home Theater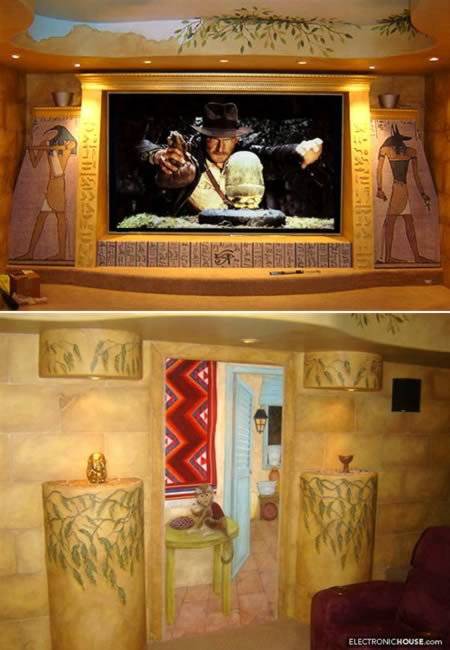 This amazing Indy-themed room was designed by home theatre expert Doug Charrois, for Larry and Colleen Halliday in Canada. The room even features replicas of the holy grail, a jacket, hat, whips, torches and more—including the idol from the opening of the original movie.
4

Brabus Home Theater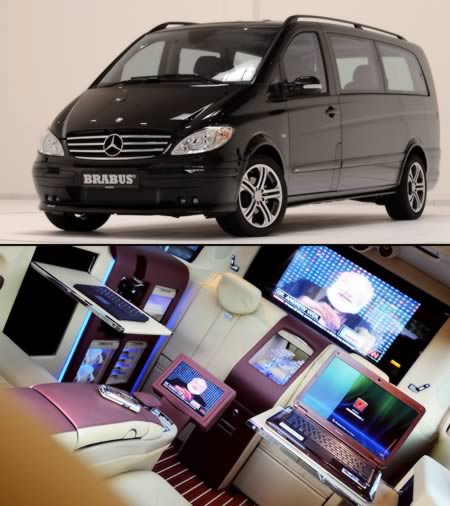 This particular home theater is in a home on wheels, and it's a Mercedes-Benz tuner Brabus theater. It has a 40-inch 3D model, which has a Playstation 3, Internet connected Mac Mini, not to mention a lot of iPads. In case you are wondering, there is also a Keurig coffee machine, in case you need some extra energy.
Just to let you know, this Brabus has a 6.1 liter V-8 that will bring this theater from 0 to 60 in six seconds. I once heard about home theater buses, and this one certainly goes a whole lot faster, even though it probably doesn't hold as many people. It's good that it has 3D and looks quite comfortable.
5

Inflated High End Home Theater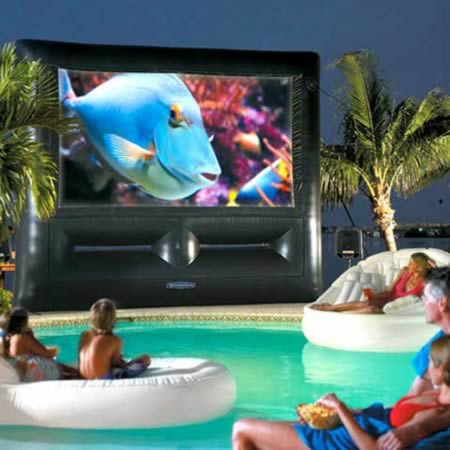 This cool inflatable outdoor home theater inflates in about 5 minutes with its own built-in fan. The gigantic screen is 16 by 13 ft. and it includes a DVD player, a high-output DLP projector, dual 15-inch speakers with stands, a microphone, and all of the required cables. It's basically like having an outdoor home theater in a box, but this "little kit" will set-you-back about $10,000. Set up this outdoor theater in your backyard, and you'll be the most popular house on the block.
6

Terminator Home Theater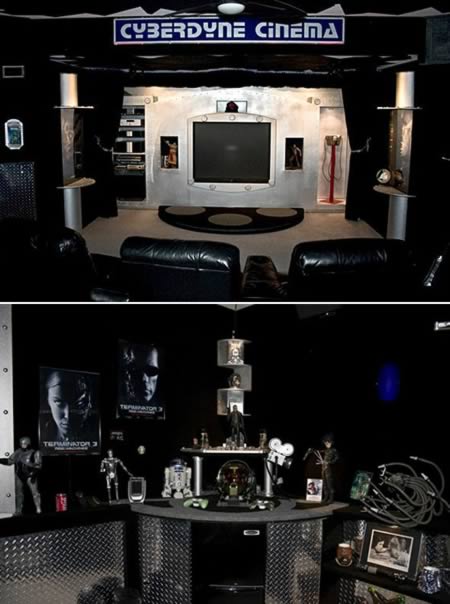 This is, without a doubt, one of the coolest home theater setups ever. Electronic House featured this Terminator inspired home theater recently. I've got to say, Darren Mortenson, the man behind this particular piece of theater magic, is a genius. It's designed to look like a sci-fi set and includes a bunch of cool little props and pieces of memorabilia. The project was put together on a reasonable budget. Looking at the products in the component list, there is nothing there that is outlandishly expensive. The DIY aspect makes this project incredibly cool. You see people outsourcing this kind of thing all the time, but Mortenson did it himself and became a licensed CEDIA installer in the process. The 159-inch screen ought to make his favorite movies on the screen seem larger than life.
7

Radio City Music Hall Home Theater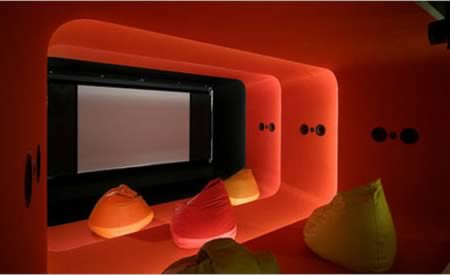 James Biber, an architect and partner at Pentagram, has designed this home theater in Montauk, N.Y., inspired by Radio City Music Hall. The home theater, which takes up 350 square feet in a 1,500-square-foot basement, had to have soundproofing and dimmable lights, and the client wanted seating on the floor.
What impresses me most about this home theater is the lighting, which is hidden in the arches facing the stage. 600 five-watt dimmer-controlled light bulbs are installed but the light is very soft. On the dimmest setting, the lights prevent the theater from being completely dark.
8

Paris Home Theater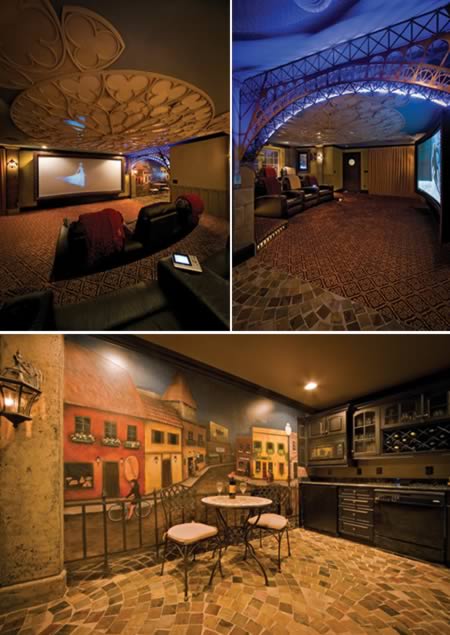 Jason Crist wanted to bring some Paris back to his home in Nashville, so he hired designer Donny Hackett to build an incredible Paris-themed home theater. It comes complete with a "ceiling structure [that] was modeled after a rose window in the Notre Dame cathedral."
9

Rotating Home Theater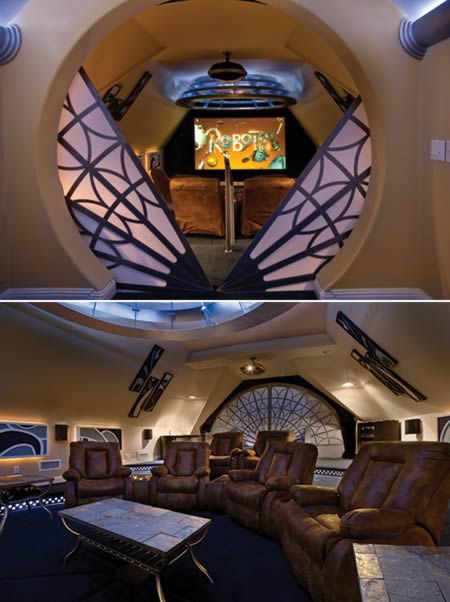 Now isn't this one of the coolest home theaters you have ever come across? The front row seats rotate a full 180 degrees at the touch of a button, facing the second row so that the room instantly transforms into a social-friendly setting. The 16-foot circle of flooring comes equipped with a quartet of motors and several wheels right below the floor's steel frame in order to achieve this. Other than this apparent novelty, you also get a 7.1 channel audio system and a 12-foot wide custom-built screen that has been perforated with small holes in order to let the sound through. Sounds expensive to me, which is why I didn't even bother to ask about the price.
10

Pirates of the Caribbean Home Theater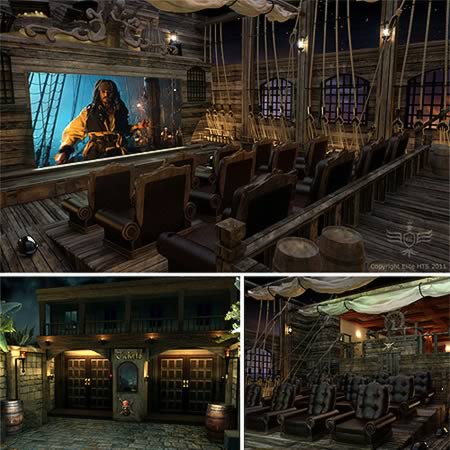 Built at a cost of $2.5 million, this Pirates of the Caribbean-inspired home theater definitely looks the part. Unfortunately, you won't find any lifelike animatronics in the theater.