1

Ladder Surfer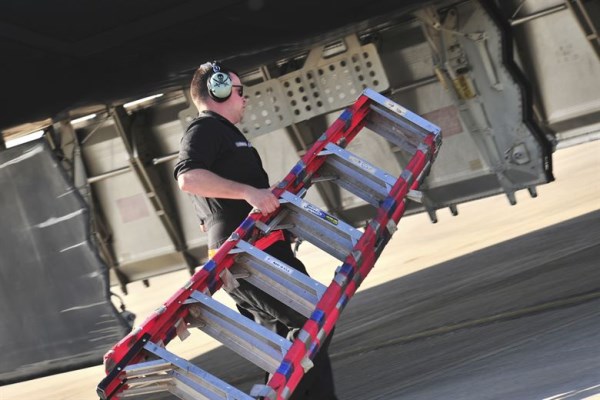 Boarders from Kommetjie, in Cape Town, South Africa, are taking part in a surf competition with a difference; the prizes go out for best dressed, most outrageous craft, and most entertaining performance. Here, surfer Michael Grendon rides a wave on his ladder board.
2

World's Largest Surf Board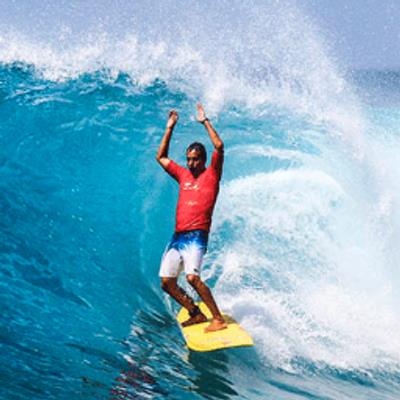 Brazilian surfer Rico de Souza evidently broke the record for surfing the world's longest surfboard. He surfed for 11 seconds on the extra-long 8.5-meter (28-foot) board at Macumba beach in Rio de Janeiro, as part of the Petrobras Longboard Classic. To set the new record, the surfer has to stay atop the board for at least 10 seconds, organizers said.
De Souza had already entered the Guinness record book previously, when he had 50 surfers catch the same wave, with 42 succeeding in staying upright for five seconds.
3

Dog Surfer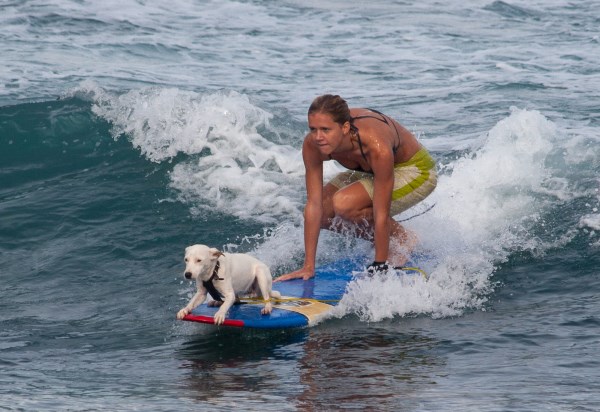 In 2009, around 60 surfer dogs brought their dudes, dudettes and assorted groupies to compete in the 4th annual Loews Dog Surfing Competition held in San Diego. Over $10,000 was raised for charity.
4

World's Youngest Surfer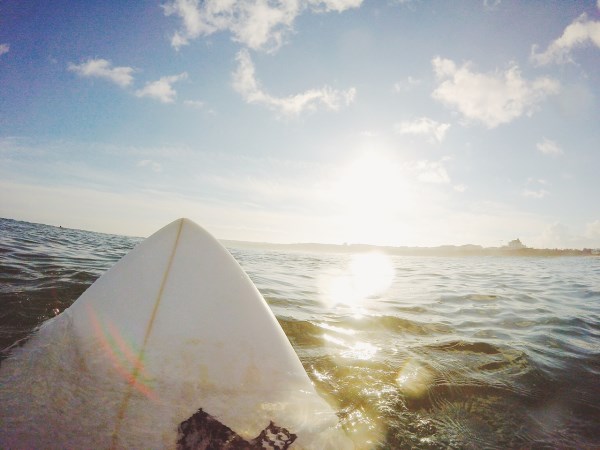 Jaylan Amor is only two years old, but is already surfing the waves outside of Brisbane, Australia, and has secured multiple endorsements from surf shops. To catch a wave, his dad paddles him out to sea, then the two-year-old hops and rides the waves back into shore. Mr. Amor isn't worried if Jaylan falls, as the tike just swims back to his board and waits for daddy to help him back up.
5

Arctic Surfers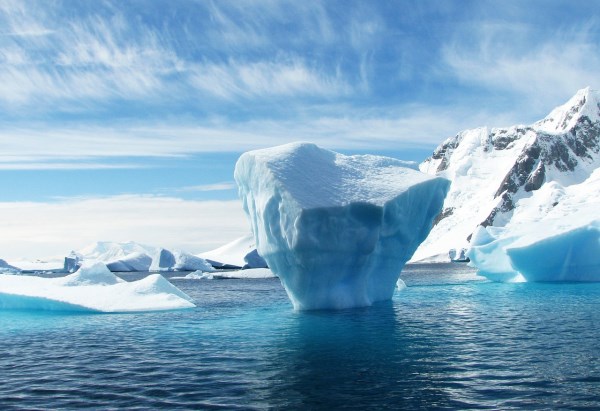 Filmmaker Yassine Ouhilal took four top professional surfers to the northern Norwegian and Russian coast to film them surfing in the Arctic Ocean's extreme winter conditions. While planning the trip, charts showed that waves would be better in the winter, but it was deemed suicide to try surfing during the coldest and darkest part of the year. Even the spring temperatures hovered between 20 and 45 degrees Fahrenheit; not exactly the most ideal surfing weather. As they traveled around they often found beautiful, calm beaches that taunted them with signs of large waves that had come just days before.
6

Acrobatic Surfers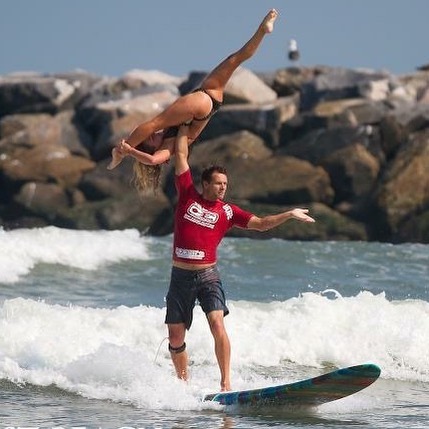 Over the last century, tandem surfing has evolved from a leisure activity to a competitive sport, and is being practiced and respected the world over. It takes two surfers, one very large board and we can trace its roots to Waikiki's very own Kuhio Beach. Tandem surfing is an awe-inspiring synergy of surfing, gymnastics and figure skating where two people—typically a male surfer and a much smaller female partner—perform acrobatic stunts and poses. This, of course, happens while they stand on a floating piece of fiberglass and barrel down a wave at full speed.
7

Surfing Llama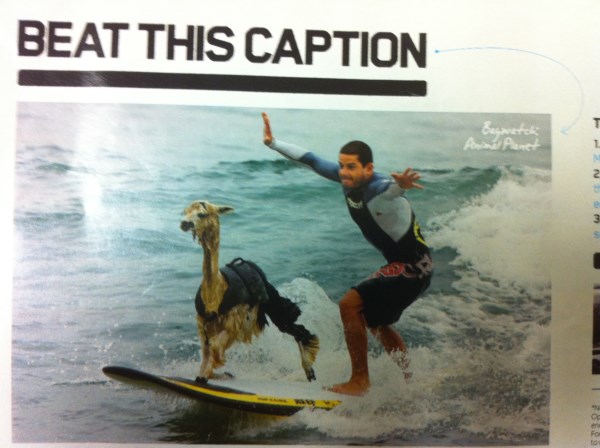 Peruvian surfer Domingo Pianezzi rides a wave with his alpaca, Pisco, at San Bartolo beach in Lima, March 16, 2010.
8

Darth Vader Surfer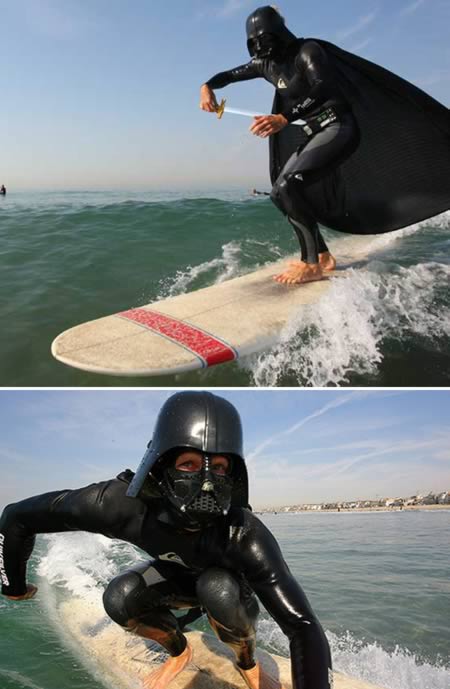 The last time we saw Darth Vader on holiday, he was just trying to relax. This time around, he actually goes surfing in the ocean. Will the powers of the Dark Side help him conquer the waves?
9

Armless Surfer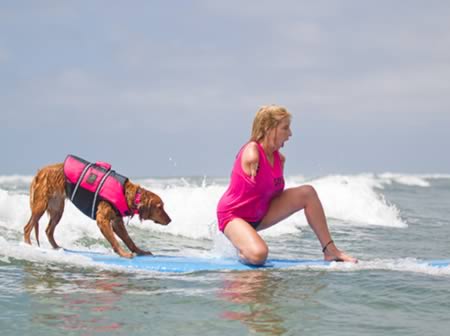 Surf Dog Ricochet is a service/therapy/surf dog. Here he surfs with Sabine, who was born with no arms.
10

Surfer Nuns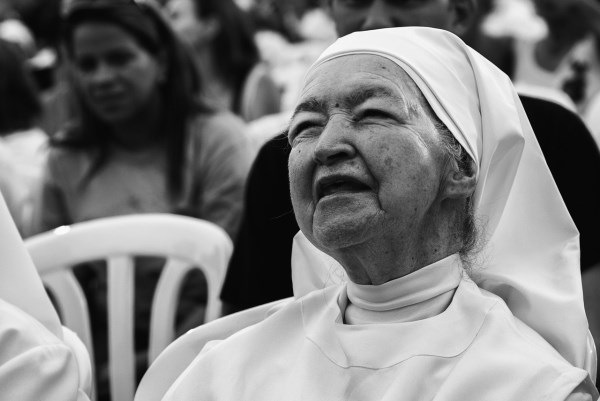 Sister James Dolores, 73, gives her best surfer-girl pose in Stone Harbor, NJ, where her Pennsylvania convent owns a beachfront retreat called Villa Maria by the Sea. Even though Sister James, of Sister Servants of the Immaculate Heart of Mary, doesn't actually hang 10, the nun has a special relationship with local surfers, and her mother house hosted its 15th annual Nun's Beach Surf Invitational on Sept. 11, 2010. The proceeds went to the maintenance of the breathtaking, 6½-acre, 150-bedroom waterfront complex.