1

LEGO Church (Netherlands)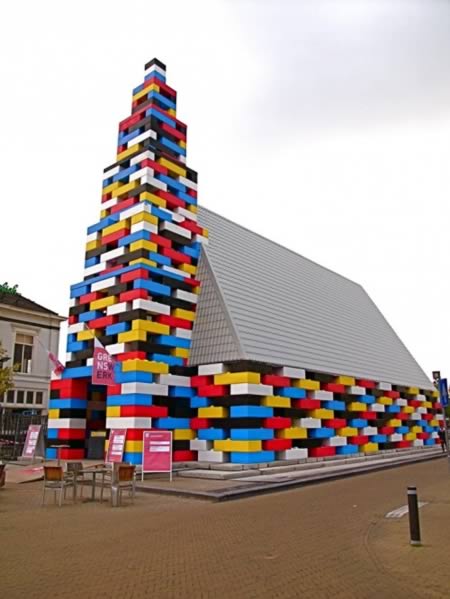 If you are looking for modular ecclesiology, visit this temporary structure in the Netherlands. It's built not out of LEGO bricks, but Legioblocks — concrete blocks made to resemble LEGO bricks. Michiel de Wit and Filip Jonker erected it for the Grenswerk Festival in the city of Enschede.
2

Organic Church (Italy)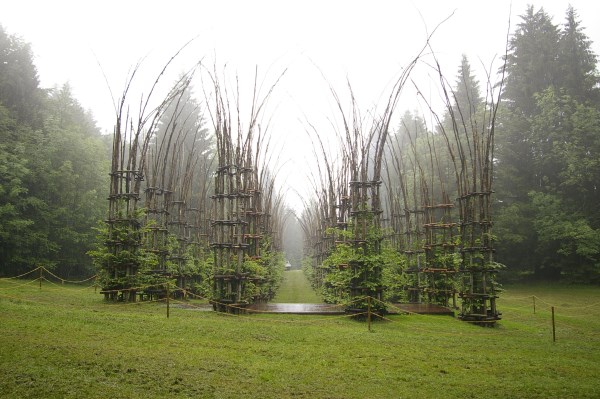 Located on the outskirts of Bergamo, at the foot of Monte Arena, the Tree cathedral, created by Italian artist Giuliano Mauri, is one of the world's most impressive examples of organic architecture. In 2001, his love for nature inspired him to draw up the plans for a project that took his art to a whole new level and left the people of Bergamo stunned – a cathedral made only of trees. Unfortunately, Mauri died unexpectedly in 2009 and never got to see his grand plan come to life, but as an homage to his life's work, the project was initiated in 2010, the International Year of Biodiversity.
The frame of the tree cathedral consists of 42 columns made with fir trunks, with branches of chestnuts and hazelnuts forming support structures around the young trees. With time, they will grow stronger and the wooden structures will slowly deteriorate, offering a seamless transition from a man-made structure to a completely natural creation. Right now the 6,000 meters of supporting branches around the 1,800 fir trees are held together with nails and string, but as the beeches grow, they will wither away and eventually be dismantled.
3

Bone Church (Czech Republic)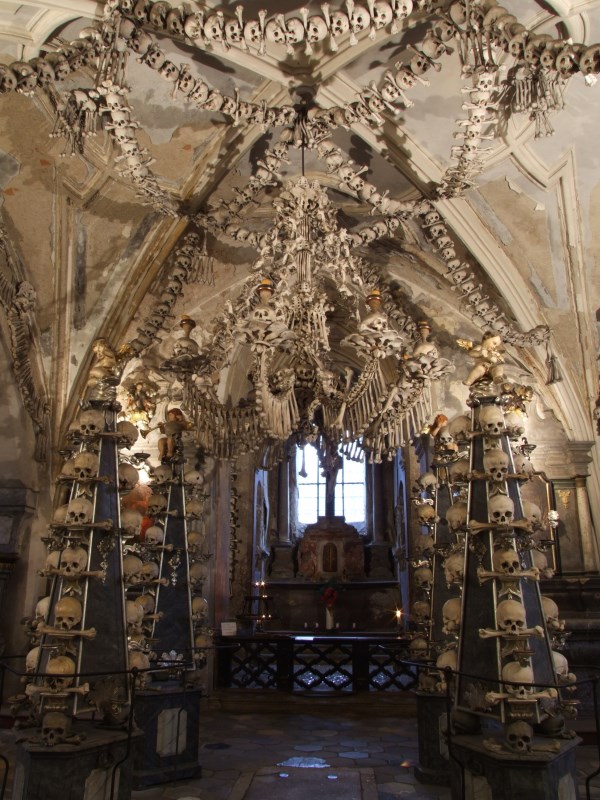 The Sedlec Ossuary is nothing spectacular on the outside. It is a small chapel located in Sedlec, in the suburbs of Kutna Hora, in the Czech Republic. You would think that it is just an average old medieval gothic church. As you enter the Sedlec Ossuary though, you will soon realize why it is one of the most amazing and unique churches in the world: it is artistically decorated by more than 40,000 human skeletons. Thus, it is also known as the Church of Bones, or as the Bone Church.
One of the most fascinating artistic works inside the Sedlec Ossuary is the big chandelier of bones that lies in the center of the church. The immense chandelier contains at least one of every human bone.
4

Snow Church (Germany)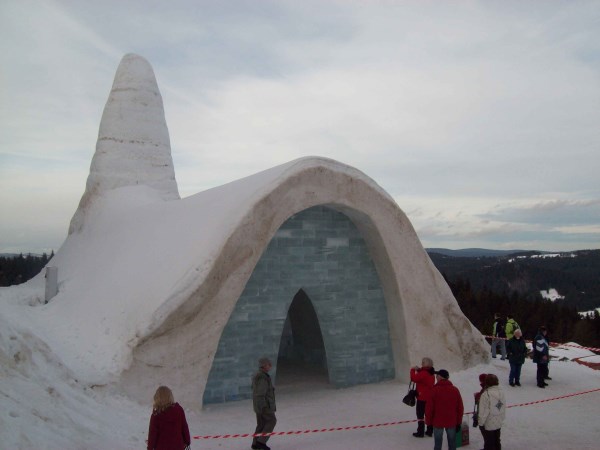 This snow church was built, in 2011, in the Bavarian forest by the villagers of Mitterfirmiansreut, Germany. Located close to the Czech border, the church is bathed in a beautiful blue light. It was opened to the public on December 28, 2011, blessed by Dean Kajetan Steinbeisser. Although the villagers had hoped to have it open before Christmas, the lack of sufficient snow caused a delay in their project. The church was constructed in commemoration of a similar church built in 1911, exactly 100 years ago. The older one was actually a sign of protest. In those days, the nearest church was in Mauth, a 90-minute hike away, which wasn't always easy to complete. The residents of the secluded Mitterfirmiansreut village then came up with the idea to build the snow church, in the hope that it would draw attention to their plight.
The snow church of Mitterfirmiansreut cost around €100,000 to build, using 1,400 cubic meters (49,000 cubic feet) of snow and slabs of ice.
5

Tank Church (Netherlands)
This Church Tank by artist Chris Kuksi sort of sends a mixed message. Unless it's some sort of modern update on the Crusades, the church is generally a place of peace these days. But I guess that's exactly his point.
6

Inflatable Church (Netherlands)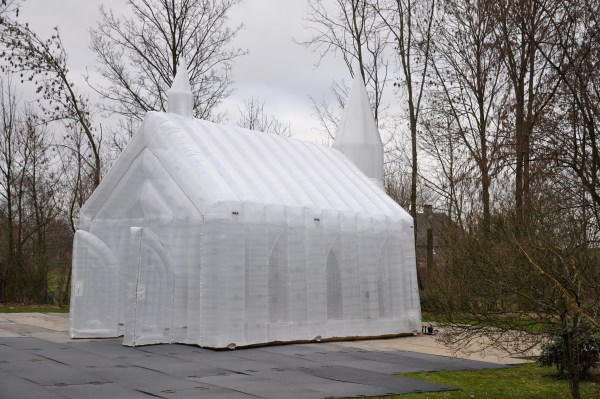 Meet the Transparante Kerk — an inflatable church in the Netherlands that pops up on demand. The brainchild of self-proclaimed philosopher Frank Los, the Transparante Kerk, or Transparent Church, measures 5 by 6 by 8 meters, including steeple, according to the Goedgelovig blog. Capable of holding about 30 people, the church now tours the Netherlands, popping up at festivals, company events and in private settings. However, no traditional sermons are offered in the church; rather, an open format is presented, with an emphasis on philosophy and discussion of life's important questions.
7

See-through Church (Belgium)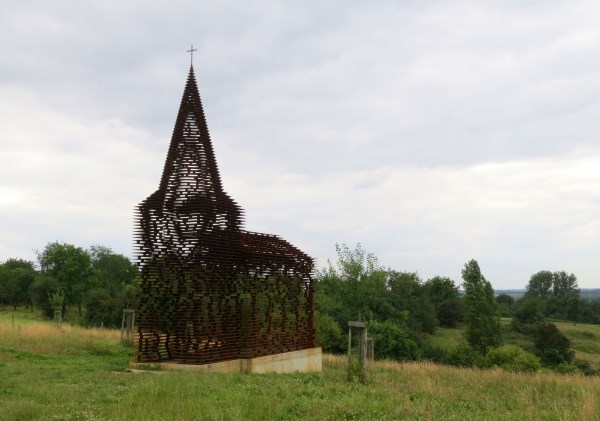 This stunning church, designed by Belgian architects Pieterjan Gijs and Arnout Van Vaerenbergh, lets in the sunlight with a transparent design. Located in the Belgian region of Haspengouw, the church is part of a long-term art installation called Z-OUT which aims to place unexpected structures in public places in the Netherlands over the next five years. It's made up of 100 stacked layers and 2000 columns of steel plates, and the church can look totally solid, or seem to disappear entirely, depending on your viewpoint.
8

World's Tiniest Church (New York, US)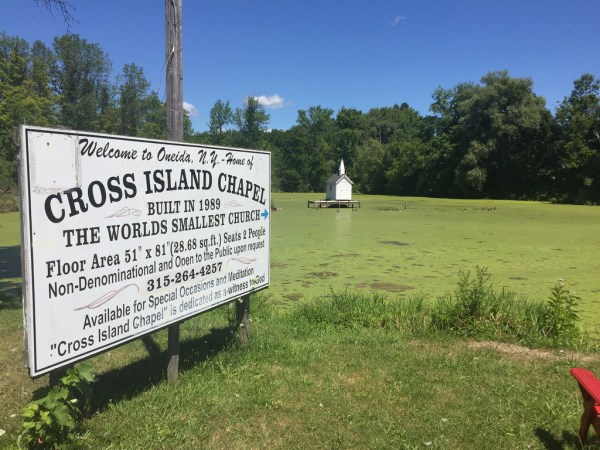 Cross Island Chapel, "The World's Smallest Church," sits on a wooden platform in the center of a pond. A billboard near the road details everything you need to know: "Built in 1989. Floor area 51 inches by 81 inches (28.68 square feet). Seats two people. Non-denominational. Dedicated as a witness to God." Years ago we read a newspaper account of a wedding held at this chapel, with only room to accommodate the minister, bride and groom. The rest of the wedding party was anchored nearby in small boats. Guests on shore imagined how the vows went. It's open to the public on request, and accessible only by boat.
9

Train Church (Russia)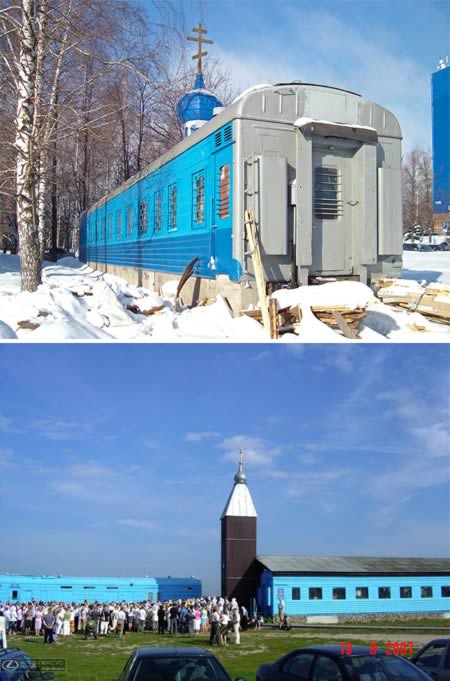 It looks a bit crazy, but it seems that there is a widespread idea in Russia to organize Orthodox Christian churches in old railway cars. It might seem like it's a modern phenomenon, but a bit of retrospective digging reveals that some of them had already appeared when the railroad itself began in Russia.
10

Cliff Church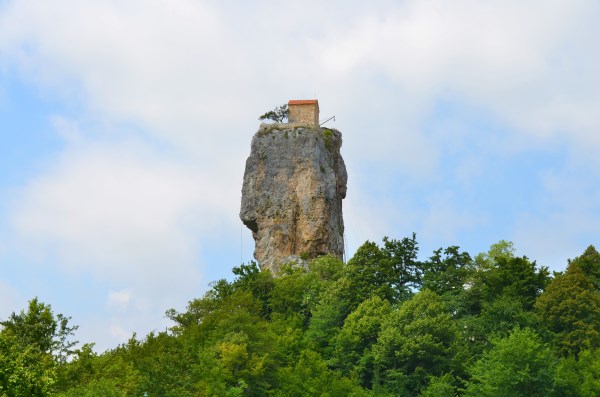 Located in the country of Georgia, this unique church on Katskhi pillar sits on top of a rock formation which towers 130 ft high. Not unusual enough for you? How about this, a Georgian monk has been living in it for nearly 20 years. Still want a higher dose of weirdness than the fact that the rusty creaking ladder used to go to this church is called the "stairway to heaven?" Well, the high church is estimated to have been built sometime between the 6th and 8th centuries and it is believed to actually have pagan roots, as a symbol of fertility to some forgotten god.