Online auction giant eBay is a one-stop shop for just about everything you could possibly want or need, but mixed in with the useful stuff you can find some truly hilarious and disturbing items! In their new book, Crap I Bought On eBay, authors Cary McNeal and Oddee's own Beverly Jenkins purchased 101 of the most "Crazy Bizarre, Seriously Weird, and Ridiculously Raunchy Items" on eBay, all for your entertainment! Below are ten examples of seriously weird stuff that's available on eBay right this minute.
1

A potato... that looks like a penis
Starting bid: $.99
Shipping: $11.52
Location: Gypsum, CO
Description: crazy penis shaped potato. Just harvested today - strange and funny!
2

Human Hand In Jar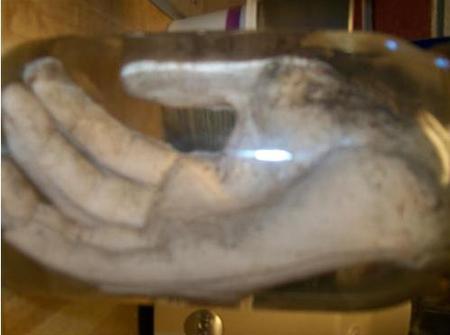 Current Bid: $25.99
Shipping: $35.99
Location: Smyrna, TN
Description: This is a one of a kind human hand in a jar.
This is also a one of a kind piece.
Life size hand.
Includes jar. Have fun biding.
3

25 Pictures of Pretty Feet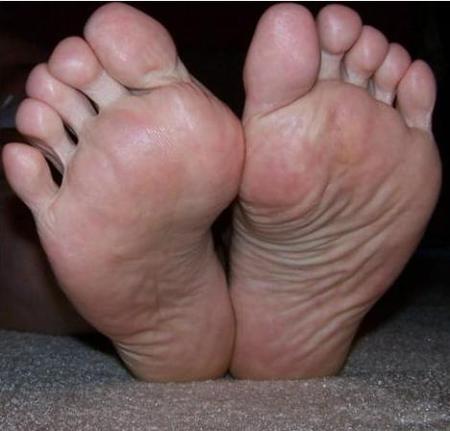 Buy It Now Price: $7.99
Free shipping
Location: on my body, United States
Description: You've seen my pantyhose, now see the feet that are underneath all those sexy stockings! Auction is for 25+ Pics of my feet! You dont have these in your collection I bet! My sexy feet will make your motor run! ;) I can email them to you for instant viewing pleasure!
4

Haunted Tablecloth
Starting Bid: $19.99
Shipping: 6.50
Location: Haunted Chicago, USA
Description: This haunted piece is old and it has fringe around (All sides) the whole cloth. Some small holes in it, but can not be seen well. This is old vintage and does not look new. This would be great for halloween/goth party/house. If you are afraid of the paranormal please do not bid!!
5

Alien Baby Doll
Starting Bid: $4.99
Location: Pontiac, Michigan
Description: This auction is for a bizarre baby alien! This thing is beyond weird, my kids won't even allow me to keep it upstairs; it has to sleep in the basement. This item measures 19 1/2" long. There is some staining on the back, nothing too major and a rip in the crotch (don't ask me what that's about).
6

Rock that looks like Jesus
Price: $275.00
Free shipping
Location: Lake Havasu City, Arizona
Description: This stone could be mounted in a beautiful setting for a unique piece of jewelry or mounted as a collectible specimen that only you would have. This is Spiritual Art. It is such an inspiration and a very unusual work of nature for one's collection of icons or images.
7

Unisex Latex Inflatable Bondage Mask
Price: GBP 40.00 (Approximately US $62.62)
Shipping: GBP 15.00
Location: Hong Kong, China
Description: All latex clothes produced by "Aqua Latex" are made from 100% Natural Latex. Latex sheet is the most important point for latex clothes, so we can ensure our latex sheet are with good quality and full of flexibility and without harmness for people.
• 100% Natural latex and hand-made;
• Semi-transparent skin color shown on the picture, other colours are available too, you can see our color chart below;
• Standard thickness is inside/outside 0.4mm; You can select other thickness from 0.38mm to 1.2mm thickness?please contact us for details;
• There is a zipper on the back hood.
• There is mouth hole for breathing just like the pictures show.
• All of the clothes and pictures of our store are made by us, so we can guarantee the clothes you get will be the same as you see in our store.
8

Life Sized Napoleon Statue
Price: GBP 495.00 (Approximately US $774.87)
Location: United Kingdom
Description: You are bidding on a life-sized figure of Napoleon Bonaparte, made from resin. Size: 61cm x 61cm x 180cm
9

Velvet Painting of Admiral Ackbar
Price: $74.99
Free Shipping
Description: This is an original, hand-painted black velvet portrait of Admiral Ackbar which was hand-painted by vims from India, the professional Indian velvet artists. It was specially commissioned for Rajasthan art palace gallery,INDIA. After huge demand from USA, its inspired us to make our own limited addition in BLACK velvet painting. Each genuine, authentic Black Velvet Painting within this series is guaranteed to have been painted entirely by hand in by awarded artist from India, This exclusively painting by the talented hands of artist... and each one of these velvet paintings was created entirely for you.
10

Bull Penis Cane
Current bid: $36.51
Location: SHIPSHEWANA, IN
Description: 33" WALKING STICK from BULL PENIS with Steel Rod
This cane was made from a bull penis, shaped with curved handle, cured and given a hard epoxy finish for years of durability. My father has made these for many years and given them to friends. An unusual sort of cane that is useful but also a conversation piece. This cane measures 33 inches tall with black non-slip tip. A very nice example. There is a steel rod running through the center for additional stability. The shaft of this cane has an attractive twisting shaft. Any blemishes or discoloration are part of the natural markings. A certificate of authenticity is included. These canes should not be used for support that is required for medical reasons. They are good for hiking, walking, etc for the average person.