1

Burkini (burqa+bikini)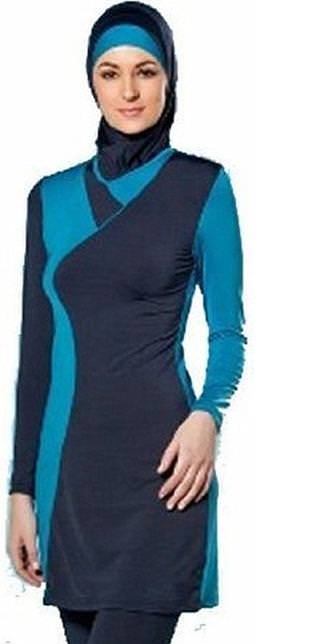 A burqini (or burkini) swimsuit designed by Australian company Ahiida. Their goal is to design swimsuits "with the respect of Islamic values and aimed to enhance the lifestyle of the active Muslim female". Well, at least these cute chicks save money on sunscreen.
2

World's Most Expensive Bikini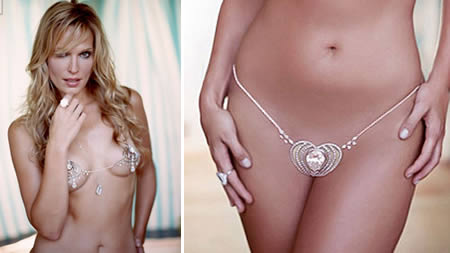 Would you like to spend U.S. $30 million for a piece of bikini? It sounds crazy but it's true. The glittering $30 million bikini has been created by Susan Rosen with Steinmetz Diamonds. This is the world's most expensive bikini, it uses all diamonds and no fabric. The bikini features over 150 carats of D Flawless diamonds, including a 51 carat D Flawless Pear Shape, a 30 carat D Flawless Emerald Cut, a pair of 15 carat D Flawless Rounds and a pair of 8 carat D Flawless Pear Shapes all set in platinum. Model Molly Sims wore this diamond-studded bikini for the centerfold of the 2006 Sports Illustrated Swimsuit issue.
3

Dissolvable Bikini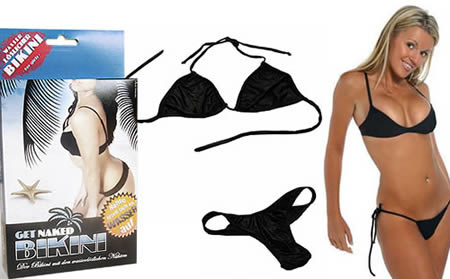 A German company invented this marvelous new bikini that disappears once a girl puts it on and takes a swim. The sexy swimsuit disappears by dissolving in water, leaving a woman completely nude and embarrassed. The sexy black swimsuit looks like a real bikini, feels like a real bikini and fits like a real bikini. The only difference is that it's made from a material that completely melts away after a few seconds in water. Named the "Get Naked Bikini," the item is being marketed as the ultimate form of revenge for recently-dumped dudes.
4

Bacon Bikini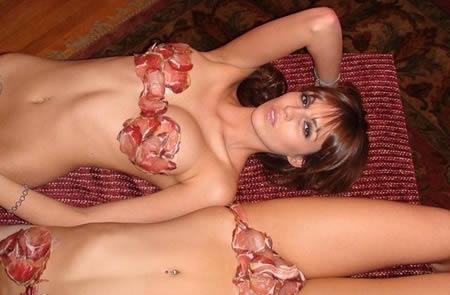 The best combination for a man: women in bikini and bacon. It's a win-win situation.
5

Pacman Bikini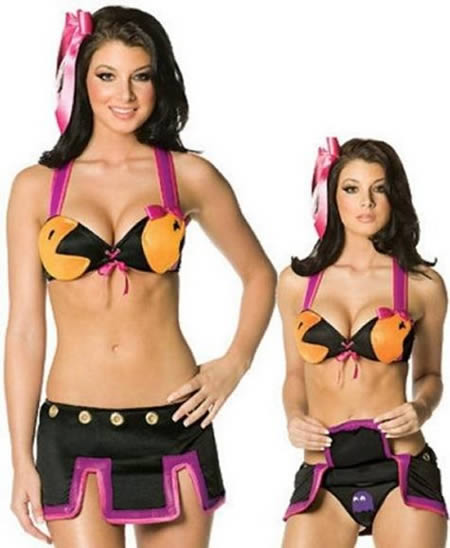 The ultimate gift for your retro-gaming girlfriend. This Pacman bikini has it all- our favorite part is the ghost hiding at the bottom. Presumably he doesn't want to get eaten.
6

Bikini with built-in UV meter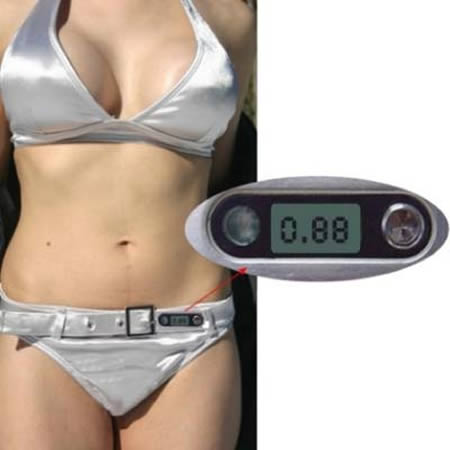 Now you're all maybe starting to think about your summer holidays, it might be a good idea to think about ordering one of these cool bikinis with a built-in UV meter, especially if you're a sun and sand type like me. This SmartSwim Bikini from Solestrom is the world's first bikini to have a meter built into the fabric. The meter is battery-powered with a lifetime of up to two years; and is waterproof of course! The UV meter displays an intensity "level" of ultra violet intensity on a scale from 0 to 20.The SmartSwim Bikini costs about $170.
7

Solar Powered Bikini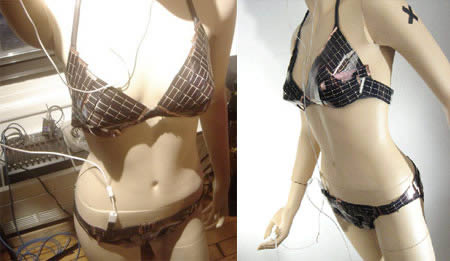 If you like the idea of using solar energy to power up your electronics, you may really like the idea of solar clothing. There is a new solar concept that could help you look sexy and keep you cool at the beach without an effort. Designed by Andrew Schneider, the Solar Powered Bikini is part of his iDrink line. This standard medium-sized bikini with a USB connection provides new and fun possibilities with solar power. Made with 1" x 4" photovoltaic film panels (which supply 6.5 volts at 1.5 amps), a solar bikini like this can come in handy when you want to tan and stay refreshed at the same time without getting in the water. In other words, the solar bikini allows you to power up your ipod, keep your drink cold, in an environmentally friendly manner, while you tan.
8

Led Bikini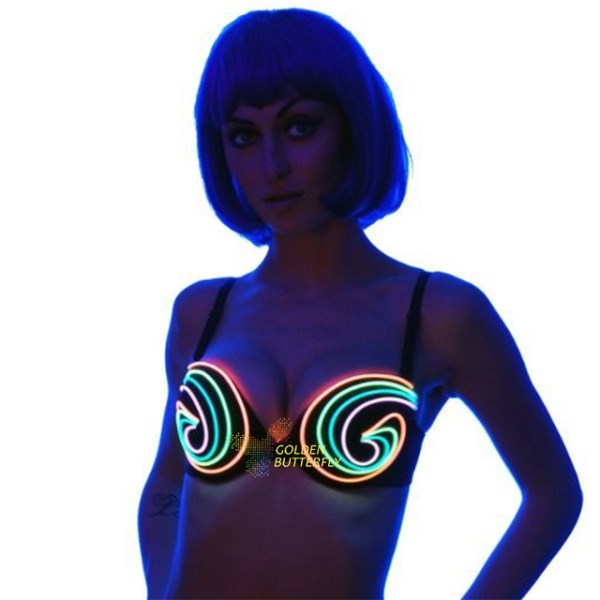 By far the most awesome Bikini ever, it's also the most impressive LED product.Guys can use it for directions as well, it better be water-proof though. This technology gives birth to a new term as well "Camel Glow". It may be a little inappropriate, but it contains no Nudity.
9

Lettuce Bikini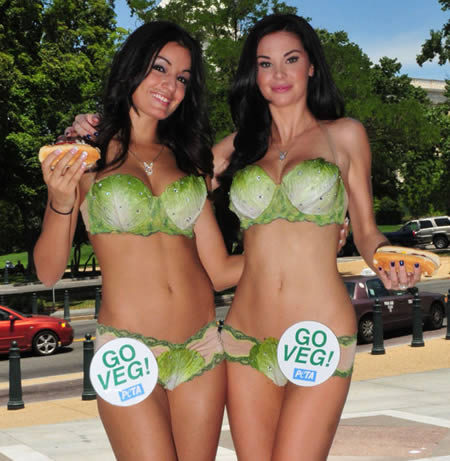 PETA has created a sexy edible fashion for vegetarians; the lettuce bikini. As part of PETA's Lettuce Lady Campaign, vegetarians and PETA supporters are allowing themselves to be adorned in lettuce and photographed for PETA's vegetarian media campaigns and making appearances at PETA events. The vegetarian alternative to the bacon bra is fashionable, non-greasy and reminiscent of Eve in the Garden of Eden. Anyone looking to promote vegetarianism can make their own lettuce bikini at home to get in on the natural fashion. Step by step instructions to create this strange lettuce bikini are available on the lettuce lady website and should be designed only once you're ready to wear it. All you need to create your own unique bikini from lettuce is romance lettuce, which is preferred because of its large leaves for covering your boobs and bum.
10

Eyelet-Trim bikini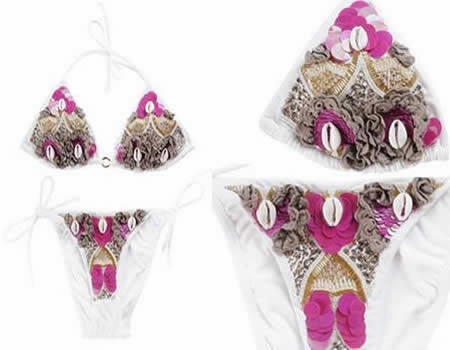 If you are the kind of woman who would wear Swarovski Crystals anywhere on your body, you would certainly be interested in these bikinis that come with those famed crystals. The White & Pink Eyelet-Trim bikini has been designed by Alessandra Vicedomini and it will make you look almost like an exotic dancer in Paris' Lido. The bikini is crafted in Italy, sent to India for handcrafting, and comes back to Italy for further final touches. It costs $625 and I am sure that isn't a heavy price to pay for these luxurious and sexy bikinis.