1

Mp3 Player / Running Shoes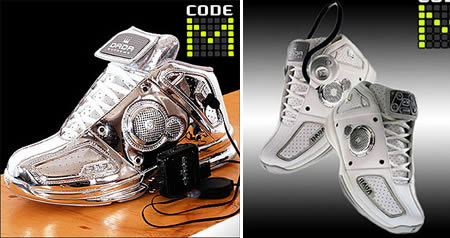 These sneakers give the term "kicks" a whole new meaning, eh? Dada is set to launch a set of running shoes with built-in MP3 players in them, called "Code M". Of course, it wouldn't be practical to have an extra long headphone cord running from your feet up to your head, so they have decided to integrate a wireless music system in these shoes, so that you can receive the tunes on your wireless headset. However, if you want to change tracks or anything like that, you'd have to reach down to the controls located on the tongue of the shoe. Not exactly practical. To load up songs onto your "kicks", you simply attach it to your computer via USB, because yes, we all want that rancid gym sock smell right near our computers.
2

Rubik's Cube Mp3 Player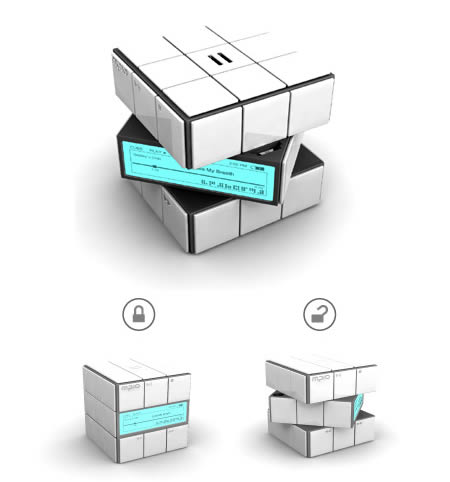 Designed by Hee Yong, the Rubik Cube MP3 Player can only be activated by—you guessed it—solving the puzzle. Each completed layer is said to perform a certain function, such as play, pause, or forward. To turn it off, you'll need to complete the cube. Looks like a lot of effort just to listen to some music.
3

Cassette Mp3 Player

If you miss the good old cassettes, you can buy yourself this portable mp3 player shaped like a cassette tape.
4

Toilet MP3 Player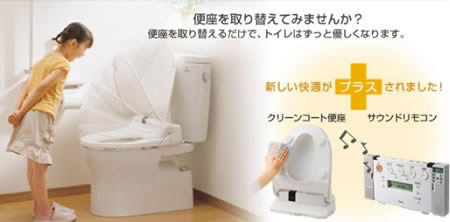 Toto Japan has launched the Apricot series Toilet seats. With the usual included gizmos like seat heater, automatic washer, electronic controlled seat etc, Toto has now included a full fledged MP3 player with a SD card slot. The control panel with the MP3 player can be attached on the wall. 16 classic tunes are included with the SD card. The MP3 player can Random playback, One Tune playback and so on.
5

Lego Mp3 Player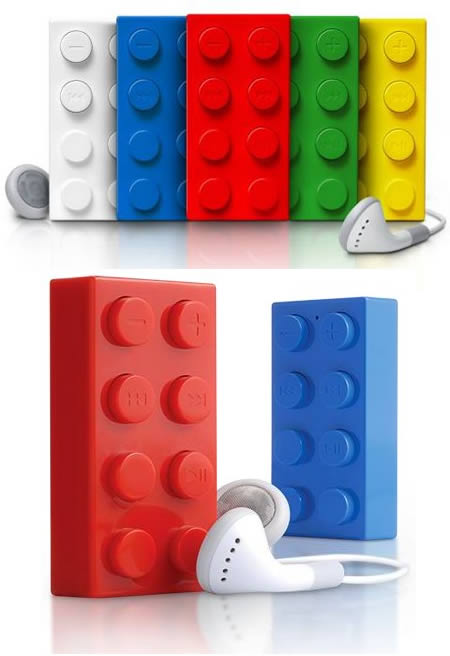 The "Homade LEGO MP3 player" is neither home-made nor officially a LEGO product, but its clever design—each nub is a button—is almost enough to convince me to make a purchase, despite a price of $46 with no built-in memory (it takes micro SD) and a size considerably larger than a real LEGO element. (I can't quite figure out exactly how large the player might be, although I doubt it's 24 centimeters long as is stated on the product page. It uses a single AA battery for power, though, so that should give some rough idea.)
6

MP3 Cross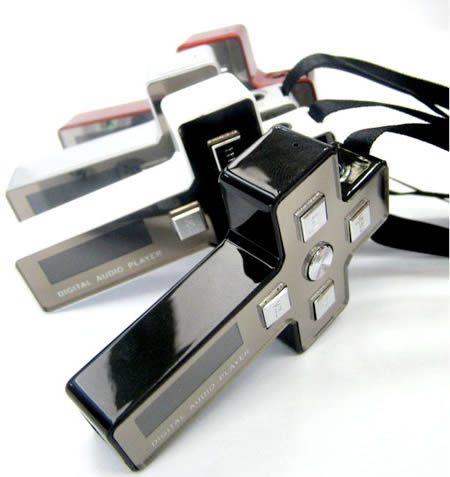 MP3 Player in the shape of a cross with 4GB of internal flash memory and a 2 color LCD Display for easy GUI navigation. A perfect MP3 for making a fashion statement, this PMP will get noticed whenever and wherever you take it. It also features a good quality built in speaker, multi language menu, FM Radio, built in MIC, and seven EQ Modes. Be original with your MP3 Player, and enjoy some great features at the same time with this no MOQ item direct from Chinavasion Wholesale.
7

Swiss Army Knife Mp3 Player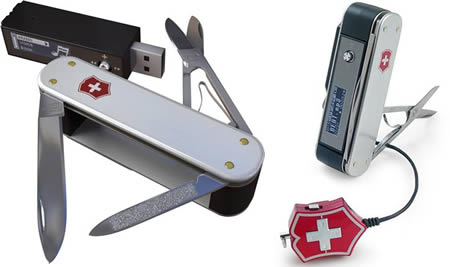 Heard of a Swiss Army Knife that features a 2? blade, mini scissors, and nail file with a nail cleaner? Off course you have! Heard of a Swiss Army Knife with a MP3 Player with LCD display, 1 GB memory capacity, FM radio, 15 preset stations and 6 equalizer modes? We don't think so... the Swiss Beat MP3 Army Knife includes all the above and is one more USB based device that is simple plug-n-play. Finally a Swiss Army Knife that you really use often! The Swiss Beat MP3 Army Knife is available for a price of $150.
8

Colorsonic MP3 Player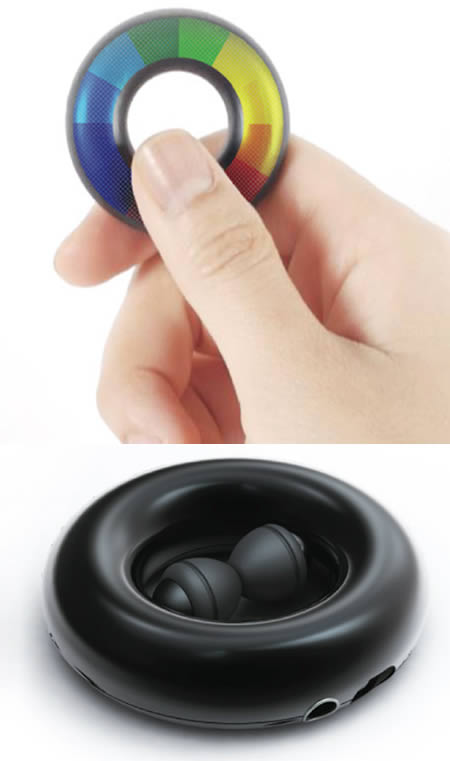 Colorsonic is an MP3 player that uses color indication to play music based upon certain moods. Music is loaded to the Colorsonic like an ordinary MP3 player and converts the songs to color associations chosen by the user. Colors are assigned individual emotional states and playlists correlating to those states can later be accessed by selecting that color on the device.
As an added bonus, the hole in the center of the donut shaped product is used to magnetically store earbuds.
9

Belt Buckle MP3 Player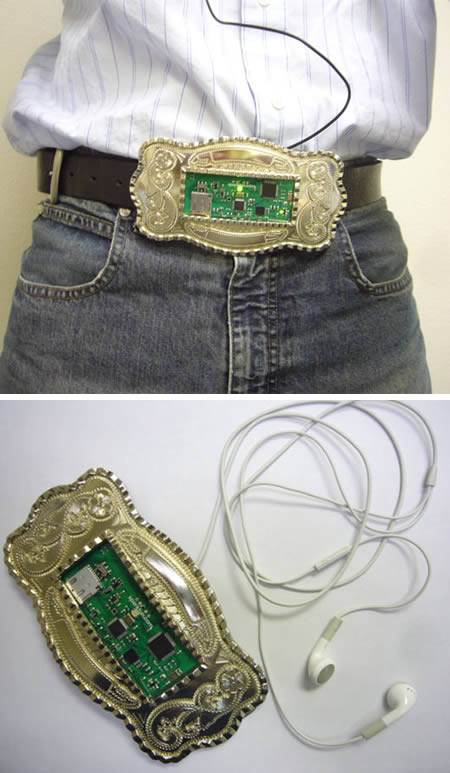 SparkFun Electronic's mechanical engineer Casey came across this oversize belt buckle. You're probably asking yourself how you change tracks on this thing, right? Well thanks to an on-board accelerometer, you'll just need to do a little pelvic thrust to jump to the next tune. And if you really get your groove on, a tri-color LED gets to blinking when you do your badass dance moves
10

PEZ Mp3 Player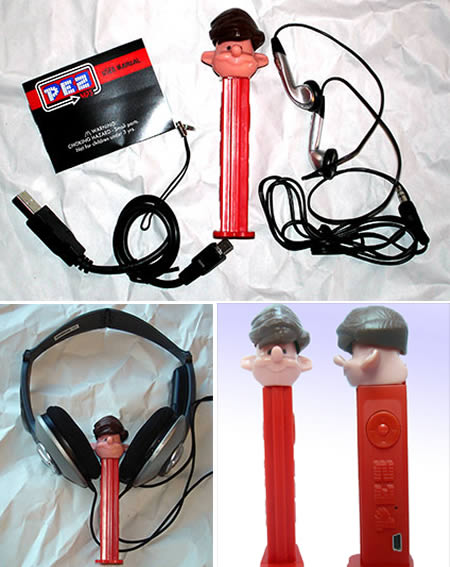 One summer, Pat Misterovich had an idea: take an ordinary PEZ dispenser and turn it into an MP3 player! Silly idea, right? PEZ Candy Inc. didn't think so and licensed the concept. The PEZ MP3 Player stores 512 MB of audio, runs on one AAA battery, and is USB 2.0. Only 1,500 units were made, and all of them were sold—so you'll have to wait until the second version is available.
11

iCool scented MP3 player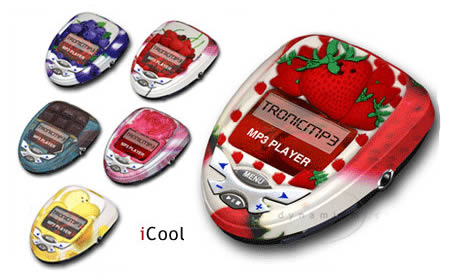 Colored MP3 Players that smells like chocolate, roses, lemon, strawberry, raspberry or blueberry, developed by Solid Alliance. Isn't this iCool?
12

Lovers MP3 Player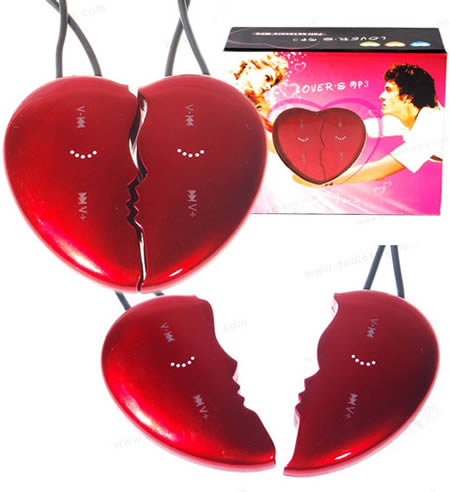 You and your significant other might have different tastes in music, but that doesn't mean you can't be close with your shmoopy. With this matching pair of MP3 players, you can listen to different tracks, but still be joined at the hip. The coolest part about the players (other than the $38.99 price) is that when the two halves are reunited, time stands still and you and your prom date are swept up in a whimsical whirlwind of rainbows, flowers, and puppies. Technology is so amazing!