1

Inflatable Church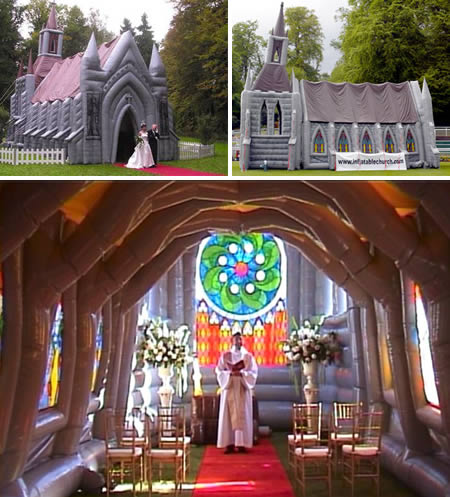 Innovations Xtreme is a company that specializes in making large inflatable anything, including an inflatable church! This huge inflated edifice is about 16' to a side and 39' tall at its highest point. It's decorated like an old-time cathedral both in and out. Including plastic stained glass windows, inflatable organ, altar, pulpit, pews, candles, angels and gold cross.
2

Inflatable Boobs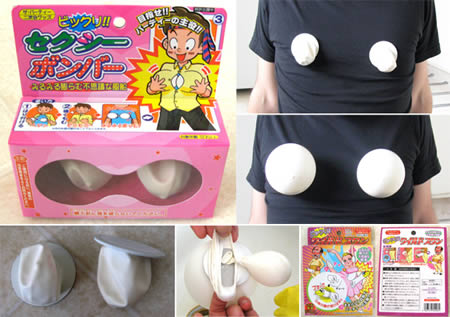 Straight from Japan (of course) come the Daiso inflatable boobs. These stick-on-bosoms have some sort of liquid packet inside. You squeeze the packet to burst it so it comes in contact with the solid inside the balloon, and the whole thing inflates.
NOTCOT - Daiso Inflatables from Jean Aw on Vimeo.
3

Inflatable Poop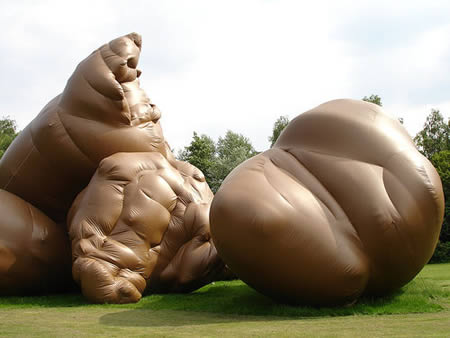 This giant inflatable dog turd by American artist Paul McCarthy was exhibited at the garden of a Swiss museum. The art work, titled "Complex Shit" and which is the size of a house, blew away from the exhibition, bringing down a power line and breaking a greenhouse window before it landed again. The wind carried it 200 metres (yards) from the Paul Klee Centre in Berne before it fell back to Earth in the grounds of a children's home.
4

Inflatable Sumo Costume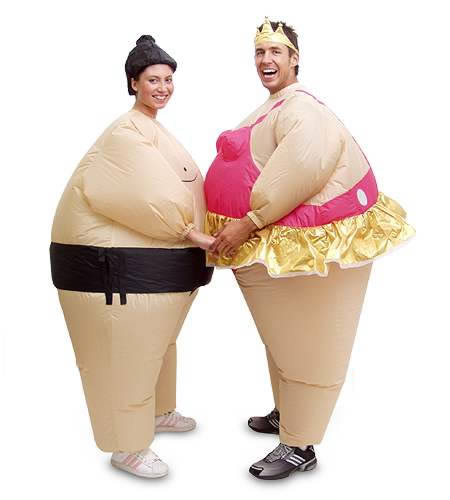 Now you don't have to stuff yourself with pies and put your girlfriend's thong on to get the Sumo look. (Unless you really want to of course.) This inflatable costume is much easier. Transform yourself from a skinny string bean to a super Sumo in seconds! This surprisingly comfortable nylon costume comes complete with built-in nappy and a sumo-hair hat for extra authenticity. The Inflatable Sumo Costume is even more fun if you can persuade a mate to buy one too and stage your own bout in the ring. Just stay away from sharp objects, or you might end up as a skinny sumo by mistake.
5

Inflatable Pub
We've all heard of Port-a-Potties, but what about Port-a-Pubs? Billed as "the world's first inflatable pub", this pub in a box holds up to 50 guests (or 200 college students), fits in the back of a van, and assembles in under an hour. All pub-like features are painted directly onto the PVC walls (now anti-fungal and flame retardant!). The pub also have a built-in fire escape. It can cost up to $ 28,000 but what the hell, it's an inflatable pub!
6

Inflatable Mouse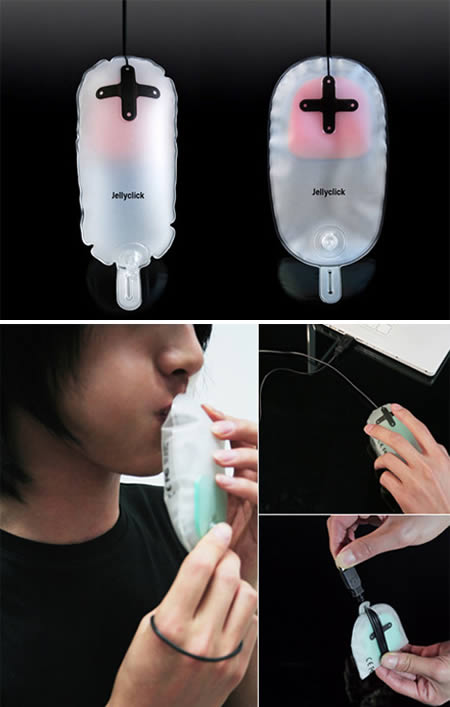 This Jelly Click mouse concept is fairly simple: a small flexible board carries all of the circuitry while the body is composed of plastic that can be blown up manually. When not in use, it can be folded into a compact size or slid between the screen and keyboard of your laptop when closed.
7

Inflatable TV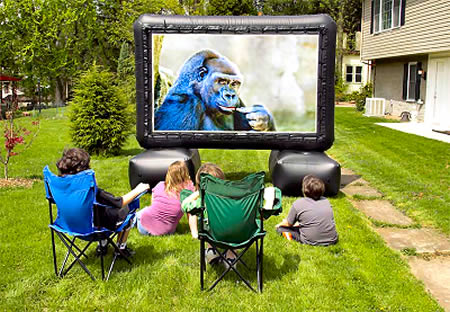 Watch big screen television almost anywhere you want. Pool parties, hot tubbing, backyard BBQs, in your own living room. It works with most projectors and comes with weatherized outdoor speakers and 30' of audio cables. Just make sure to stake the thing down good. A good gust of wind and your very expensive air-filled television will be wrapped around Mrs. Stodgmyers' prize rose bushes, and you'll never know if that big monkey drops the girl off that big building.
8

Inflatable Photobooth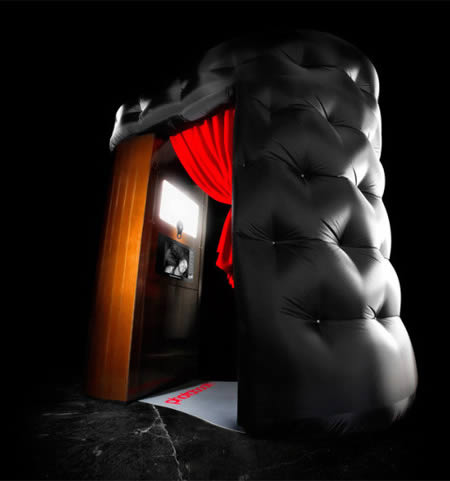 We would like to introduce you to this portable Photobooth. It's equipped with an 11-megapixel lens that captures all your shots digitally so you can browse the results in an online library (which has been password protected for you and your friends). And if this is for your company party, Photobooth can brand your photos as taken on the fly. It's one sweet package, but you'll have to inquire to find out how much it will set you back.
9

Inflatable Toast Mattress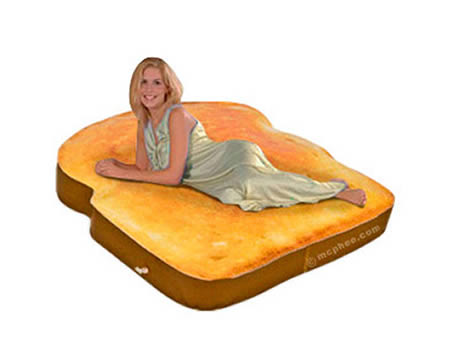 Breakfast in bed? No, breakfast IS the bed! According to the product homepage, "sleeping on this giant 6' by 7' Inflatable Toast Mattress is likely to make you dream that you are a pad of butter and that you are floating down a river of freshly brewed coffee". No, I've never dreamed of something like this!
10

Inflatable Bottle Cooler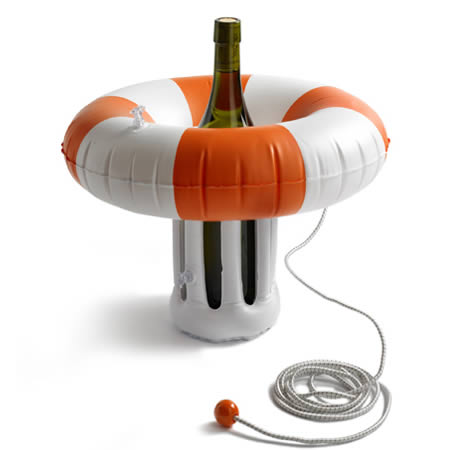 This inflatable bottle cooler, designed by Alexis Georgacopoulos, is perfect to stow your wine in the cold lake, and tie it off to your chair, boat, etc. A design concept only, but a neat idea!