1

O2 Pet Bed
Some people who humanize their pets will be hyperventilating at the O2 Dog from AirPress, an oxygen chamber that is identical to the ones used in beauty treatments for humans, except for the fact that it is dog-sized. Oxygen therapy, apparently, reduces wrinkles. So I guess this means that if you put a Shar-pei in the O2 Dog, it will come out as something completely different.
2

Giant Croc Pet Bed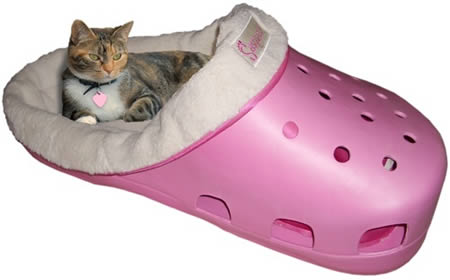 Just when you thought the Croc craze was over, the Sasquatch Pet Bed offers a trendy crib for pets of various sizes. In a variety of colors, you can actually get this odd pet bed in a color matching your footwear. Available for just under $100 from CSNStores.com
3

Sweet Lounge Cat Bed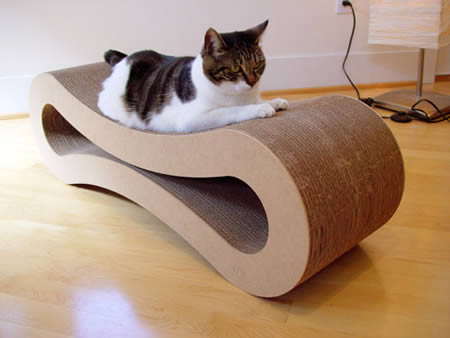 If you are a cat owner you are also aware of your furniture's limitations. A beautiful sofa is less than lovely with scratched up upholstery. So what's a cat lover to do? Marmalade to the rescue! The Sweet Lounge and Cheeky Chaise cat beds will offer your pets their own piece of modern furniture, while the Wall Flower scratcher will offer them an attractive alternative to scratch. These unique designs are made of cardboard and are recyclable. And they don't bite.
4

Hepper Pod Pet Bed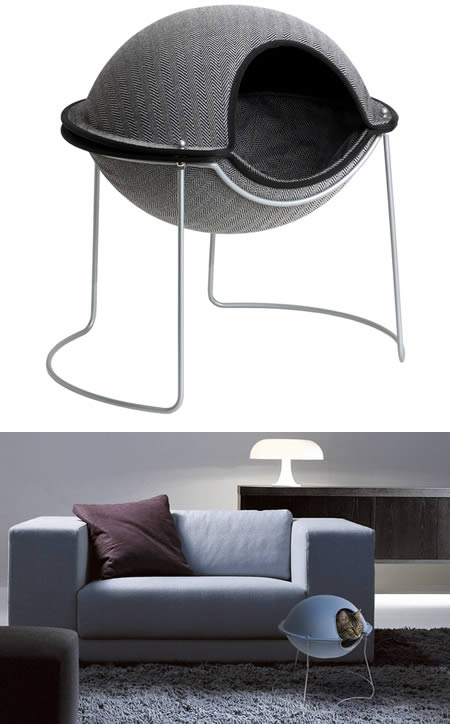 With the cool new Hepper Pod Pet Bed ($155), cats can now stylishly snooze the day away in a modern sherpa fleece-lined interior pod that rests upon a raised lookout platform. Cats really, really have it good these days. It may be cool but it looks like a barbeque grill to me.
5

Pet Tanning Bed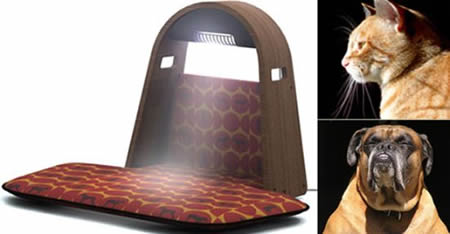 Summer is coming and it's time for yours pet to get that base tan so they don't burn up in the hot sun. The SunSpa is an indoor tanning salon that simulates sunlight shining through a window for your dog or cat. The tanning bed has a 150-watt light to keep the bed at a Miami-like 80-85 degrees for 5,000 hours (it's best not to use the whole 5,000 hour lifespan in a row- spread it out a little bit). The bed is designed to sooth your dog or cat's seasonal affective disorder during those long winter months. You could probably get the exact same effect by turning your oven on low and keeping the light on.
6

Pet Murphy Bed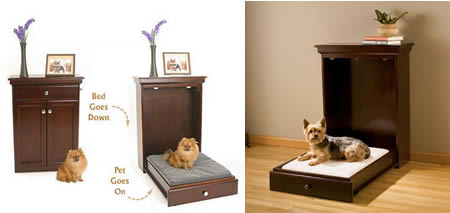 Dog owners in cramped living spaces might appreciate the new Pet Murphy Bed. Also great for recreational vehicles and campers, the travelling dog no longer has to be concerned about making its own bed. Just jump out, and lift it shut! Ok, a little help from the owner might be useful! Comes in three colors, mahogany, black, and natural. $199.95 from Midnight Pass.
7

Jakey BB Handcrafted Luxury Pet Bed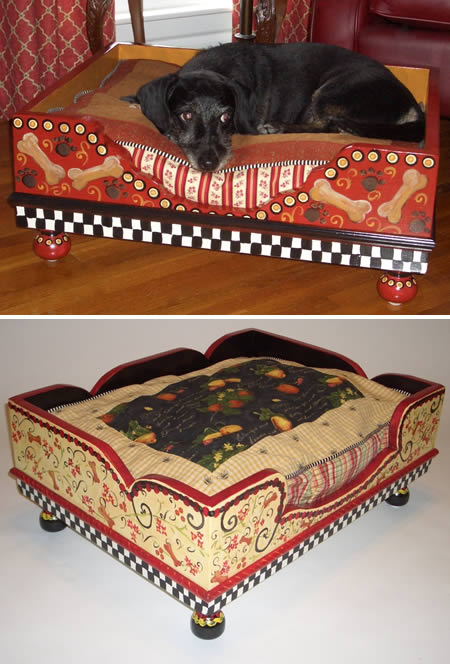 What turns a doggie into a dictator better than this super deluxe, hand crafted, custom made pet bed? As the sales pitch says, "From the hand painted signature border along the lower edge of the bed to the decorative molding, it's easy to see that at Jakey BB it's all about the details. Even the welt cord on the cushions has been tea stained to achieve that exact perfect color." They even use recycled materials.
8

Hanging Pet Bed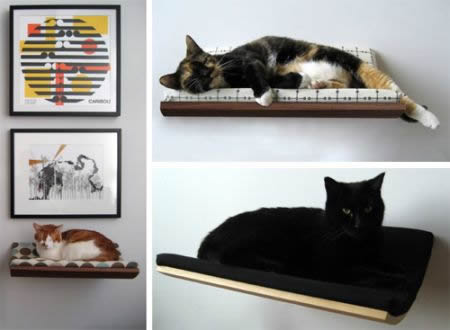 How about keeping pets in limited space? Crowded, noisy, and boring, you will certainly suffer a lot. Then why not try this hanging bed specially designed for pets? Not only it can save you much space,but it can also be used as a simple storage rack as well.
9

Leo's Cat House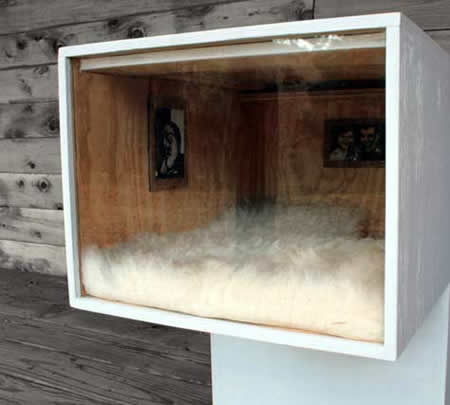 Leo Kempf designed this cat house for his pet, Olive. The cat can enter through a door at the bottom side,then ascends a ramp which boosts it to the upper level. Leo designed the front wall in plexi-glass and made the floor from a thick old sheepskin rug (his wife even made some small paintings that hang on the walls). In addition to having their own private home, there is also a big cardboard scratching porch for stretching and scratching. The top of the cat house is removable and the glass slides out for maintenance. So, if you have an outdoor cat with a desire for modern living, this might be up your alley.
10

Foldable Fuzzy Pet Bed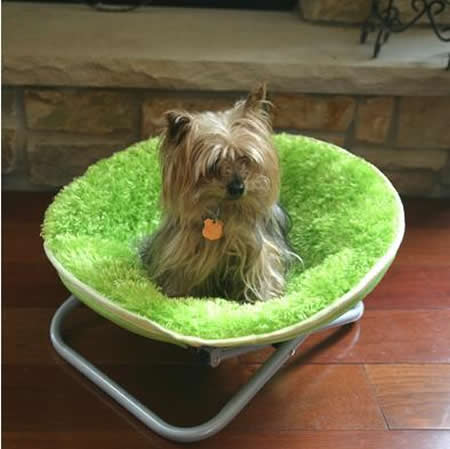 Check out this foldable fuzzy pet bed, which actually looks exactly like a foldable beach bed. It might be a great way to reward your loved furry ones with cozy naps they will love to take on. Heck, your pet would thank you if you took it to your next family outdoor outing along with your baby's chair.
11

Denhau's Pet Bed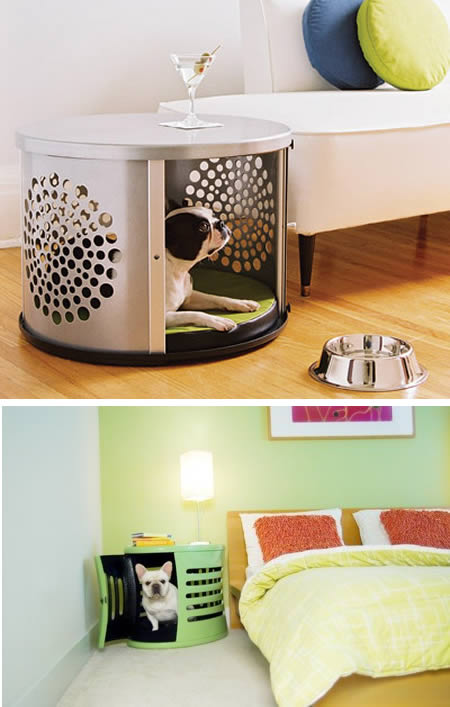 These pet beds (or pet dens I should say) from Denhaus look like a nice way to keep both you and your dog happy. Made of polished fiberglass with smooth, shatterproof glass tops (to act as both a skylight for the pet and a tabletop for you) they're both a comfy place for your pet to relax and a stylish addition to your home's decor. They look more like a contemporary designer end table than a pet crate (which is awesome!) and come in your choice of 4 colors. $525-$565
12

Car Pet Bed
Funny pet bed in the shape of a car, by Chinese company Diosen pet products.