1

Remotely Controlled Zombie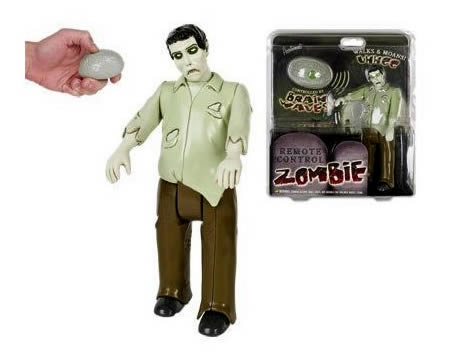 The Remotely Controlled Zombie ($17.99) by The Chainsaw Mafia is a one-button controlled moaner straight out of a Romero flick. It's operated by a controller shaped as a brain --how cool is that?
One click of the button and your zombie will be shuffling about and moaning towards the nearest person with a brain (Sean Hannity need not fear.)
2

Remotely Controlled Tarantula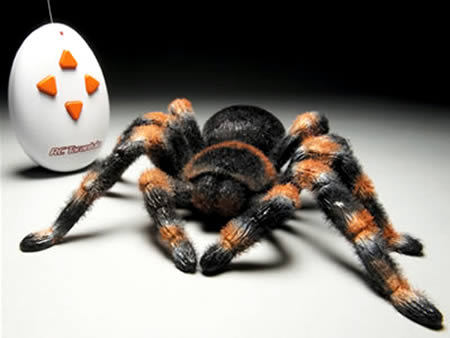 Freak out your co-workers, classmates or girlfriend with this realistic-looking remote-controlled tarantula ($17.03). The creepy critter has light-up eyes, a furry texture and it scurries across any flat, smooth surface with spider-like leg movement.
3

Remotely Controlled Beverage/Snack Float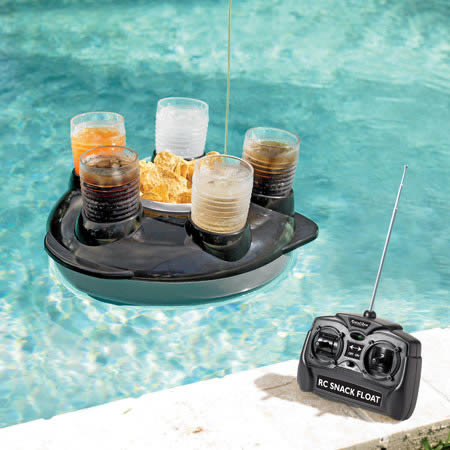 Oh yes, it's a remotely controlled floating tray ($49.99) that delivers refreshing beverages. It can hold up to five drinks and has a center bowl perfect for nachos. Like a shitty raft, it's just begging to be sent down the Nile. You know, like Moses.
4

Remotely Controlled LED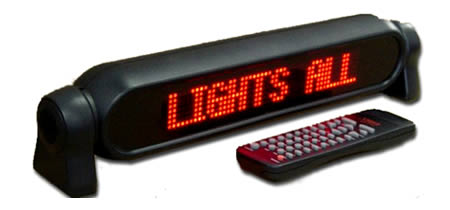 You probably have something important to say - something that must be clearly illuminated for all to see. Perhaps it's a simple suggestion, like "RTFM" or some deeper words of wisdom, such as "All your base belongs to us". We can relate to this basic human need to share your innermost thoughts and feelings - and what better way to do that than using this Remotely Controlled LED ($38.26)?
5

Remotely Controlled Battle Tank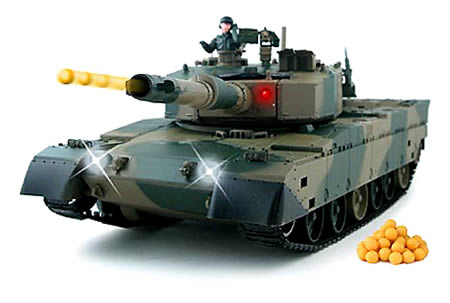 Tired of using your imagination to fire your R/C tank at the enemy Bawls bottle which maliciously invaded your territorial sovereignty? Imagine no longer, and blast the enemy on your living room carpet with the powerful air motor turret on this Remotely Controlled Battle Tank ($35.99) (uses self generated compressed air). Direct from Japan, this battle tank is ready to bring your childhood battle simulation dreams to life in the comfort of your home or office.
6

Remotely Controlled Star Wars' R2-D2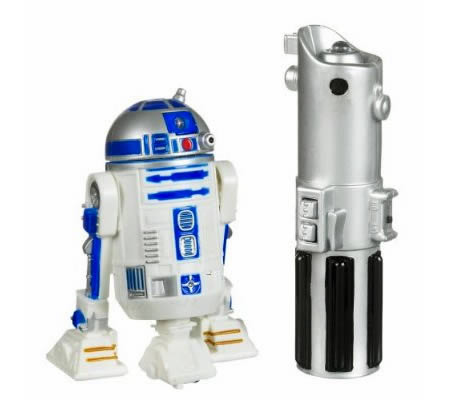 This Remotely Controlled Star Wars' R2-D2 ($16.99) is like a Star Wars fanboy's wet dream come true. The size of a regular action figure, this tiny droid is fully controllable from the included lightsaber remote. Authentic R2-D2 sounds, turning head and red LED eye complete the package. No more playing with your old skool Star Wars figures by shaking them and talking in a funny voice, this is the real deal... and we don't kid when it comes to Star Wars. We would have killed for this little R2 gem as a kid and it's still pretty damn cool as an adult.
7

Remotely Controlled Rat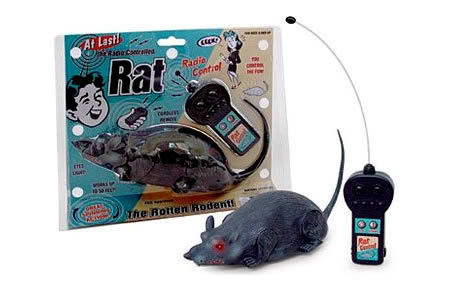 This little Remotely Controlled Rat ($11.99) allows you to control his every little move --and he moves very quickly! Have loads of fun watching people jump up, scream, climb on their desk as you scurry him around. His eye blink a bright red and he looks and feels evil.
8

Remotely Controlled Lederhosen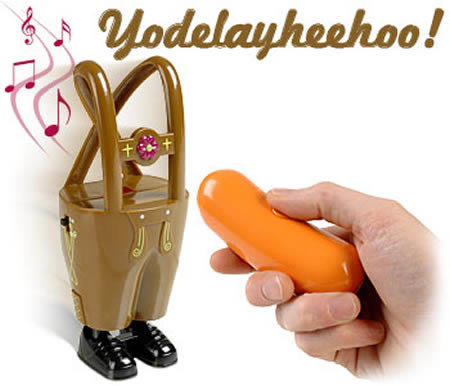 From high in a Bavarian valley, far away from the hustle and bustle of city life, where the sound of cow bells and sporadic outbreaks of yodelling can be heard, comes this mystical Remotely Controlled Lederhosen ($7). Oh yes, it walks and yodels all on its own, while being controlled with a frankfurter themed remote control.
9

Remotely Controlled Farting Teddy Bear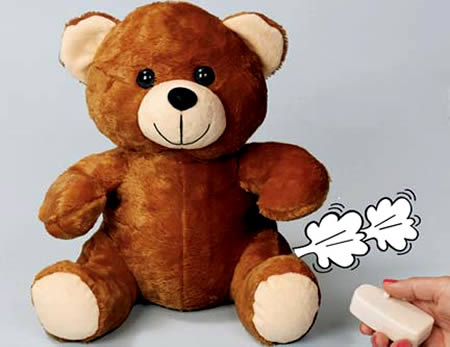 Give this cute and extremely soft bear to your girlfriend, your toddler, your grandmother... then, while they have the bear in their arms, press the secret remote control to unleash a fart attack on them... bear style! Hidden inside the belly of this Remotely Controlled Farting Teddy Bear ($19.89) is a fart machine; just press the remote control and fart away.
10

Remotely Controlled Rubber Duck